5 Important Tips for Anthem of the Seas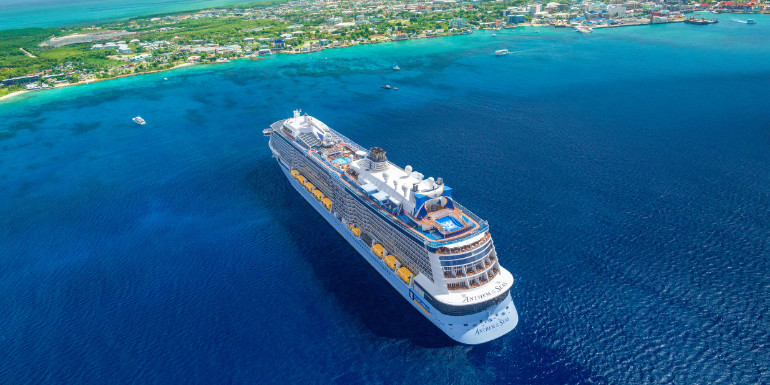 To help future guests sailing on Royal Caribbean's Anthem of the Seas, we've curated some ship tips from our members to help you make the most of your voyage.
1. Reserve everything you can before the cruise. We really mean everything.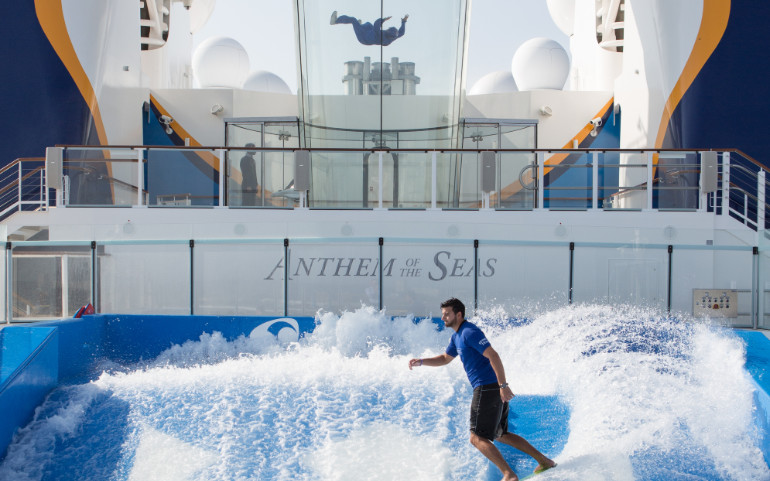 This is by far the most important tip for Anthem, and the one we saw come up the most often. Various entertainment performances, activities, and restaurants on the ship require reservations. Many are already filled by the time you step onto the ship, so make sure to reserve before the trip.
"Book your dining and shows well in advance of your sail date to avoid having to stand in lines." - 2scott2connie
"I would book all activities ahead of time, way before getting on the ship as it books up, like the North Star and the iFly are very popular. Shows and dining also should be booked in advance to get the best time for your families." - michellehw1224
"Book your dining reservations the moment you book the cruise! Also, if possible, spend the extra money to take the Total Access Tour of the ship. My husband and I loved it." - fanseanansea (read review)
"Make reservations for everything! Using the Royal IQ app helped a lot..so use it if your phone allows you to." - KyTnFrank
"We booked all of our activities on line ahead of time and had no trouble using all of the activities on board. The wave rider was terrific as was the skydiving, rock wall, bumper cars, trapeze, and the North Star observation tower. Also we had an amazing time and it exceeded our expectations." - mikegleason (read review)
"Definitely book any shows, excursion or specialty dinner reservations ahead of time. Also, check the Cruise Compass often to stay abreast of the activities of the day." - conwumelu (read review)
"Book as many options in advance as possible, including shows, activities, dining (if you do MyTime). To avoid crowds on embarkation day, have lunch in the two70 bistro. Much more mellow start to your trip. Make use of the solarium, as children are not allowed there (except on bad weather days)." - cruisin4awhile (read review)
2. Try all of the unique dining options.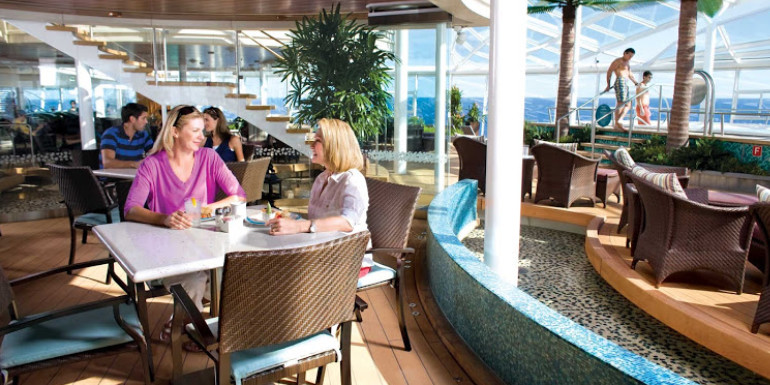 There are 19 different dining choices on Anthem of the Seas, and our members encourage future sailors to be sure and check them all out so they don't miss something delicious.
"If you can, eat at the Sushi restaurant. It was the BEST food on the ship." - jalenrakim1 (read review)
"If you want GOOD food, don't eat at Windjammer...there are so many other option! Also skip Sorrento's; they only had 3-4 pizza options: Plain, roni, veggie, and one other option. Many more options offered (and rotated by day) while we were on Oasis." - Lainie0827 (read review)
"TRY WONDERLAND. Go in with an open mind and an adventurous spirit. You will LOVE it!" - murphy817 (read review)
"Windjammer's food better the the 4 restaurants? How can that be, my hats off to there head chefs and staff, need some sushi like [Celebrity] your sister cruise line." - johnnyupright88 (read review)
"Watch a sunset from Two70, Have breakfast and lunch at the Cafe@Two70, have dinner at the Solarium Bistro - both are complementary. Have a drink at the Bionic Bar. it's a hoot." - btab (read review)
Anthem Deals From /Night
3. Be prepared to walk… a lot.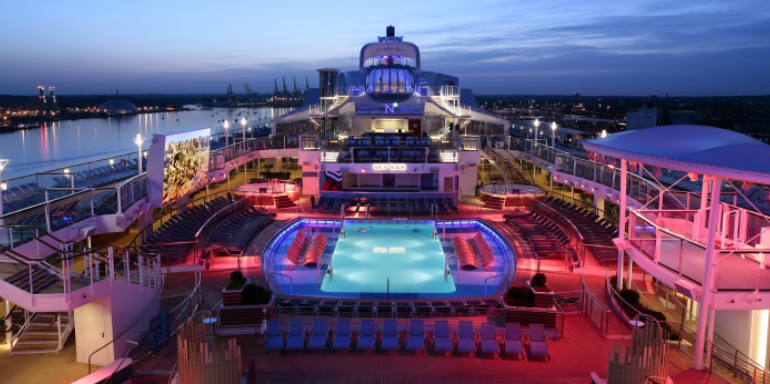 At 1,142 feet long, Anthem of the Seas is a huge ship. Several reviewers advised that future guests be prepared to walk quite a distance during their time onboard.
"Be prepared to do a lot of walking. The ship is very big." - clemsue (read review)
"Wear comfortable shoes, elastic waistbands, & be prepared to stay up late for all the GOOD entertainment!" - BlindPenguin (read review)
"Prepare to walk. I walked an average of 3.5 miles around the ship each day at sea. Beautiful artwork on walls and in elevators. The ship was very clean." - 1994rangers (read review)
4. There are quiet spots to relax on the ship. Be sure to find them.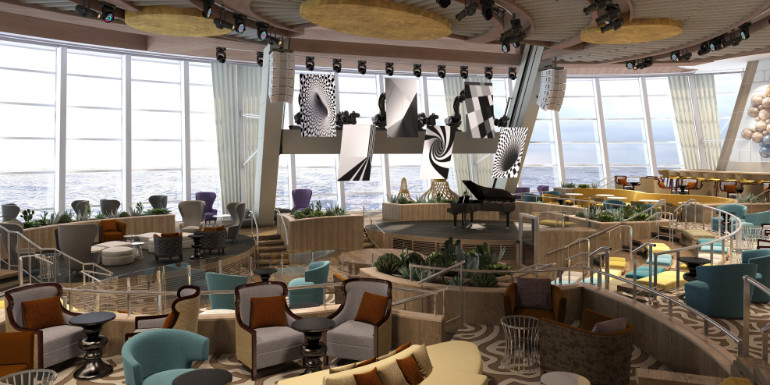 As busy and bustling as the ship is throughout the day, there are always quieter spots to be found. Lots of members had advice on where to find a relaxing hideaway, and others suggested new guests go on the hunt for their own sanctuary right when the cruise begins.
"Be sure and take time to explore the whole ship! We discovered an beautiful, quiet lounge just outside the Music Hall on our last night. Would have been a nice spot to relax in had I found it earlier." - SandyRed (read review)
"Looking for a place to relax that is less crowded in the afternoon: try Two70 in the stern. Comfortable seats; a bar and food." - patandkirb (read review)
"Find a venue to relax in and let the crowds disperse instead of trying to explore the whole ship the moment you board. Hint - Two70 aft on deck 5 is a great to relax." - twangster (read review)
"Despite the fact that Anthem OTS carries a lot of passengers, there are lots of niches around the ship for peace and quiet... seek them out. Also, the "flying bridges" to the side of the Solarium are a great place to see the sights." - cdguess2 (read review)
"There's plenty of room on the Anthem to find your little private spot. Ours was in Two70 near the library overlooking the seats and stage." - loubo83 (read review)
5. Don't book My Time Dining.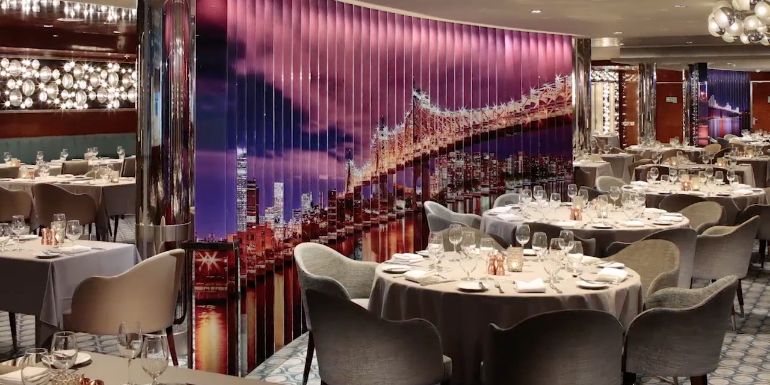 As a general rule, most ships featuring come-when-you-want dining will occasionally have a wait to be seated, just like a landside restaurant. It appears that Anthem of the Seas in particular has a problem with dinner wait times, though. Guests warned against this type of dining here, and said to go for traditional evening seatings instead.
"I had the My Dine eating option, took me two days to figure out where I was able to eat other than the buffet. If you choose the My Dine option, it is recommended that you make reservations for dining, it gets very crowded." - jeanbrad29 (read review)
"I would book the dining time I want early - I did have to wait in line on the ship to get the times we wanted." - cbowers184
"Under no circumstances book My Time dining, On the first night we waited 70 minutes and the following nights between 20 and 25 minutes. Guest relations/ Reservations wouldn't/couldn't solve the problem just promised it would get better later in the cruise. We even tried messaging Royal Caribbean on Facebook to no avail." - georgemjohnson (read review)
"People that were on dynamic dining got stuck waiting in line. We had classic dining and were able to walk in the dining room immediately at our set time." - irisaccordino
Other Notable Tips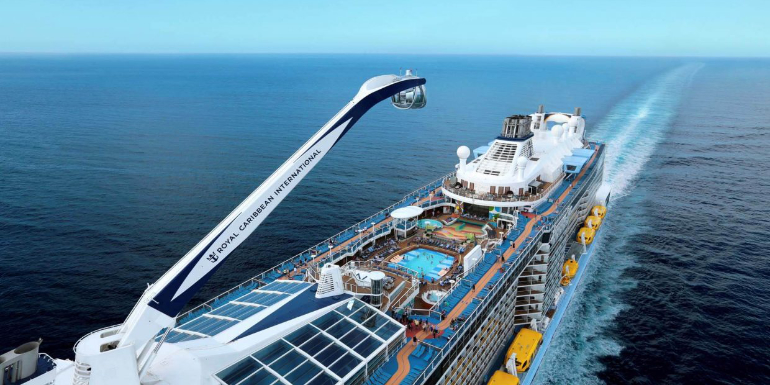 "I recommend the balcony room, best bang for your buck, it is the same size as a mini-suites on other cruise lines." - jvs625 (read review)
"If Charlie, the singer/guitar player, is performing in Michael's Genuine Pub, you must go there. He is terrific." - gramps9159 (read review)
"If you get on board early enough day of embarkation, please do explore the ship as much as you can before you get into your room and develop a routine, so much of the ship to see and some things we didn't see until the cruise was almost over!" - Cruiser209 (read review)
"The puzzle room is not advertised but is enjoyable." - blaster107461 (read review)
"Don't book outdoor activities on the first or last day (sea days), as they tend to be windy and sometime get cancelled." - FBish (read review)
"Purchase the Specialty Dining package, and also the WiFi is good to have unless you prefer to be totally disconnected, then that's fine too. We found the later dining times to be best for us since they also have a show every night about 10-10:15pm." - bill10314 (read review)
"Keep an eye on your account throughout the cruise. In our group of 8 we had a few charges that needed to be removed." - Marlene67ca (read review)
"Download the 'Royal IQ' app on your phone, which will make it much easier to plan your daily schedule and quickly search for info on the ship or certain experiences as you may need. Your daily Cruise Compass (delivered to your room each night) is your best friend! Be sure to read it (also available on the app). And if you're an online person, it's best to get the VOOM internet package. Try to minimize the number of devices you'll need to be simultaneously online. Two is probably the best bet, as you can just switch devices as needed (phone to laptop, or vice versa)." - svankmaj (read review)
"Buy the ultimate drink package. I know it's pricy but you'll be surprised how often it gets used and it's awesome for bottled water and soda as well." - SuperbowlCouple (read review)
Anthem Deals From /Night<>