5 Essential Tips for Sailing Disney Dream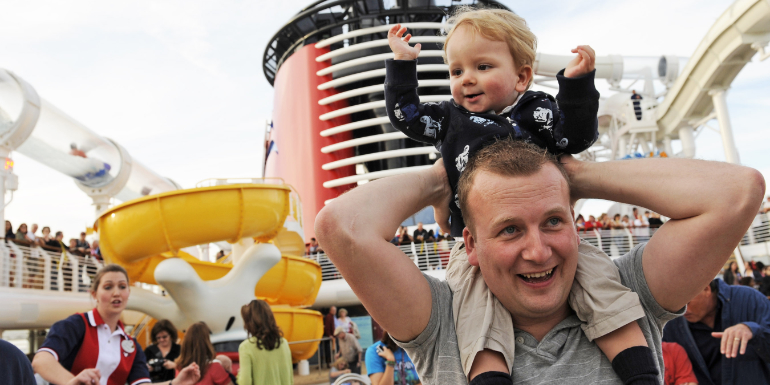 Disney Dream is one of Disney Cruise Line's two newer ships, and is very popular among families and couples looking to sail to the sunny Bahamas and Caribbean. There are plenty of tips out there for cruising on the beautiful ship, but we think the best ones come from numerous Cruiseline.com members who have sailed the ship themselves. Check out our five top tips for Disney Dream (plus some bonus ones!) — curated by us, and written by you.
1. Participate in the pirate deck party. (And bring some clothes to dress up!)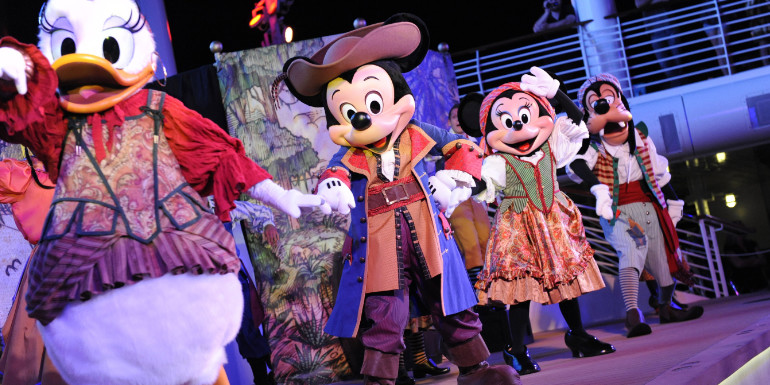 The Pirates IN the Caribbean deck party is a must-do on any Disney cruise, and despite the name they even do it on non-Caribbean cruises. Some passengers dress to the nines in pirate garb for this event, and others just utilize the bandanas that everyone receives in their cabin. However, our members encouraged future guests to bring their best costumes and take full advantage of the fun theme.
"Definitely take clothes to dress up for Pirate night, just makes it more fun!!" - KAllred72 (read review)
"Instead of a formal dinner they have Pirate Night. Bring something to dress into. Some guest dressed so well, we thought they were part of the entertainment." - shalpern
"Don't forget about Pirate night! they will leave a bandana for you in your stateroom but it's always fun to dress up! Argggg!" - CruisinDiva
"Recommend bringing your own custome for priate night. What they offer in the shops is pricy." - Cruiser9105291
"Pirate Night was a blast - we had made shirts for everyone and the boys had their own swords, eye patches and head scarves (given out by Disney)." - DisneyCruisers (read review)
"Pirate night is fun, be sure and pack something to wear although there are plenty of options on board for the younger set and they give everyone bandanas." - blt2200 (read review)
2. Download the Disney Cruise Line Navigator app.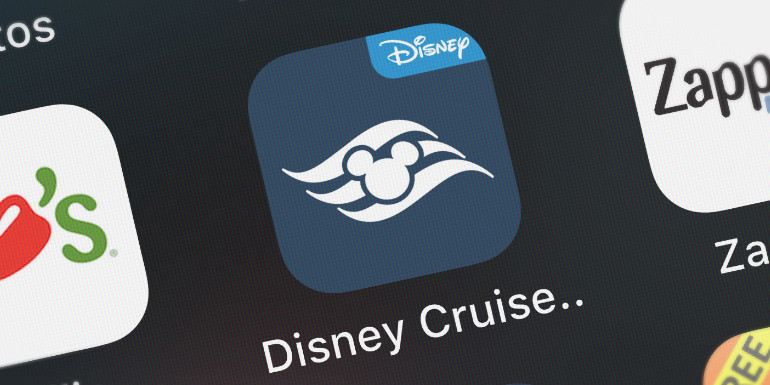 Passengers are encouraged to download Disney Cruise Line's own app to communicate with each other onboard and plan out their day with the digital Navigator newsletter. Even though internet for personal use on the ship costs a pretty penny, access is free for the app. Using it, guests can chat back and forth, receive notifications for activities they're interested in, look at deck plans, and more.
"Download the Disney cruise app on your smartphone before you leave. It si the best way to keep in touch with other members of your part while onboard." - melanieschommer
"Disney now has a "Navigator" app for cell phones that can be used to text others using the app while on board for free! Additionally, the app provides maps of the ship, lists activities throughout the day, and more! It is a great app and easy to use." - GSDFan (read review)
"Get the app and daily go through all the activities. Tick everything that you think you might like to do and then you are alerted. From there you can decided yes or no in the moment." - Studb73 (read review)
"Download their app, it is way easier to communicate via their app then the wave phones! They have free wifi for the app only so there is no extra charge for using it while at sea." - citimom0314
"Take advantage of the daily newsletter they provide each evening for the next day as well as their app. We used the app the entire but initially only to chat so we could meet up. Probably halfway through the cruise we started using the newsletter along with the app to find out what events and activities were going on and at what time. That really helped us do as much as possible on the day at sea." - oeribo (read review)
3. Have breakfast at Cabanas — the ship's buffet.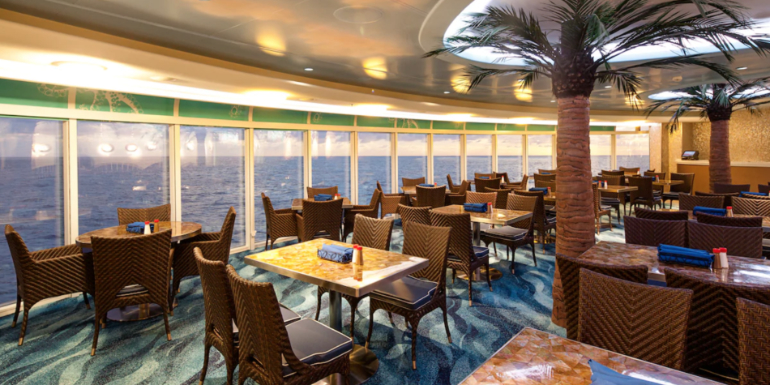 Several members recommended having breakfast at the ship's buffet. They said it had a great selection, was quick (especially earlier in the morning), and that there was a section with lighter options for those that don't want to start their day with heavy foods.
"The breakfast on the cabana was fast not to many waiting in line." - tatolulu
"Early morning 5am-6:30 am is the best time to explore the ship. It so quiet and the elevators are hardly in use. If having breakfast at Cabanas, 7am-8am is best as they are no lines and seating is plentiful (no waiting for a table)." - DMVcruiser (read review)
"Cabanas is the best restaurant there...wide variety of buffet choices." - Sile2004
"For breakfast at Cabanas, go all the way to the rear of the buffet for a great selection of fresh fruit and slightly 'lighter fare!'" - dwren66
"Cabana's on deck 11 has the best breakfast ever." - Mrsbrowne05 (read review)
4. Be sure to take advantage of the adults-only areas onboard.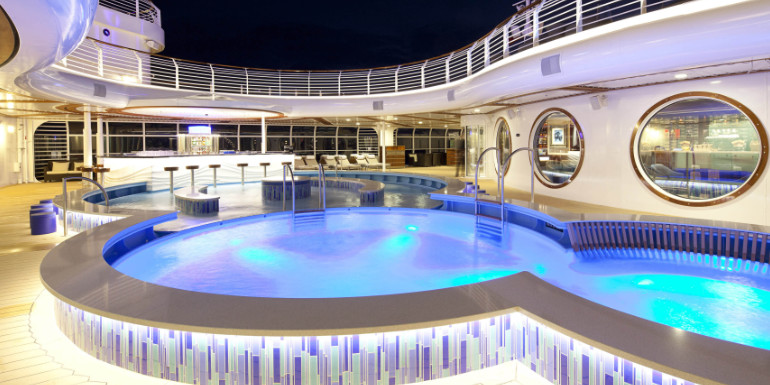 It's no secret that Disney is extremely popular with families, and the cruise ship are no exception. There will be lots of kids no matter which itinerary you choose. But each ship, including Disney Dream, has outdoor areas like the Quiet Cove Pool, the two specialty restaurants — Palo and Remy, the spa, and various bars that are just for adults. Members noted that guests should not overlook these spaces, and spend time there when they need a break from the craziness of excited kids.
"Do take time to enjoy the adults-only area. It is so much less hectic than the main pools on Deck 11. Also, make sure you take at least one ride aboard the AquaDuck!" - Barbie67 (read review)
"As an adult, I loved the adults only pools and jacuzzi and lounge areas." - Steeeve (read review)
"Try the tastings! We've done the Champagne one in Pink and it's great! Also remember to try the adults-only restaurants." - KaseyB
"All you adults that are looking for a place for peace and quiet, check out all the adult areas on the ship. You will never know how quiet and relaxing a Disney Cruise can be unless you look." - gopher1
5. Reserve desired activities ahead of time.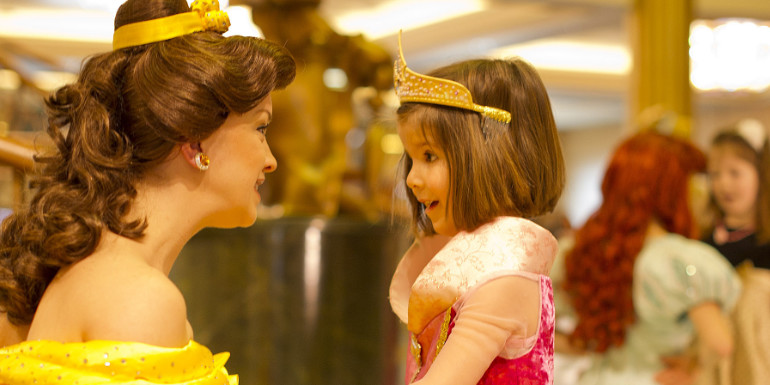 While there aren't as many things to worry about reserving ahead of time on Disney as there are on other cruise lines, there still are some experiences you'll want to set in stone ahead of time. These include things like princess meet and greets, specialty restaurant reservations, sea day character breakfasts, and spa appointments. Some you can (and should) book well before your sail date online, and others should be taken care of once you board the ship on embarkation day.
"Register for as many things that you want to as possible before you leave home. I would suggest registering the kids for the onboard kids groups, any meet and greet that you want for them and any excursions that you may want to take." - brettgoguen (read review)
"Book onboard activities online before- some of the things were sold out by the time we were on the ship." - ratherbphotogra
"Book your activities online the MINUTE check-in is available for you. Wake up early in the morning to do this. Everything books quick. I stressed about certain things not being available to us; however, as soon as we got on the ship I was able to secure most of our desired reservations. But again, do that AS SOON as you get on the ship. For me this included: Changing my dining time from late to early (late is just TOO late for little ones). Getting tickets for the Princess Gathering. And being added to the waitlist and ultimately being able to attend the Royal Court Royal Tea - which was a major highlight of our trip! (Pricey - but worth it! Do it!)" - GigiandBrookie
"Pack your carry-on bag with bathing suit so you can swim once you are on boat and nit have to wait until rooms are available. Also highly recommend booking the Palo restaurant in advance. Food was amazing." - tmicheau (read review)
"Make sure you see Believe. Get in lines for characters 20-30 minutes before the schedule time, lines get really long and fast...Make sure you book the Frozen meet and greet as well as the princess gathering. They fill up fast and a lot of people missed out." - brandyhogan11 (read review)
"Review all your documents and try to make as many reservations and plans before getting on the ship. Once you are on the ship time moves quickly and if you have not previously planned you can miss out on a lot." - nalvarenga1163
"Great for the whole family. Make sure if you have little ones that want to meet the Princesses that you get a ticket on the first day at the port adventures desk. this ensures that you get the best time and are able to get through the greeting time when it is convenient for you." - momto4
Other Notable Tips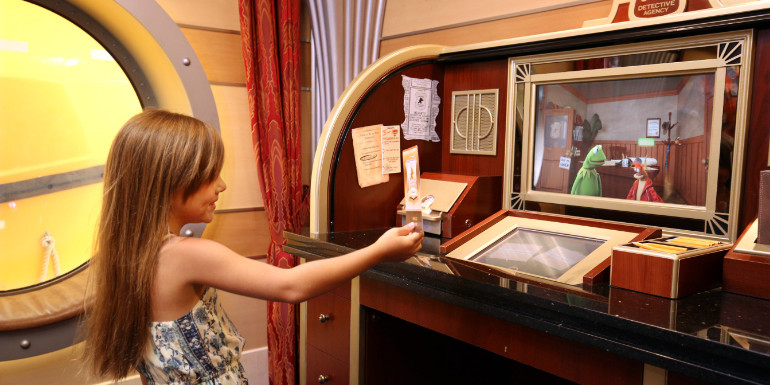 "Get ready for dinner early so you can see all the characters and get pictures, one thing we missed on the first night." - EmDyer
"Deck 10 is nice because it is close to the pool and all the action but, it is under the pool deck! If you are a light sleeper I would suggest going to floor 9 because you will not hear all of the walking and partying going on upstairs. I sleep light and the commotion kept me up." - Nurs2b2011 (read review)
"We found short lines for the Aquaduck if you go during the first dinner rotation/shows, or later in the evening." - Arkia72 (read review)
"If there's a character you're dying to take a picture with, make sure you know when the appearance time is and be there a hour or so beforehand. We had to do that for Mickey despite him having multiple appearance times." - draraujo91 (read review)
"Bring your own refillable water containers. If you are going to sign up for any spa services ask about their 10/20/30 discount offered when you book multiple services." - amross74
"Take the phone from your room onto Castaway Key. They will reach and the kids club (Scuttles Cove) can contact you if needed while you relax in the adult section (Serenity Bay)." - clemsongirl82 (read review)
"Do the Mouse Detective Agency game with your children or by yourself. The pictures on the ship comes alive before your eyes. Run or walk the 5k on Castaway Cay, you get to see parts of the island you normally wouldn't see. Go to the shows and definitely do a spa day!" - duswest (read review)
"Arrive at theatres 30 min prior to evening shows for best seats in the house." - sewawesome
"Make sure you take advantage of your assigned dinner time. The interaction with the servers so great and they knew by the second seating that I liked to have tea with my desert." - brettgoguen (read review)
"One tip I would give is not to overpack! As moms we tend to worry about everything, Disney has it all covered from life jackets for little ones to kids to lids for drinking glasses!! Just bring your clothes and Disney provides the rest!" - mariees (read review)