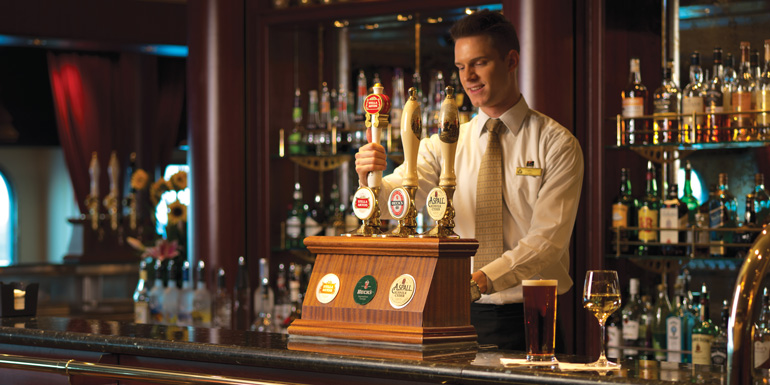 From chilly "ice bars," where the temperature is always a brisk 17 degrees, to sports lounges with more televisions than an electronics store, these cruise ship bars are worth staying up long past your bedtime:
1. Rising Tide Bar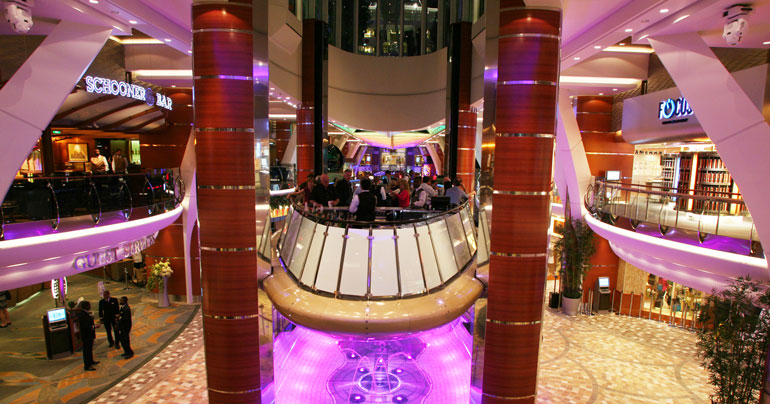 We know what you're thinking, and don't worry, the bar ascends and descends very slowly. - Photo by Royal Caribbean
When was the last time you spent the evening drinking on an elevator? The answer is probably "never" or "in college" — unless you've already had the pleasure of imbibing at the Rising Tide, an elevator bar. The 40-ton, 32-seat cocktail spot moves gently between the Royal Promenade (deck 5) and Central Park (deck 8).
What to Drink: Order the signature drink, the Rising Tide, a blue lychee martini.
Where to Find It: Royal Caribbean's Oasis of the Seas and Allure of the Seas.
2. Svedka Ice Bar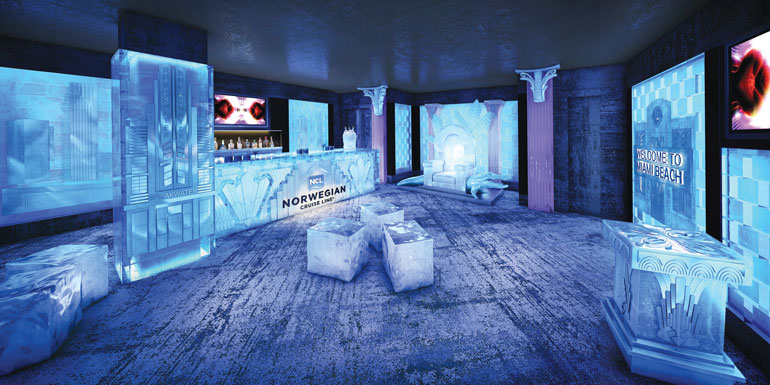 Drink in a tropical Caribbean bar during the day, and cool off in the ice bar at night. - Photo by Norwegian Cruise Line
At the Svedka Ice Bar, patrons don parkas and gloves to keep warm as they party in the chilly 17-degree temperature. Since this popular spot only holds 25 guests at a time, you'll want to make reservations in advance. The $20 entry fee includes two cocktails.
What to Drink: The bar mixes several specialty drinks with Inniskillin (a Canadian ice wine made from — you guessed it — frozen grapes). Ask for the Cobalt Blue, a blend of ice wine, vodka, blue curacao, and club soda.
Where to Find It: Norwegian Cruise Line's Norwegian Epic, Norwegian Breakaway, and Norwegian Getaway.
3. EA Sports Bar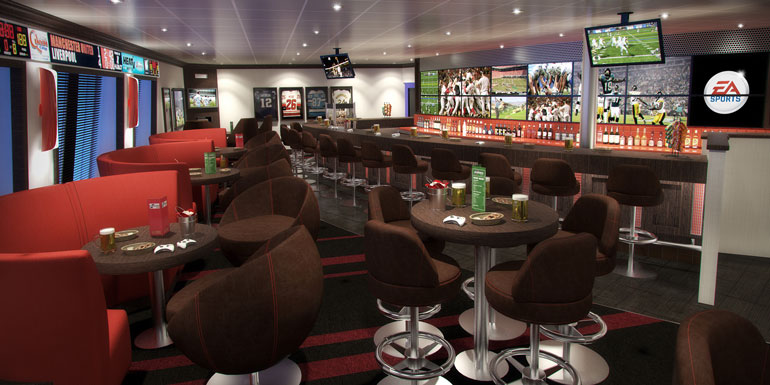 Whether you like your sports real or digital, EA Sports Bar has you covered. - Photo by Carnival Cruise Lines
Sports fans no longer need to avoid sailing during the season: As part of its Fun Ship 2.0 upgrade, Carnival Cruise Lines has designed the mother of all cruise ship sports bars. While most display their liquor selection on the wall behind the bar, Carnival uses that space to fit more than a dozen flat screens, packing enough pixels to make any sports aficionado salivate. A live sports ticker gives real-time updates of games not on the screens, flashing scores and big plays from every major event.
What to Drink: ThirstyFrog Red, the line's own American amber ale brew, comes with a souvenir glass for an extra $4.
Where to Find It: Carnival Cruise Lines' Carnival Conquest, Carnival Freedom, Carnival Glory, Carnival Liberty, Carnival Sunshine, and Carnival Triumph.
Note: Unfortunately, as of January 2015, Carnival announced its plans to begin phasing out the EA brand on their sports bars, so hop onboard before it's too late!
4. Golden Lion Pub
If a low-key pub is more your style, this cruise ship bar is for you. A wide selection of ales and lagers make this a prime destination for beer lovers, and entertainment comes in the form of pub quizzes, karaoke, live sports broadcasts (think soccer and cricket), and piano music. Golden Lion also serves traditional British fare, like fish and chips and shepherd's pie, during lunch hours.
What to Drink: Order a Pimm's Cup, a British staple that blends ginger ale with fresh fruit and Pimm's No. 1.
Where to Find It: Cunard's Queen Mary 2, Queen Victoria, and Queen Elizabeth.
5. La Reserve by Wine Spectator
In addition to seven-course pairing dinners, this tiny, 24-seat restaurant also serves as a wine bar that offers tastings on sea days. Make your reservations before you board, since slots fill up fast.
What to Drink: La Reserve pours several wines from the Silver Trident Winery, a small Napa vineyard owned by Oceania Cruises Vice Chairman Bob Binder. Order one of the two flagship wines: the Benevolent Dictator (a Russian River Valley pinot noir), or the cabernet sauvignon 27 Fathoms, named after the depth of the Panama Canal.
Where to Find It: Oceania's Riviera and Marina.
6. Molecular Bar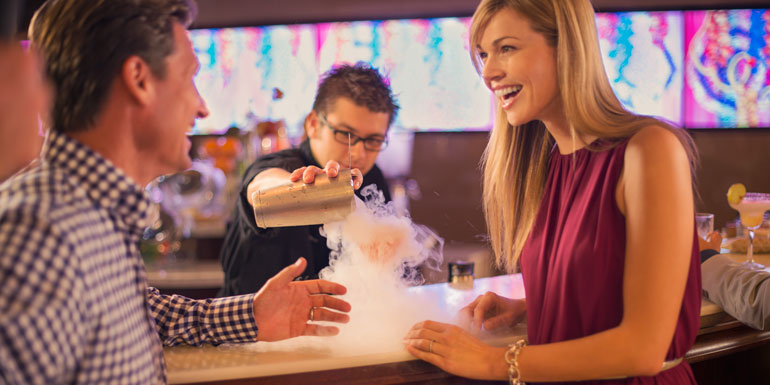 Tired of boring mixed drinks? Molecular bar has plenty of new concoctions for you to try. - Photo by Celebrity Cruises
Celebrity Cruises' Molecular Bar by New York City's liquid chef, Junior Merino, uses chemical engineering to create some of the most sophisticated cocktails at sea. The bar's certified molecular mixologists blend drinks with scientific precision, combining vintage liqueurs and organic ingredients with high-tech additions like liquid nitrogen to keep your drink ice cold without watering it down.
What to Drink: Ask for the Dragonfly, made from Russian Standard vodka mixed with hibiscus, pink grapefruit, dragon fruit, lime juice, and orange liqueur.
Where to Find It: Celebrity Cruises' Eclipse, Solstice, and Equinox.
7. Bier Garten
We can't think of a better use of open deck space than a German-style beer garden. (How did nobody think of this before?) Grab a wooden table on a sea day and enjoy a grilled bratwurst with sauerkraut.
What to Drink: You won't find a large selection of brews (and, sadly, none that you can't get elsewhere on the ship), but order a Grolsch, a Dutch lager that comes in a swing-top bottle.
Where to Find It: Norwegian Cruise Line's Norwegian Spirit and Norwegian Star.