5 Tips for Cruising on Carnival Breeze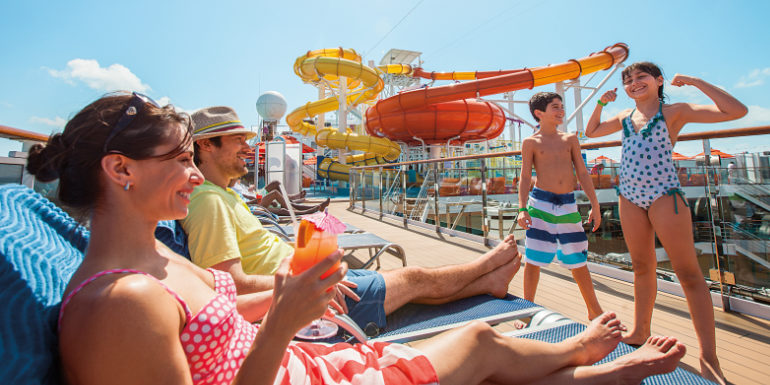 Carnival Breeze is one of Carnival Cruise Line's top performing ships, beating out the rest of the fleet with excellent scores in ship quality, cabins, and dining. Whether you're still on the fence about sailing on Breeze or you've already booked and are looking for helpful hints, we've got you covered. Here are five tips for Carnival Breeze, directly from members who have already sailed:
1. Hang out on deck 5.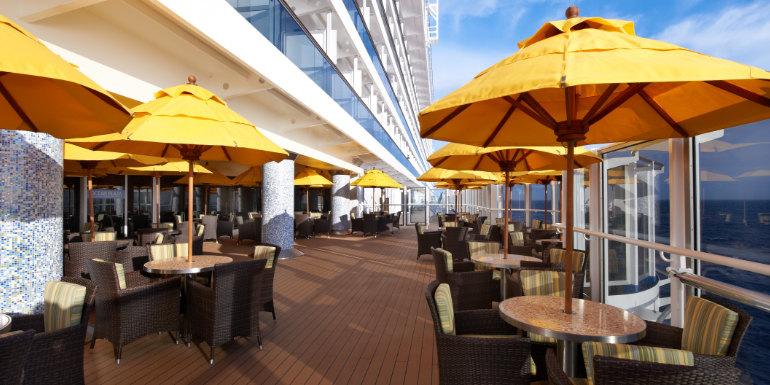 A number of members suggested spending time on the deck five promenade for some relaxation in the sun that isn't as crowded as the aft pool deck or lido deck. This outdoor walkway not only features venues with outdoor seating but also a couple of (somewhat random but much appreciated) hot tubs dotting the edges, two on either side of the ship.
"For a place that is not as crazy as the pool area, try the 5th deck. Lots of room in either sun or shade. Hot tubs on this deck are rarely used." - peppermintp123 (read review)
"If you want a quieter deck to relax in a deck chair, go to deck five. Most people are at the main pools or serenity. This area is quieter and still very close to Red Frog Pub, Alchemy and the casino bar if a drink is needed." - ngflynn0802 (read review)
"Go to Deck 5 for an amazing and private jacuzzi." - blackstarr1
2. Download the Carnival HUB app before your cruise.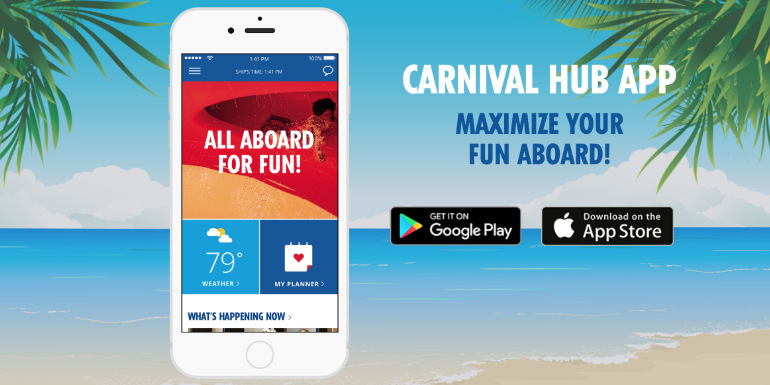 Carnival's mobile app is arguably the best cruise line application out there, and lots of members agree that it's a great tool to have for your cruise. Don't forget to download it before you board!
"The app is a MUST have, excellent tool to know everything that's happening and keeping in contact with the people that are traveling with you." - priscilacascard (read review)
"Load the Carnival app before you arrive on the ship and activate it as soon as you board and this will be very helpful. It is free to use. It gives you a daily hour by hour schedule of events which you can select as favorites and you will get reminders ahead of time. You will also be able to manage your funds account on it." - felixmtz690 (read review)
"Use the Carnival Hub app! It was so nice to be able to keep in touch with my teens and see what was coming up on the daily schedule or check my spending account. Fantastic feature." - jennersboyd
"Download the Carnival Hub App... it's AWESOME! You don't have to carry around the "What's Happening Book" because it's in the App. All your photos go to it also which is cool." - MDBresser
"Download the app and use it to see and decide what activities/shows/entertainment you want to enjoy. It can be a little overwhelming with so much going on; but look for what you want to do and set alarms on your phone to remind you where to be at any given time." - dmnewsome (read review)
Breeze Deals From /Nt
3. Book a cabin towards the middle of the ship.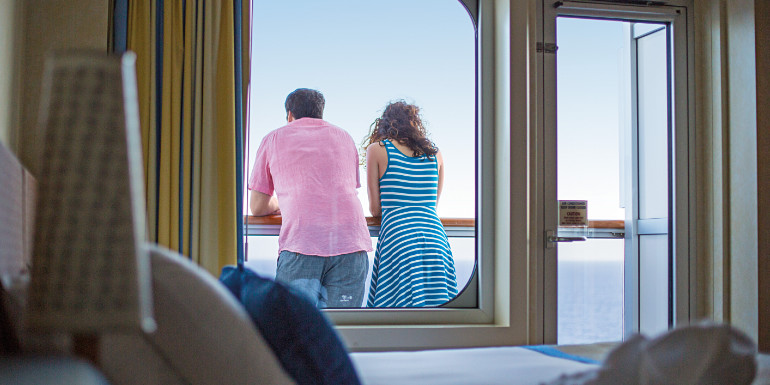 Members leave quite a few tips concerning cabins, such as being sure not to book one under a noisy deck area or the galley. But the most popular word of advice is to select a stateroom that is towards the middle of the ship, not forward or aft. To see what's above and below different cabins, check out Carnival Breeze's deck plans.
"We would definitely get a balcony room next time, in the middle of the ship versus the front." - summerg521 (read review)
"Based on the "rough ride on rough seas" experience I related above, I guess people should avoid cabins near the bow of the sip (if the steward is to be believed). However, the ship ran OK when the seas were calm." - SuiteCruisin (read review)
"The cabins in the middle of the ship are close to everything! Good walking and running trail and lots of other outdoor activities on the top of the deck! And...walk the stairs for keep moving!" - bucurestir (read review)
"Book a cabin in the middle of ship." - willjackson5
"Recommend trying a side balcony. Our rear balcony seemed to get numerous whiffs of the smoke from the ships stack even in (or maybe because of) high winds." - rjones299 (read review)
4. Try the Indian food from Tandoor.
Carnival Breeze is full of different cuisine, including burgers, burritos, Italian food, barbecue, and more. But one gem that some people might not be aware of when they board is the Indian food venue, called Tandoor. Past cruisers highly recommend the delectable eatery.
"The Indian food is a well kept secret! if you like Indian, sneak back here for some good food without lines." - karent94 (read review)
"Staff on cruise was excellent. Food was good. We are Indian vegetarian people. Tandoor food was very good." - dipenpayal (read review)
"I thoroughly enjoyed the Indian food station it was very good. I would say to use the steps to work off all that good food." - ljcred (read review)
"The Indian food is a hidden treasure! short lines and delicious!" - Agriff
5. Know that there will be a lot of kids and spend some time in the adults-only Serenity area.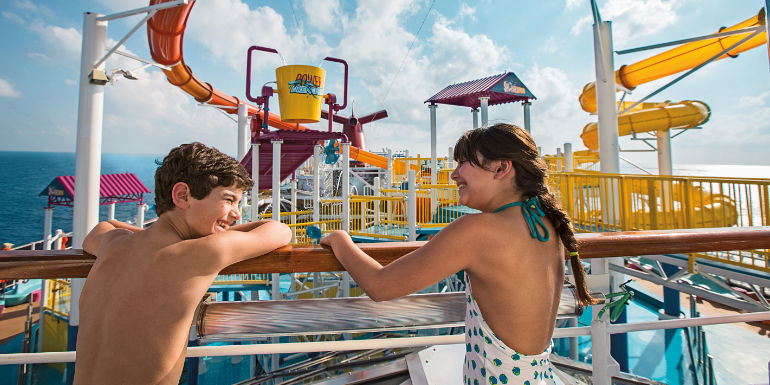 Carnival is known for being family-friendly and full of fun, so it shouldn't surprise anyone that there will be lots of kids onboard. This is great for those with little ones, but if you're looking for a child-free escape, be sure to check out the ship's adults-only Serenity Retreat area.
"If you are sailing with children or young adults, the Carnival Breeze is great. If you are sailing with all adults, wait until school is in session! The activities were varied and excellent. The staff was attentive and the entertainment staff was top rate!" - pmpaige48 (read review)
"The adult section is awesome get there asap." - julio40 (read review)
"It's a beautiful ship, plenty to do. I DO wish there was an adults only swimming pool. We were in the pool more this time than on any of our other cruises but there were lots of little ones in the pool. We don't mind kids AT ALL but having an adults only pool would be nice." - melm (read review)
"If you are older, stay away from Feb-April. Staff did not control the raucous kids." - dmilliga223
"If you're an adult taking this shipping line I recommend finding the Serenity Deck as [soon] as you get on board." - 12ELF6067 (read review)
Other Notable Tips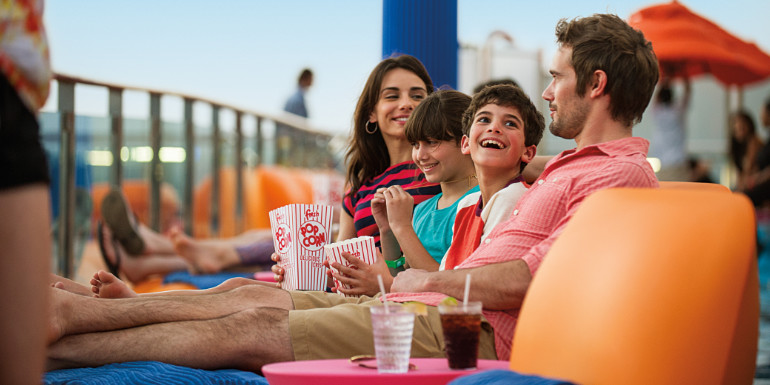 "Go to the burrito bar for breakfast, they have the shortest lines and you can get everything you would normally eat at breakfast - just piled on top of a burrito!" - wacandgman
"They have some rooms that were adjoining and this was perfect for us because we went with another couple and it made it a lot nicer. Also the Carnival Breeze has one and a half bathrooms. One room had a shower, sink and toilet and the other room had a sink and small bathtub." - cwntripp
"Late night dining might be better cause 6:00 means leaving activities early to get ready." - newmanpam77 (read review)
"For Comedy nights... be sure and get there early enough or you won't have a place to sit. There is a "PG" one as well as "R" Rated after hours. They are GREAT!" - MDBresser
"Cloud 9 Spa mineral pool was extra but [it was] sooooo relaxing and the steam rooms were great. Don't miss the BBQ by the sea, the rocking chairs outside the Red Frog Rum Bar. Get a pitcher of some sort of frozen drink at the Red Frog Rum Bar. If you like movies don't miss a Dive In movie at the pool." - Gatorhans
"Best spot for sail-away is a "secret" public area right above the bridge. Go to the fwd elevators & go to Deck 9. Walk all the way fwd on the port side and you will find a door out to a "secret" public space on the front of the ship. Since it is over the bridge you can go out on the bridge wings." - capitalkyle
"Don't select a cabin portside deck 6 unless you like the smell of smokers." - kfrosh64 (read review)
"Go to the Italian restaurant for lunch :) Made to order pasta.. yumm.. Faster to Fun great buy!" - Jilliealex
"If you have kids that want to do the SkyCourse go right away when it is open (wear close toe shoes) because it might be closed if it is too windy. Sports deck is awesome to spend time with kids! Do not miss your seaday brunch it is very nice plus as a past guest you get a free cocktail!" - FamilyCarnival
"The Red Frog Pub has a great atmosphere. Kids are allowed, you can play games, and the bartenders are awesome!!" - Rob1121 (read review)
"Don't skip the afternoon tea, available on a sea day. Bohan and Carl run the event and it is AWESOME. Simple teas, but amazing desserts and music." - hpfay94723270 (read review)