1st Time Oceania, Good Ports but No Sea Days...
This was our first time on Oceania and I missed some of the aspects featured on other cruise lines; for instance, professional photographer photo-ops (not the cheesy pirate costume ones though) and dining with the same waiter each night so he can learn your personal preferences. The staff was amazing with service and friendliness and the food quality/presentation was great.
This particular route was very good and most ports had plenty to do nearby or on excursions. I typically do 50% cruise line excursion and 50% on my own. Both were successful except in St Tropez where taxis were impossible to find. I really wish there had been a sea day for rest midway through as I have a difficult time "wasting" a port day by hanging out on the ship. Most of our excursions allowed us to sleep in until 8am and meet by 9am, which was nice. There are several tender ports which are a pain as Oceania tends to prioritize disembark of their excursion guests leaving independents waiting for a tender seat (this didn't cause any major issues, just show up early). I really wish in Livorno that the port departure time was later than 8pm- Most try to do Pisa & Florence in the 12hr stop and it is a rush. I hired a taxi for the day and did the main Florence museums with plenty of time though.
Overall, VG cruise and VG cruise line.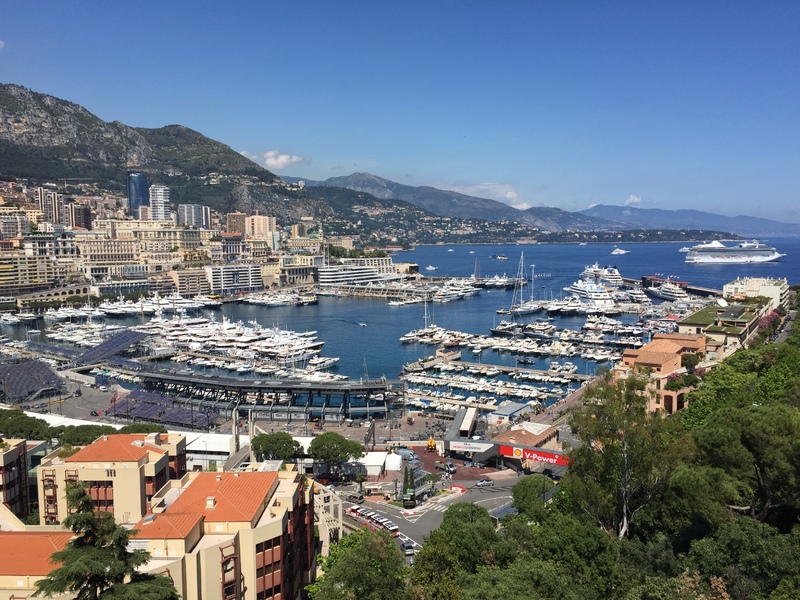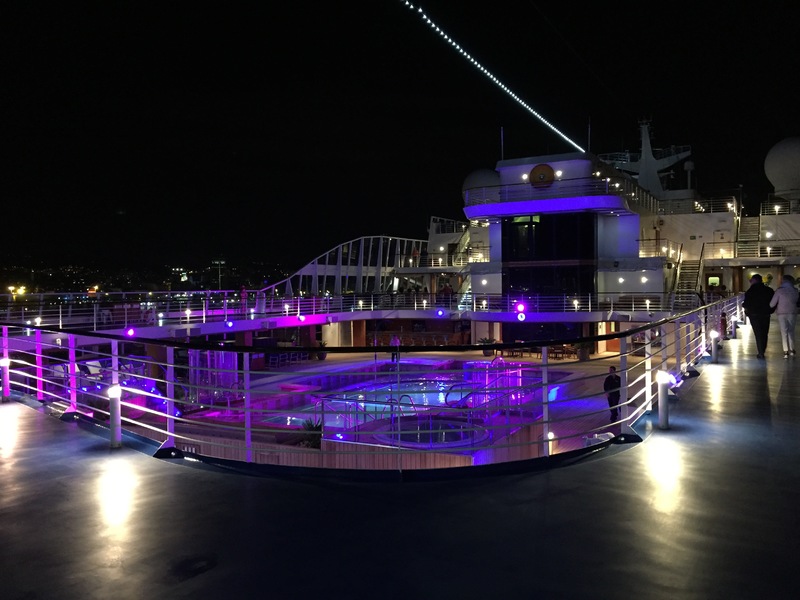 Category Ratings

Click table then swipe to view all columns.
| | | |
| --- | --- | --- |
| Ship Quality | | New ship. Excellent features. |
| Food and Dining | | 4 Speciality Restaurants (1 visit each free), Open seating dining room, buffets. Not much to eat outside of dining times but 24hr free room service. |
| Service and Staff | | Amazing staff. Great ratio to guests. |
| Entertainment | | Nothing appealed to us but we rarely participate on cruises. |
| Children's Programs | | The best part of this cruise was NO Children!!! |
| Onboard Activities | | Regular stuff like put-put and shuffleboard, pool, hot tub. |
| Destinations and Excursions | | Nice itinerary but no sea days to rest. |
| Cabin / Stateroom | | Concierge level veranda was nice. Room is same size as non-concierge level but you pay extra for 'services' which we didn't really utilize. The bathroom was amazing with marble and a separate shower and tub. |
Port Ratings

Click table then swipe to view all columns.
| | | | |
| --- | --- | --- | --- |
| Barcelona, Spain | | Start of the trip: late departure (11pm) to allow time for excursion. | |
| Palamos, Spain | | Did a three village tour. Nothing outstanding. | |
| Marseille (Provence), France | | Some didn't care for this stop, but we toured Avingnon which was GREAT! | |
| St. Tropez, France | | Hard to find a taxi here. I'd do the ship's tour. | |
| Cannes, France | | Hired a tour on my own for a Four Winery tour... great fun! | |
| Antibes, France | | Top 5 stop for this cruise- lots to do by the port and easy to get around. | |
| Monte Carlo, Monaco | | Lots to do here & an amazing place. Very steep climbing if walking. A little depressing to see everyone driving a Ferrari or Rolls Royce. | |
| Portofino, Italy | | Ship excursion to Genoa. Tender port & Portofino is a neat, small town. | |
| La Spezia (Cinque Terre), Italy | | Ship excursion to Cinque Terre was OK but the small town got packed with tourists. After, La Spezia on my own at the Naval Museum & Castle was AMAZING! | |
| Livorno (Florence & Pisa), Italy | | Private day taxi to Florence Uffizi & Accademia museums & Duomo. Great. Could always use more time in a port like this. | |
| Civitavecchia (Rome), Italy | | It depends on what you do: Port to Airport- long distance, nothing to see. Stay in port- nothing to see. Catch a train: easy. We stayed in Rome for 3 days as usual- always a great plan! | |