Caribbean - Southern Cruise Review
Perhaps I should lower my expectations
Jewel of the Seas
Cruise Review to Caribbean - Southern
Experience: 4-6 cruises
Review: 1
Helpful Votes: 4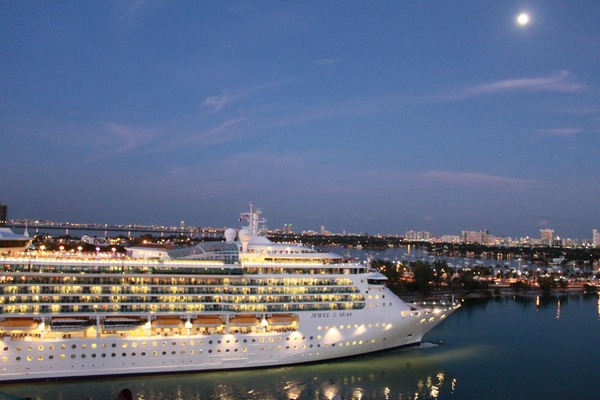 Southern Caribbean Holiday
Sail Date: January 03, 2015
Ship: Jewel of the Seas
Cabin Type: Balcony
Cabin Number: 1590
Traveled As: Couple
Reviewed: 4 years ago
Review Summary
This is my first Royal Caribbean Cruise.  I'd always thought it was kind of the Cadillac of the cruise industry but I no longer believe that.  Food was average when compared to other Cruise lines.  Also we had some bad cottage cheese and ended up sick for a couple of days.  We had a balcony suite and there was a speaker outside of it but it didn't work, so we didn't hear any updates from the captain or anybody else the whole cruise..so, we didn't know anything that he was saying........glad there was no emergency......Also do NOT book cabin 1590.....I don't know what was going on above this room, but it sounded like a bowling alley ALL NIGHT LONG......We didn't get a decent nights sleep the entire time......It was ridiculous......I would suggest not even booking anything on the 10th level(the highest suite level) because of the possibility that all these were as noisy but there's no way the other rooms were as loud as ours......really, sounded like somebody was moving furniture right above us constantly.......all night........every night.......Also Dont rent a scooter on St. Kitts......roads are stunningly bad and, if not dangerous, you will be SORE from bouncing down the mountain on the potholes, which are unavoidable...pretty cool beach bar called The Reggae beach bar would probably be worth a cab ride, but it is a small beach with only one restaurant.  I think there's another larger beach that we didn't go to with a lot of shops, but I cant speak for that beach....DO rent a scooter at St. Thomas.......awesome rental place just off the ship at the port by the Harley shop......amazing scenery and the guy at the shop was very helpful letting you know where to go and not to go.  Also, Barbados is a great place to rent a scooter, though there are few places to rent them on the  island.  The one we found was on Mason Hall Road, just a few blocks from the cruise ship and they only had a few for rent. The name we found on line was Paradise Scooter Rental, but it is under a different name now, I can't recall the new name.... I suspect the reason there are few scooters to rent  is because you are supposed to have a valid MOTORCYCLE license in order to rent one there, not just a regular driver's license.  Regardless, amazing scenery and the best roads int he Caribbean I've seen.  The cheapest car on the island was $120 per day and the scooter was $60.....Out in the country, you will encounter locals eager to help with directions and they are really nice......but they do want tips......however in comparison, I'd say Barbados is the least intimidating of the islands from a harassment perspective...Miller's Beach was awesome......very friendly and will hook you up.........Dominica on the other hand, not for the easily intimidated.......we got off the ship and walked around, but this was the only port we didn't venture out .......would not recommend doing that......heard a lot of fellow cruisers who got scammed on the one day we were there......very cool bar right at the port though......I'd recommend lunch and a couple drinks there......St. Martin's........ 6 cruise ships in port the day we were there....traffic was CRAZY.......we rented a jeep that day.......waste of time......creeped around trying to do the things we wanted to on the island but finally gave up and went to Orient Beach......which was interesting......I'm sure I'd have loved the island if not for the traffic.  I'd suggest checking ahead to see how many ships are in port there when you arrive before renting a vehicle.  I'd also suggest not booking excursions through the cruise ship......shoreexcursions.com is good or you can generally get what you want just walking off the ship......expect to be pursued though and be prepared to say no......or, we have something booked already....(that seemed to work best)....and say no again........but you can generally always get your excursion for much less if you are not easily intimidated.....
Seas were really rough and seasickness was an issue except the last couple of days..So I'd prepare for that...
I come back a changed person everytime I go to the caribbean and it was once again amazing, but I'd be lying if I said I was not disappointed in royal caribbean.....
so......can i get a free cruise outta the deal.......:))
Ship Experiences
Food and Dining
If the Cottage cheese tastes a little funny.......it is bad......don't eat it.......unless you wanna spend the next day paying the price
Onboard Activities
Entertainment
Hey heatwave.......love the laid back traditional reggae music......HATED!!!!!!! the techno reggae with the stupid obnoxious incessant groove.........lose that.......
Children's Programs
Service and Staff
Jo, who took care of our room, was awesome...
Ship Quality
Ship Tip
dont rent cabin 1590 if you want to sleep at all..........
Ports Of Call
Scooter rental just outside the port...by harley shop
dodge potholes.......or more precisely potcraters......
Philipsburg, St. Maarten Did not visit port
6 ships in port......traffic nightmare
great roads for scooters if you can find one.......beautiful island and people
Other Reviews Of This Sailing