Alaska - Gulf of Alaska Cruise Review
Terrible Experience!
Celebrity Millennium
Cruise Review to Alaska - Gulf of Alaska
Experience: 2-3 cruises
Review: 1
Helpful Votes: 3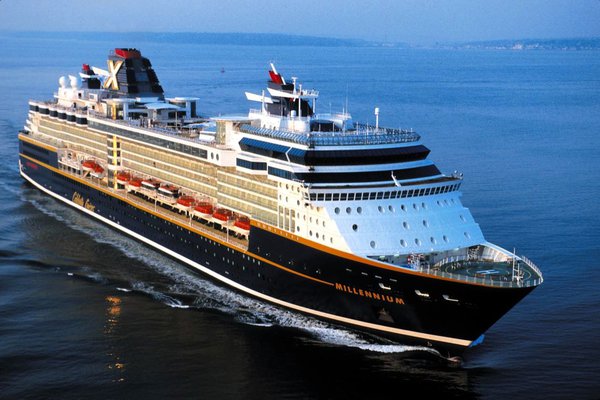 Alaska Northern Glacier Cruise
Sail Date: May 23, 2014
Ship: Celebrity Millennium
Cabin Type: Balcony
Cabin Number: 1100
Traveled As: Singles/Friends
Reviewed: 4 years ago
Review Summary
Celebrity Pre-Cruise Tour 2CB Canadian Rockies 5/17/14 and Alaska Inside Passage Cruise on Celebrity Millennium 5/23/14
This was my third cruise and my first on Celebrity.  I was interested in an Alaskan cruise and, following homework, expected an upscale cruise with Celebrity – upscale over many other cruise lines while not in the high-end, all-inclusive spectrum of options.  I was more than disappointed and, based on my experience, would not sail with Celebrity in the future. 
I booked the Canadian Rockies pre-cruise tour along with the cruise which was on the Millennium.  I will address the land tour at the end of this review since most are interested in the cruise only.  I was not sent luggage tags from Celebrity even though they were requested as soon as they were available.  This caused an unnecessary hassle when getting from my pre-cruise tour to the cruise.  During the check-in process for the cruise portion, it was noted that my name was misspelled on my sea pass which necessitated my going to Guest Relations to have a new card made before I could complete the check-in process.  I note this only because of the number of times I had to return to Guest Relations for a new card because the one I had did not work for my stateroom (several times) or did not have the beverage package on the card.  Each time I stood in a long line to reach someone who could rectify the problem. 
I was in an Aqua Class stateroom which was set with 1 bed, in spite of requesting 2 beds (since I was traveling with a friend) in advance of the cruise. There were no robes (an amenity for Aqua Class), the balcony door did not function properly, and the bathroom and balcony were not clean.  The bathroom clearly had not been thoroughly cleaned in some time as evidenced by the dirt in the corners and around the shower stall.  The balcony door handle was dirty and sticky, and the balcony chairs were too dirty to sit on without my cleaning them beforehand.  The carpet was discolored and threadbare in places.  There was limited storage compared to similar accommodations on ships operated by other cruise lines.  There was champagne but without a bucket and ice.  The pillows were way beyond their useful life.  The cabin steward seemed annoyed more than anything else that the bed needed to be converted to two beds and said he would have to take care of it at a later time.  I did the necessary cleaning myself.
An Aqua Class amenity is being able to eat breakfast in dinner in the Blu Restaurant.  This restaurant left much to be desired as far as the service and the food were concerned.  For breakfast one morning prior to a port excursion, I was the first to arrive, but the restaurant opened late, and it took 30 minutes for my order to arrive.  When it arrived, I had cold scrambled eggs and cold, burnt toast.  Dinner in Blu was limited, there was no visible  crab in the "lump crab" entrée, and a New York strip steak was tough and had a significant amount of gristle.  Overall, neither the food or the service was acceptable in Blu (much less better as advertised), and I ended up eating most meals in the Café (buffet) during my cruise.  When going to the Café, it was difficult to find a seat if it was a busy time or an at sea day.  I ventured out to the fantail with breakfast one morning only to find that it had not been cleaned from the night before.
With regard to the public areas on the ship, the ship was dirty and dusty throughout.  All glass was in dire need of cleaning.  Numerous elevator call buttons were sticky and not functioning.  The ship crew was not friendly, and it seemed like an imposition to converse with them, even if you weren't addressing a problem.  Actually, they were rude at times.  While there were designated smoking areas, the smoking policy was no enforced and there was a smell of heavy smoke throughout outside areas.
Beverage packages – the classic package (which I had) vs. the premium package limits you to certain brands of liquor.  Since I drink either wine or vodka brands listed for the classic package, I was led to believe this package would be more than sufficient for my needs.  However, what is not addressed in the differences between these two packages is that, with the classic package, you will be served a "mini" drink – one that is half the size of a normal drink.  While this may not be a major issue for some passengers, it certainly may be for others and is a petty issue on the part of Celebrity, leaving a "penny pinching" impression with the passenger.  The bartenders also tended to be rude about what you were "entitled" to with this package, especially at the Martini Bar.  However, Celebrity would do well to make passengers interested in beverage packages aware of this information when they are making a decision about which package they wish to purchase.
With regard to entertainment on the ship, there are very limited entertainment options, perhaps due to the fact that this is a mid-size ship.
Port and excursion advisors were not at their desks and available for the posted/advertised times.  Additionally, there was total disorganization on the crew's part in distributing materials at seminars.
Pre-cruise tour comments:
I had been advised that when I arrived in Calgary for the land tour portion of my trip, I should go to the "Celebrity desk" for my transfer to the hotel (the Fairmont) in downtown Calgary.  There was no desk, and there seemed to be no one in the airport who knew about the tour I had booked.  It took almost an hour to find someone who had some idea of what I was talking about.  At that point, I was given a transfer to use for a taxi to the hotel.  Clearly, I should have been given better information before departing, and the transfer should have been sent to me in advance.  I also was not provided with a detailed itinerary prior to my departure that would have made me aware of what was involved in the land tour.  This was provided by a Brewster Vacations representative at the first hotel on the evening of my arrival in Calgary – at a meeting with tour participants which I only found out about by accident.  This meeting also provided participants with all of the tickets and transfers that would be needed.  The details and the transfers should have been provided by Celebrity well in advance of departure. 
Overall, this clearly was a terrible experience with Celebrity which I thought would be an upscale vacation.  Even though the Millennium was refurbished in 2012, it does not appear to have been maintained or cleaned on a regular basis.  After this experience and in view of the cost of this trip, I truly could not give Celebrity a second chance to improve my impression of what they have to offer.  I sailed on NCL in March of this year, which I actually expected to be a step-down from Celebrity, but I would not hesitate to sail with them again.  NCL provided a wonderful cruise experience, and I'm glad I sailed with them first or I might never have gone on a second cruise.
Ship Experiences
Food and Dining
Service and food were not good in the Blu Restaurant, a perk for Aqua Class guests.
Onboard Activities
Limited.
Entertainment
Very limited.
Children's Programs
Not applicable to me.
Service and Staff
Staff/crew had a poor attitude even if you were not conversing with them regarding a problem.
Ship Quality
Not maintained or clean.
Cabin / Stateroom
Bathroom and balcony dirty. Faded and threadbare carpet in places. Limited storage. Poor service from cabin attendant.
Ship Tip
Even though this ship was refurbished in 2012, it has not been maintained or cleaned on a regular basis.
Ports Of Call
Vancouver (Canada Place), British Columbia
City very pretty and nice to walk around downtown, especially near pier.
Cruise Inside Passage, Alaska
Nothing outstanding. Short of mountains in background, it was like a Caribbean port.
Icy Strait Point (Hoonah), Alaska
Nothing really warrants taking tender in from ship.
Nice. Great excursion by seaplane to Taku Lodge.
Port was okay. Nice excursion on White Pass Railway.
Cruise Hubbard Glacier
View of glaciers from ship for a couple of hours.
End of cruise port for transfer to Anchorage.
Other Reviews Of This Sailing