Top 10 Alaska Shore Excursions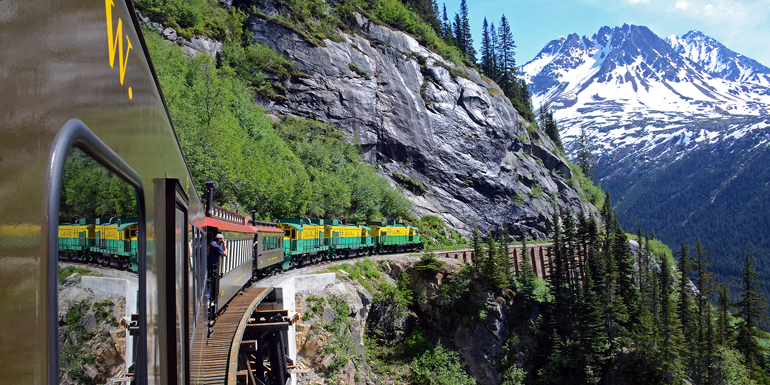 Selecting the right shore excursions for your Alaska cruise among the dozens and dozens of options from every cruise line can be the difference between a good trip and a stellar one. Here is our list of the best ways to spend your shore days, a compendium of daytrips you can book through your cruise line and independent operators at each destination.
1. Icy Strait Point: Zip Line
On ZipRider, owned and operated by Huna Totem Corp., magnificent views of Port Frederick and Icy Strait unfold as you reach speeds of up to 60 miles per hour and soar 5,330 feet from the treetops to the base near the beach below. Apres-zip, stop at the Landing Zone Bar & Grill for a much-deserved beer. New this year, Sitka-based Baranof Island Brewing Co. created a specialty beer named Cannery Red, and it's only available at Icy Strait Point.
Getting There: You'll learn about Hoonah history and culture during the scenic bus tour through old logging roads up the mountains.
Other Notable Excursions: Whale watching, jeep tours, bear searches, and stream fishing.
See All Icy Strait Point Excursions
2. Ketchikan: Adventure Park
Southeast Exposure Outdoor Adventure Center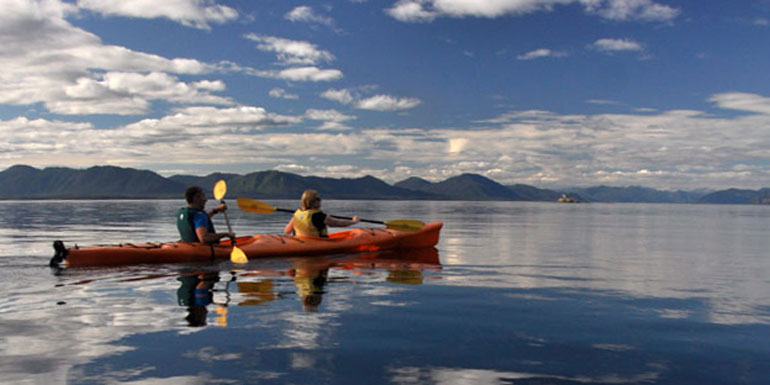 Photo by Southeast Exposure
From an inlet, you can drive your own boat to an entire park devoted to sea kayaking, zip lines, and biking. On your way back to the port, stop by Totem Bight State Historical Park, an 11-acre open space with 14 one-of-a-kind totem poles, a restored clan house, and interpretive trails with views of Totem Bight.
Getting There: It's a straight shot up Tongass Highway, only about 20 minutes from the port in Ketchikan.
Other Notable Excursions: Salmon fishing, eagle watching, bear viewing, and canoe trips.
See All Ketchikan Excursions
3. Juneau: Whale Watching
Especially between May and September, humpback and killer whales — as well as a variety of other cetaceans — frequent the food-rich waters just outside Juneau. Experienced guides with Juneau Whale Watch take travelers to the best spots to see these majestic animals in action. Add a glacier-viewing tour to your small-boat excursion, and you can see some of Alaska's famed glaciers as well as abundant marine life.
Getting There: Scenic boat rides, narrated by local naturalists, typically last two hours apiece, depending on the final viewing destination. Along the way, you may see sea lions, otters, eagles, and more.
Other Notable Excursions: Exploring the Mendenhall glacier in a kayak, in a raft, or on foot.
See All Juneau Excursions
4. Seward: Fjord Cruise
Half- and full-day guided cruises through Kenai Fjords National Park deliver unparalleled opportunities to spot whales and glaciers. Some cruises stop on Fox Island for a meal; others visit the Alaska Maritime National Wildlife Refuge, home to a number of seabird rookeries.
Getting There: Less than a mile from the cruise terminal, look for the Kenai Fjords Tour dock. There's a complimentary shuttle between docks.
See All Belize Excursions
5. Haines: Wildlife Adventure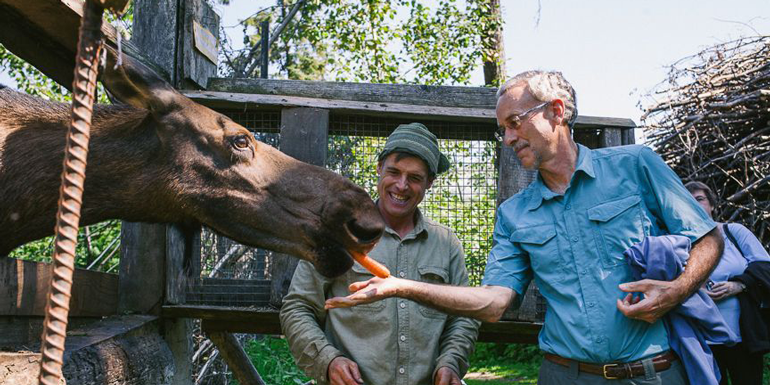 Photo by Kroschel Wildlife Center
The Kroschel Wildlife Center is home to rare and endangered species, such as wolverines, grizzly bears, and moose. Knowledgeable guides are ready and willing to answer questions from visitors of every age.
Getting There: From the port, the center is a 40-minute, 31-mile drive up State Highway 7.
Other Notable Excursions: Kayaking, jet boat tours, and bald eagle preserve rafting.
See All Haines Excursions
6. Juneau: Ice Fields
Getting to the Herbert, Taku, Norris, or Mendenhall glaciers by helicopter allows you to enjoy breathtaking views of mountains, rain forests, icefalls, and vibrant blue crevasses down below. Many operators land choppers on the glaciers and let passengers exit and crunch around, some even offering exciting dog sled tours on the Mendenhall.
Getting There: Most of the area's helicopter tours allow for approximately 30 minutes of flight time to the glacier landing site. Buses shuttle passengers from cruise terminals to helipads.
Other Notable Excursions: Bear watching, kayaking, glacier trek and climb, halibut fishing, and salmon fishing.
See All Juneau Excursions
7. Whittier (Anchorage): Glacier Cruise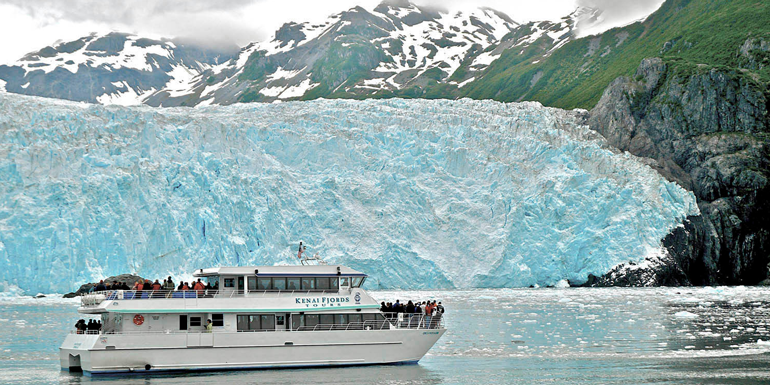 Photo by Phillips Cruises & Tours
The 26 Glacier Cruise covers 140 miles of ocean — and yes, 26 glaciers — in five hours. You'll get to see many different types of glaciers; if you're lucky, you might even get to see a calving. (That's when a giant piece of ice falls off.)
Getting There: The cruise departs from the Whittier cruise ship terminal, so you can walk over from the ship.
Other Notable Excursions: Bear watching, kayaking, glacier trek and climb, halibut fishing, and salmon fishing.
See All Whittier (Anchorage) Excursions
8. Sitka: Bird Watching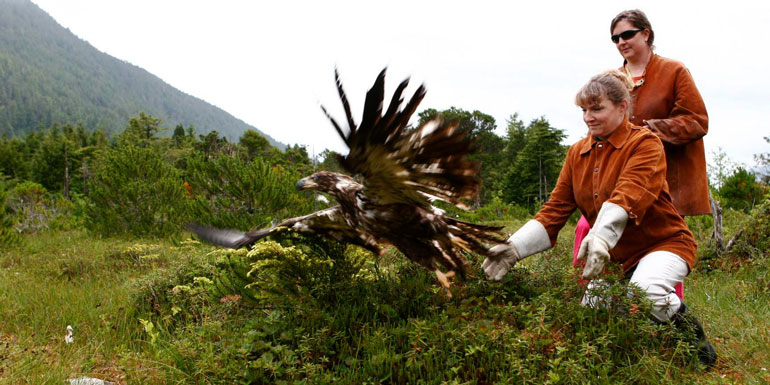 Photo by Alaska Raptor Center
This world-class bird hospital rehabilitates injured and orphaned creatures, and features an educational center with healthy birds in their natural habitats so you can get up close and personal with eagles, owls, hawks, and other birds of prey.
Getting There: The center is a short drive from the harbor and offers tours between May and September.
Other Notable Excursions: Marine adventure, kayaking, and history tours.
See All Sitka Excursions
9. Skagway: Narrow-Gauge Railway
Take a step back in time to Alaska's gold rush era with a round-trip voyage on this historic train. The journey starts at sea level in Skagway and ascends switchbacks at steep grades of almost 4 percent to climb nearly 3,000 feet.
Getting There: The station in Skagway is located a few blocks away from the Skagway cruise port.
Other Notable Excursions: Dog sledding, hiking, salmon fishing, kayaking, rafting, golf, and ATV glacier tours.
See All Skagway Excursions
10. Anchorage: Flightseeing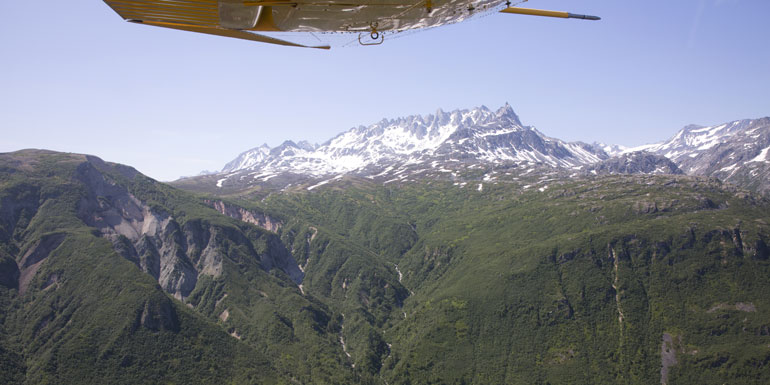 Photo by Papa Bravo / Shutterstock
Rust's offers a wide range of flightseeing excursions. Flights take off from the world's largest floatplane base on Lake Hood and include tours of Prince William Sound and Denali National Park. Tours last anywhere from two to three hours each.
Getting There: Lake Hood is located about 20 minutes by bus from the port of Anchorage.
Other Notable Excursions: Bear watching, kayaking, glacier trek and climb, halibut fishing, and salmon fishing.
See All Anchorage Excursions
Join The Discussion
What is your favorite activity in Alaska?