Europe - Eastern Mediterranean Cruise Review
Jade to Greek Isles
Norwegian Jade
Cruise Review to Europe - Eastern Mediterranean
Experience: 7+ cruises
Review: 1
Helpful Votes: 18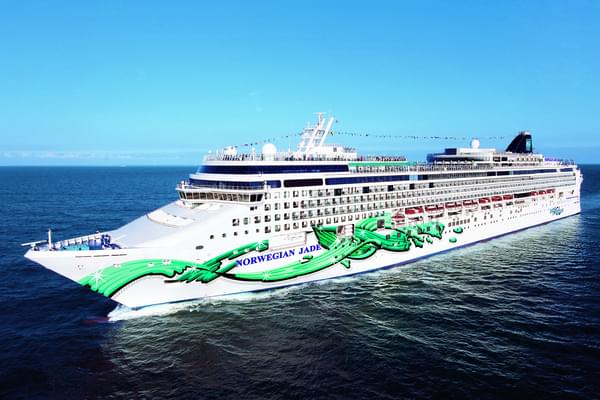 7 Night Greek Isles (Venice Roundtrip)
Sail Date: May 10, 2014
Ship: Norwegian Jade
Cabin Type: Suite
Cabin Number: 11076
Traveled As: Couple
Reviewed: 4 years ago
Review Summary
I was very excited about the Greek Isles for many years and was also very interested on how the NCL Jade would be compared to the Dawn which we sailed on a couple of years back.  The Jade was a very different ship then I am use to.  There was the lack of a grand atrium lobby which was quite odd at this day and age.  It was really a no frills kind of ship.  The main Pacific dining room was very well staffed and the food was quite good on most nights.  The second main dining room was not so upscale and lacked in service as well as presentation of food.  The buffets were average and served basically the same offerings daily.  The specialty restaurants we not crowded but it seems crazy that there are so many of them to choose from.  I believe that the Cruise industry is really pushing to the specialty dining venues and in some cases the meals included in your cruise suffers.  If that is the case then why not just go all in and add the specialty meals to the price and forget the main dining rooms.  The specialty dinning venues on most ships are taking up a ton of space as it is.  The Staff on the Jade was very good and there were no complaints in that area.  Our room was a Mid Shp Mini Suite and I highly recommend the mini suite as opposed to a basic balcony.  My wife and I both bought the thermal spa package for $199 per couple and used the spa quite often and never found it overcrowded as they only sell 40 packages.  The Gym was perfect to help fend off the unwanted extra cruise pounds and the staff was quite helpful.   The staff in the spa was also very pleasant although the massage packages we purchaced were only about average for the price.    Embarkation and debarkation were as painless as could be and went very smoothly.  Now for the Greek Isles.  Strange but true, our favorite Island was Corfu... Yes Corfu !  We did not and seldom book tours and rather venture out on our own.  This worked perfect on Corfu.  We exited the ship and wandered down the main street until we came upon a very large fortress wall that of course we said, " I wonder if we can sneak in there ?"  we walked around the outer wall and followed a small street and staircase up to a chain link fence.  To the left was a tunnel, we heard voices in the tunnel and then saw people from the island exit almost like they used it as a short cut to this side of the island.  Of course we had to know so we walked through the long semi dark tunnel.  To our surprise we did exit on the other side of the island and smack in the middle of an open air produce and fish market.  We walked through the market and viewed the sights and smells !  Our journey dropped us then in the new city or should I say the modern city.  We walked around a bit and found it was quite a lagre area, we shopped, had coffee and walked some more.  We then decieded as we neared the open market once again that we should venture back to the port side of the island.  Once again we walked through the tunnel.  After exiting the tunnel we decieded to walk through the open gates of a lower courtyard of the fortress.  There was another tunnel there as well.  And of course we just had to enter.  Once again we were surprised to find that this tunnel gave us complete entry to the fortress and we were able to gain access to the whole compound inside and out.  It was awesome and not very crowded.. I think only about 6 other couples had found it !  We had views of the entire island and just soaked it all in.  OK enought about Corfu, Now onto the biggest Island in Hyped up history..Santorini.  I have waited years to see this island.. and after the Kardashians went there and Chloe said she saw this island and could now die peacefully because of its beauty.. I just had to go..
(Mind you I don't always watch the Kardashians nor do I value thier opinions)  Well I have to tell you, yes it was beautiful from the sea and yes I was impressed with the beauty.. Can I die now ?  No way..
Once up on top of Fira after a quick Cable Car ride I intantly found out that we were in the biggest tourist trap ever... Not to mention it was rather cool for mid May and the Island itself was so high we were in the clouds most of the day.  Thank god I didn't go to Oia, it was even higher up and looked like a rain forest !!!  The view from Fira was nice but not always available depending on which narrow street (walkway) you were on.  The shops were expensive in comparison to Corfu for the same products.  I would suggest that if you want to visit Santorini, you do so on a cruise... I put it simply to my wife.. As a young boy I always wanted to visit the Alamo.. One year my dad had business in Texas and asked if I wanted to go with him and visit the Alamo.  I said yes and off we went.. As you may recall, the pictures in History books show a huge building with giant walls and sprawling landscape etc.. Yeah, leave it to history books to screw that up too.  We arrived at the Alamo to find that I could actually step over the little walls surrounding the small building that I waited so long to visit.  "That is what Santorini was in my eyes, all hype but then again beautiful."  Now off to Mykonos... Much like Santorini in beauty but more of a relaxed island that was not so pushy on the tourists.  I was very impressed with Mykonos for the shops and friendliness of its people.  The final island of our cruise was Olympia.. The home of the very first Olympic games !! This was nice to see from the temple of Zeus and the ruins to the very tiny olympic stadium that you could venture out on.. The stadium brough that Alamo comparison back to me but I had to take into context of where we were, who was at those games and the events they probably competed in.  I was impressed with the islands history and its archeological sites.. I would highly recommend a visit to Olympias ruins.  Other than that the island had a main tourist shopping area located near the pier and it was filled with knock off goods from purses to Beats head phones as well as many other items.. I had fun there, I love a deal and I love to barter!  The island as a whole was rather dirty with trash piled up everywhere but in all fairness we heard that the trash men were on strike.. But who knows maybe thats what they always tell people.  All in all the cruise was definitely worth the price.. Venice was nice to see as well but if you don't get lost and go off the beaten path.. it is just tourits and people trying to sell you anything and everything from Fake purses to Roses... "Get lost and have fun in Venice !"  Just as a side note we then went by train to Florence and Rome and I will tell you, both of those cities were unbelievable.. Even though Rome had its share of the pushy salesman and the streets were loaded with Tourists.. We loved it !!  And our Hotel (Colesseo #9) and our host Melina were the best part of our trip.. We had a room directly across from the Colosseum with a lagre open window.. Not even Julius Caesar had a view like this !    One last point if you are in Venice and you are staying near the airport.. Bus #5 is 1.3 euro to the last stop in Venice smack in the middle of the city.. We were able to take 3 bags on the bus without any problem and its a 20 minute ride from the Best Western Titan INN to the center of Venice.. A cab or shuttle will run you 40 Euro.. "Take the bus and enjoy the sites and people of Venice !"   Hope this helps with anything you may want to know.. Have a great time wherever you go and whatever you do because it sure beats working !!!!
Ship Experiences
Food and Dining
Most of the meals were good but Specialty dining is trying to take over !
Onboard Activities
Mainly we relax, use the spa so not available to comment
Entertainment
I am usually not a show person but the nightly shows were good.
Children's Programs
N/A so I can't comment
Service and Staff
No complaints with the staff they were all friendly and attentive
Ship Quality
Ship was decent value for the price
Cabin / Stateroom
Our room was perfect as well as our room attendant.. We hardly ever saw him but he was always there and if we needed anything it was done !
Ship Tip
Stay in a Mini Suite.. Great value.. And if you want to see everything from the ship, Go with an AFT mini suite or balcony.. The seas are not rough at all.
Ports Of Call
Get lost.. Eat off the beaten path.. # 5 bus from anywhere near the airport to downtown !
Walk around the Fortress.. Go inside and take the walking tunnel through the mountain to the new city
Beautiful but tourist trap for sure.. Enjoy the beauty
Beautiful and friendly.. Expensive.. Try the Spinach pie and fresh baked goods!
Must see the ruins.. History is great.. Shopping by the pier is fun, make sure to barter !
Other Reviews Of This Sailing