Alaska - Inside Passage Cruise Review
Sept. Alaska Cruise
Grand Princess
Cruise Review to Alaska - Inside Passage
Experience: 2-3 cruises
Review: 1
Helpful Votes: 5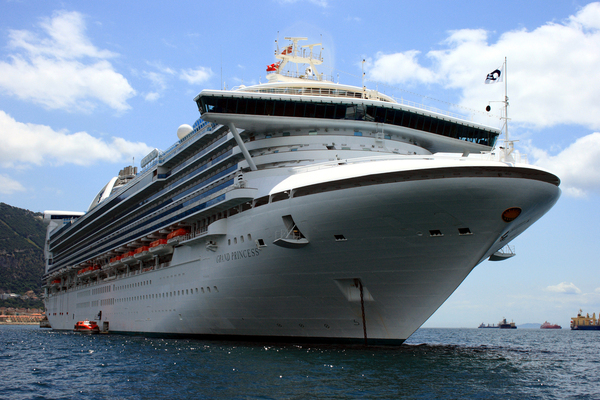 7 Night Alaska Inside Passage With Tracy Arm Fjord (Seattle Roundtrip)
Sail Date: September 14, 2014
Ship: Grand Princess
Cabin Type: Balcony
Traveled As: Couple
Reviewed: 4 years ago
Review Summary
I took my grandparents who are in their 80's on their first cruise.  We booked our flights with Princess which was great as we paid for the flights when we paid off the cruise.  We flew into Seattle a day before our cruise and stayed at the Waterfront Marriott which was a beautiful hotel near all the sights. I usually look for best prices when selecting a hotel but decided I'd splurge since I may not get a chance to do it again, so I would do it right.  We had lunch at Antonio's Diner as it was right across the street. My grandparents do not like to walk very far, so after lunch we went back to the hotel and our room was ready by 1p.m. We did walk to Pike Street Market place, which is a VERY large flea market, there was a lot of beautiful flowers.  For Dinner we ordered Romio's which is a local pizza delivery place.
The morning of the cruise, I scheduled our town car pick up for 10:00a.m  we got to the pier by 10:30a.m and was on the ship by 11:30a.m  The Princess personnel at the terminal was the friendliest employee's I encountered on this whole trip. We booked two rooms on forward of the Aloha Deck 12 Starboard.  1 Balcony for my grandparents and my mother and I took the inside across the hall.  Being in room A203 and A201 was perfect as it was all the way at the front we could leave our doors open and just go back and forth.  I will encourage everyone to book a Balcony for this trip.  This cruise was one of the most beautiful cruises I have ever been on. My grandmother enjoyed staying in her room to just look out the balcony and see all the sights.  We were lucky and had beautiful weather the whole trip, other than heavy fog.  We didn't need to bundle up, as it stayed in high 60's - 70's the whole week.  On the way back once we got on the outer side of the passage it was very windy, not high waves just winds that would rock the boat pretty hard.  I knew that was going to be expected so wasn't alarmed, other passengers were very uncomfortable and worried.  People always ask me where they would feel less motion on a ship, so I went out and explored.  Forward on deck 12 you felt the most motion, the lower I went and more towards the back I didn't feel it as much.  
On the first day we went to Davinci's for lunch where there was no crowd.  I have to say I was not impressed with any of the dining options.  If I did an Alaskan Cruise again, I would chose the anytime dining  as I'm from the East Coast and the biggest thing that I found annoying was all the time changing, Seattle is 3 hours behind, but Alaska is 4 hours behind.  We went to the Botticheli Dining room the first night and was not impressed with the menu or the service, so after that we did the Horizon Court which had much better service than the dining room. I didn't like the pushy beverage package sale from the waiter, I said no thank you once and they offered it 3 more times during that one meal. Out of the 4 of us traveling, my mother is the only alcohol drinker in our party. They got the soda package which is worth it, if you are going to drink 3 or more soda's a day.  I only drink 1 a day so it was better for me just to pay the $2 for the soda instead of $7 a day for the package.   The service was better but the food on the buffet was the same everyday and it wasn't great, but if you like fish, shrimp, and fresh salad then it's the place for you.  I did order room service a couple times, and one of the times I asked the delivery person if I wrote his tip on the receipt if he would receive that and he said No, it doesn't go to me. I found that strange and gave him cash for a tip.  I felt that the food in the complimentary dining wasn't as good so that you would go to their specialty dining options.  I did make reservations for my grandparents to go to the Crab Shack which they loved. 
The shops on the ship ran some specials being that it was the last Alaska Cruise for the season, there were these coats on sale for $30, which everyone in my party had to have.  When we got to the first port they had them on sale at the pier for $20.  I wasn't impressed with the shops on board, I wish there was less jewelry and more variety of items.  The sales they had on the ship were very cheap quality items, except for the Tshirt and hat sale for $5.00.   
This ship was a very large ship, it was also a sold out cruise which made me worry that it would be crowded.  Not once other than during disembarking at a port, did I ever feel it was crowded.  The elevators were slow and frustrating at times.  I usually take the stairs on a cruise but having my grandparents they weren't up to walking up and down 14 decks on the stairs.  I will say I was not impressed with the activities or entertainment.  My biggest frustration was, that they would schedule a show or event, it would take you about 15-20 min to get there and it was only a 30 min show.   Everything was a rush, even the night shows seemed to be too quick.  I took my grandfather to a Veterans meet and greet and it lasted 20 minutes and the host said he had to go. (If you are military or veteran Princess gives On Board Credit)  I was impressed with the indoor pool and 2 outdoor pools.  There were 8 hot tubs that were not used much but always opened.  We "tried" to do laundry a couple of times but the dryers did not work, I ended up hanging my clothes in my room.  It was $2 to wash and $2 to dry and $1.25 for soap or fabric softner.  My grandparents really enjoyed hearing the naturalist Mark Harris speak about the different wildlife and history of the areas.
We did schedule excursions for each port we visited.  Booked them ahead of time but you pay for them on the ship.  The only frustration with that is, my mother and I shared a room but we each paid our own expenses.  They have the excursions all billed to the lead passenger in the room, so we had to go to the Shore Excursion desk and correct that so that my mother paid for hers and I only paid for mine.  The first stop in Ketchikan we went to a totem pole park and lumberjack show.  Our tour bus driver was great, but the totem pole park felt rushed. The lumberjack show was good, but too scripted in my opinion.  I will be honest and say that if I did this cruise again I would not book excursions, I would have enjoyed just walking through the town and shops. There are guides at the pier offering tours but I didn't think their prices were that great compared to Princess. There usually were complimentary shuttles or $2 shuttles available in each stop to take you into the towns if you didn't want to walk about 1 mile. Having excursions did save me a lot of money because I never had time to go shopping. Juneau my mother and grandfather did the Salmon Fishing adventure. You need $30 for fishing license.  There was 4 of them on the boat and my mother was the only one that caught a salmon which she had shipped home for about $80.  My grandmother and I did Glacier gardens and the Mendenhall Glacier.  We enjoyed that tour, the gardens was a very beautiful place to visit with upside down trees that had flowers planted in the trunks.  In Skagway we did the White Pass rail way train excursion, only negative thing was the young college kids running it were very rude.  Other than that it was a beautiful train ride up the mountain and back.  Last stop was Victoria BC where we had a short Horse and Trolley tour of the town.  That would have been a nice tour if it wasn't dark out, but seeing the capital building lit up was very nice. 
Taxis run about $50 - $60 from the airport to waterfront, and from the pier to the airport, so we booked a private sedan service with Atlas Town Car for the 3 trips we needed, with tip from the airport to the Marriott it was $66, from the Marriott to the pier it was $50, and from the pier to the Crowne Plaza at the Seattle Airport it was $66.  
I took $100 in small $1's and $5's for tipping. Who to tip for those that haven't cruised before.  Shuttles that take you to the airport $1-$2 per person.  If you have curbside check in at the airport and are checking bags, tip the person who's taking your bag again $1-$2 per bag.  On the cruise you should tip room service delivery person  $1-$2 per person ordering.  On Excursions the tour operator or shuttle drivers tip them as well.  My sedan service cost already included a gratuity, but I still additional tipped $10 per trip because of all the luggage we had.  
Ship Experiences
Food and Dining
Onboard Activities
Entertainment
Children's Programs
Service and Staff
Ship Quality
Cabin / Stateroom
Ship Tip
I personally was just looking to read and relax on this cruise, so my favorite spot on the boat was all the way at the aft of deck 14 on the Starboard side there is a quiet place with chairs that you and relax and just look out at the ocean.
Ports Of Call
Cruise Tracy Arm Fjord, Alaska