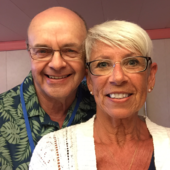 BonMike
Westbank BC
Joined 02/2015
We love to see different ports and everything that a cruise has to offer. If only I had been able to talk my husband into cruising years ago.........
Upcoming Cruises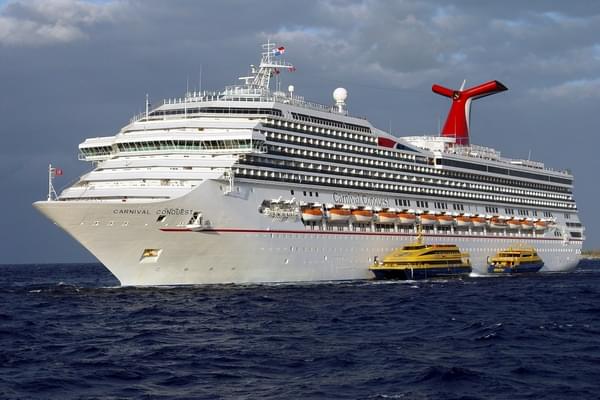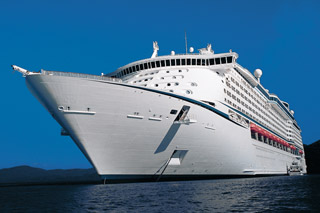 Past Cruises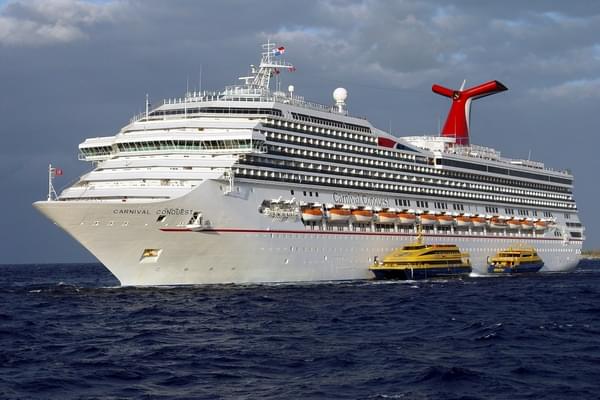 March 2018 - 6 Night Eastern Caribbean (Ft. Lauderdale Roundtrip) Cruise on Carnival Conquest
Great time on the Conquest
The Conquest was not our favourite ship - it felt congested in several areas, but we had a great time onboard. The only criticism I have is with Carnival. We booked this cruise while onboard the Sunshine in 2017, and our paperwork showed we would get a certain amount of OBC, signed by the booking agent Jennifer. When our documents were emailed to us, the amount of OBC was a little less. I phoned and was told it would be corrected on the ship if I took the original paperwork to show. Guest Services told me that they couldn't help me and I needed to phone before the cruise. We had done exactly that. It was like going in a circle with no end so we didn't Perseus it any further. Disappointing but not a deal breaker for just a few dollars.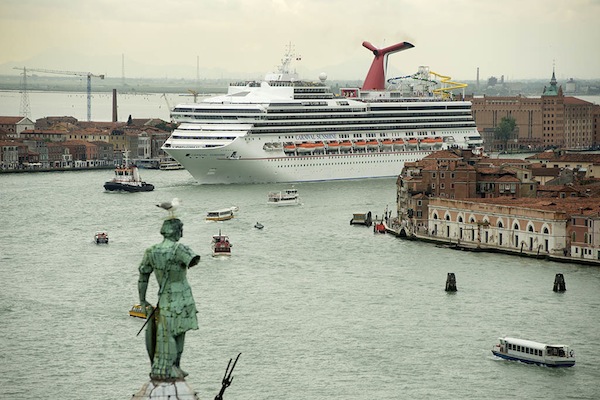 March 2017 - 8 Night Eastern Caribbean (Port Canaveral Roundtrip) Cruise on Carnival Sunshine
March 2016 - 7 Night Mexican Riviera (Los Angeles Roundtrip) Cruise on Carnival Miracle
Mexican Riviera
This was only our 4th cruise, and first out of Long Beach. We arrived a day early to  be able to relax and enjoy some of Long Beach's sights before our cruise. On embarkation morning we arrived early at the port as we always do, so we can people watch and have the excitement build even more. Everything went perfectly. Having purchased FTTF, our room was ready when we boarded, and our luggage arrived by the time we finished lunch. The ship is beautiful! The crew were really friendly and our cabin steward was great. We enjoyed our waiter on the 2nd night so much that we asked for his section each evening (we had YTD). He had us laughing every evening, and we looked forward to dinner mainly because of him.
The highlight was meeting John Heald, and having him suggest we get a photo together. We had taken a small Canadian keepsake gift for his daughter, and he showed his appreciation by meeting us and giving us some swag. We really apreciated that too. We enjoyed Cabo, Mazatlan and PV, but will be heading back to the Caribbean next spring. This was a fantastic cruise, and we would recommend the Miracle to anyone.
Happy cruising!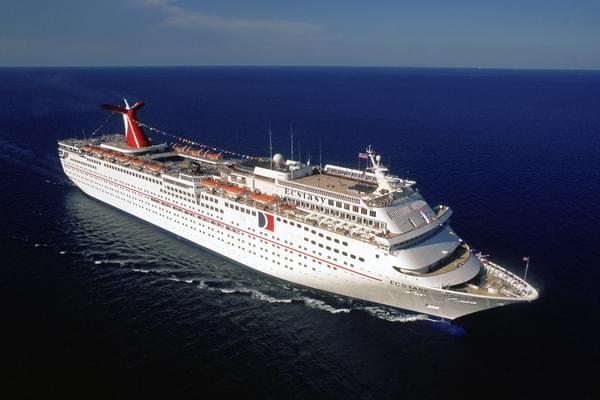 March 2015 - 4 Night Western Caribbean (Miami Roundtrip) Cruise on Carnival Ecstasy
Short but sweet
Our cruise aboard the Ecstacy was another short 4 night cruise, but we loved every minute of it. The ship is showing signs of age in some areas - a few tiles missing in washrooms, bits of rust here and there, but I look my age too! LOL
Our room this time was a porthole right near the front of the ship and it was great. We felt very little movement and the porthole windows gave us the daylight we wanted when we woke up each morning.
The crew were great and very friendly all the time, and we had no complaints about anything. The food was from the older menu which we preferred, and it was so nice to have tablecloths in the MDR each evening.
We chose to wander Nassau on our own and then he'd to a local beach for a few hours, which was close to the ship. It was an enjoyable day, but I think we would stay onboard if we cruise to Nassau again.
I don't think we will book a short cruise like this again - the time flys by way too fast to really enjoy all the ship has to offer.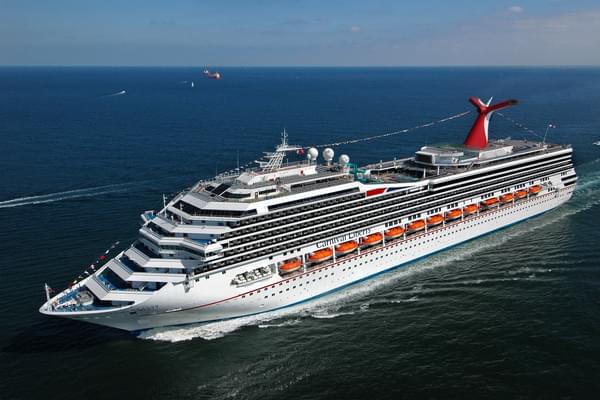 February 2014 - 7 Night Western Caribbean (Miami Roundtrip) Cruise on Carnival Liberty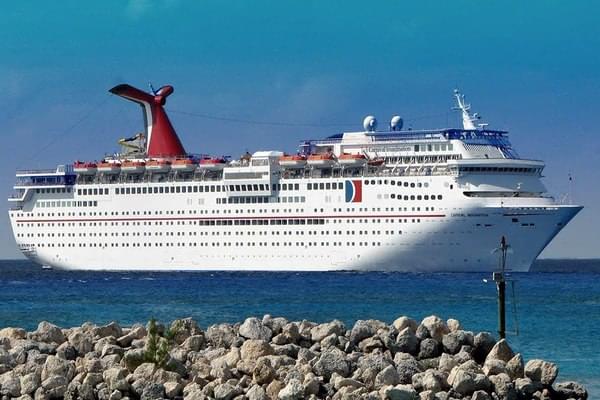 March 2013 - 4 Night Western Caribbean (Miami roundtrip) Cruise on Carnival Imagination
First Cruise
The Carnival Imagination was our first cruise. It only took me about 15 hrs to convince my husband that he would love it. We don't drink or gamble, and he thought we would be bored while on the ship. Finally, he agreed to just a 4 day cruise, and he loved it! 
We stopped in Key West and Cozumel. In Key West we wandered on our own and took a Hop On Hop Off trolley tour - we had been to Key West before and loved it. Of course a visit to Kermit's Key (West) Lime Pie Shop was a must! We really hope to visit the town again to see more.
In Cozume we took a Carnival excursion to Tuluum to see the ruins and although it was a long bus ride it was worth it. The guide was wonderful on the bus and she was also very good at the site. We learned a lot about the Mayan culture and enjoyed our day immensely.
Onboard we had a fabulous time. We had purchased FTTF so boarded early, were able to drop off our carry on bags and enjoy lunch while watching the ship fill up with other guests as excited as us. Our CD was not great, not even good, but we had a lot of fun anyway and enjoyed each evening's show. We had chosen Yout Time Dining, asked for a table for 2 each evening and decided that is the best choice for us. We could visit with others sitting close by and still have conversations with just the 2 of us. 
As we slowly wandered down the ramp leaving the ship, my husband put his arm around me and asked "so when are we cruising next?" He's hooked! 
Cruise Tips
We've visited Grand Turk before, and loved it just as much this time. The sandy beach and light blue Caribbean Sea are gorgeous.
Ft. Lauderdale (Port Everglades), Florida
The cruise port is close to the airport which was great for a lot of guests. We arrived a couple of days early and enjoyed some precruise shopping at a mall right near the hotel.
Half Moon Cay, Bahamas (Private Island)
Can I give HMC 10 stars? It's the most beautiful place I've ever seen. The powder soft sandy beach against the various shades of blue water are breathtaking. Friends rented a cabana on the beach which they really enjoyed, but we were happier in the sun on the beach.
Although we didn't plan to leave the ship because we' ve been to Nassau before, and it wasn't our favourite cruise port, we did go out and walk around the shopping area, and enjoyed our day.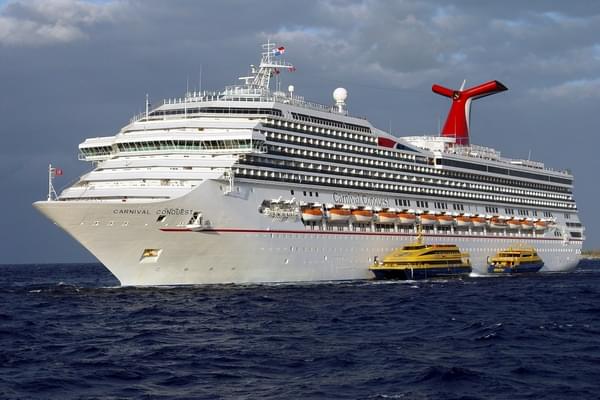 Carnival Conquest
My tidbit of advice is for guests to go with an open mind. Understand that the ship will be crowded, whether you are on the Lido deck, trying to find a lounger, or even moving around the lobby area when there is entertainment plus the photographers with their backdrops taking up room. Lineups at Guest Services also cuts down on lobby space, so enjoy the crowded areas and people watch. It's a great opportunity to meet new people too.
The Hop On Hop Off trolley is fun. The driver/guides are great and can answer any question. You see a lot of things in a short time. Be sure to stop in at Kermit's Key (West) Lime Shoppe for pie and samples of everything key lime from salsa to candy.
Victoria BC is a charming Canadian city and provincial capital with a definite British influence. The Prov. Government building lit up at night is really pretty to see. Go to Butchart Gardens for a self guided tour - amazing, beautiful!
Carnival Miracle
If you want a beautiful quiet place to relax onboard the Miracle, you'll find it in Gatsby's Garden. It's out of the way, and so lovely.
If you take the cave tubing excursion, lockers are available to hold your clothes for a small fee. Book the excursion that includes lunch - yummy jerk chicken and rice.
My favourite city in the world! Take a city tour so you can learn about the history behind the city and Finland in general. The city is clean, beautiful and the people are so proud of their heritage.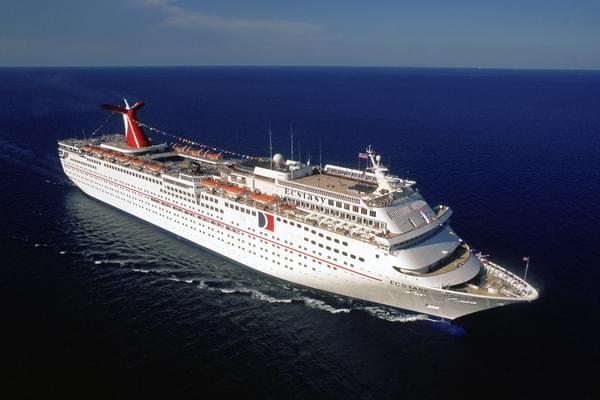 Carnival Ecstasy
Enjoy your cruise and leave your cares back on land.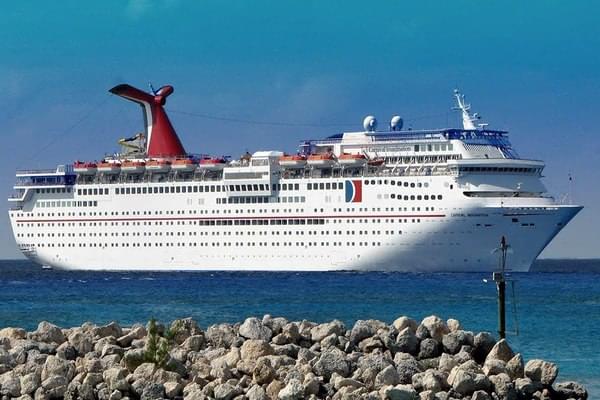 Carnival Imagination
The ship is small enough to easily find your way around, yet big enough to never feel crowded. We loved having our breakfast and lunch outside at one of the bistro tables.
We enjoyed the city tour and watching the cliff divers, but Mazatlan is not a place I would care to visit again.
The BEST key lime pie is at Kermit's, along with a ton of samples of everything key lime that they sell. Soooo good! You can buy it by the slice to enjoy while wandering the port, or even take some back onto the ship because they have it in a sealed plastic container for you.