Good, Not Great
Liberty of the Seas

Cruise Review to Caribbean - Western
---

Experience: 7+ cruises
Review: 1
Helpful Votes: 4
5 Night Western Caribbean (Ft. Lauderdale Roundtrip)
Sail Date: November 22, 2014
Ship: Liberty of the Seas
Cabin Type: Balcony
Traveled As: Couple
Reviewed: 3 years ago
Review Summary
First, let me say that we loved the Liberty of the Seas. Very nicely appointed, designed, and maintained. The fact that a functional ice skating rinks exists on any cruise ship is pretty amazing. I'm always in awe of those who can skate, period, but to see them do their flips, jumps and spins on 6 to 9 foot seas was beyond impressive. But I'm getting ahead of myself.
1. The food
This is what cruising is known for and certainly on Royal Caribbean. This was our 5th RC cruise and 9th overall, so we have a pretty good knowledge base to draw on. The food was of course plentiful, especially in the Windjammer buffet. I have to say that nearly every experience here was a good one. Hot food was hot, cold food was cold, everything (mostly) was fresh and tasty. One big exception to this was the orange juice in the mornings. Every day it was warm. Not just room temperature, but warm. I needed ice to make it drinkable. Very strange. I tried some dishes new to me, like Indian...stuff. Can't remember what it was but it was all good.
We did the "pick your own time" dining 3 of the 5 nights and were seated in the Botticelli dining room, the 3rd tier in the magnificent dining hall. The service was, as usual, more than adequate although I do think you miss something dining without others at a large table. Still, the freedom to make reservations for whatever time we wanted worked well for us and we were finished with dinner in plenty of time to see shows and do things which was never the case when we did the late seating traditional style. The food was good, not great. Portion sizes were generous and we could order multiple items off the menu if we wanted. Desserts were always the best part of the meal. Always exquisite.
The other two nights we split between Portofino and Chops Grille. Again, the service was above average and the food was good, but not great. And for a $30/pp upcharge, I thought it should be great. To our amazement they actually had extra-charge items on each menu. This after paying to get in. And some of the menu items we had seen in Botticelli! This struck us as just wrong. We did have a very nice, very well-trained server named Margaret in Chops. Ask for her table if you go.
2. The service
Here is where we thought that RC has become more concerned with their stockholders than their customers.
A. Our nearly non-existent cabin steward. In the past we have gotten to know our cabin steward and interacted with him on a daily basis. Not so on this cruise. We barely saw him. He did his job and no more. I know it sounds silly to complain about the towel animals but my wife adores them. Even though it was her birthday cruise, we only got two towel animals out of five nights. On past cruises there would be one every night. And I won't even go into the lack of chocolates on the pillows. I still have every chocolate I've ever gotten on any cruise in my freezer. Too bad I couldn't add to the collection. He was slow to re-stock the mini-bar, which is odd considering the exorbitant fee RC charges for bottled water. Just wasn't there much. Did his job, but no more. Too bad I prepaid on gratuities. Perhaps that has entered the mindset of the cabin steward. Or RC trainers.
B. Two words: Rosetta Stone. I'm not one of those who complains about non-English speakers in, say, Belize. But on a cruise ship in which a large percentage of the guests are native English speaking I find it hard to believe that RC staffs Guest Relations, Cruise Destinations and most other positions with those for whom English is not their primary language. We've always run into this but on this cruise it was particularly difficult to understand the guest relations and shore excursions staffers. They were friendly and helpful, sure. But we were not certain that our requests had been met until they had been. Again, this has never been a problem before. It just seems as if RC could spend a little more on ESL classes for those that come in contact the most with passengers.
C. Praise: the common areas of the ship were always clean and well-maintained. And even though we spent two days at sea, mostly in angry seas, the crew did a great job of keeping everything straight and orderly. Given the large numbers of children on board and those who were apparently seasick I think this merits the highest praise.
3. The entertainment
In a word, fantastic. Well, all except that strange little Cirque Du Soleil knockoff show in which we left early to maintain our sanity. Not their finest hour. But the ice skating was fabulous. The Saturday Night Fever tribute was very good. And the street party in the Promenade was way fun. The "Village People" guys were great, although I was a little concerned about shirtless farmer guy. He was a might sweaty. But it was a great way to end a day. The cruise director was great fun and it was obvious that he enjoys his job.
4. The ports/shore excursions
We understand that RC can't control what happens on shore. But I do think they could and should vet the tour groups a little better and provide more detailed and more accurate information about exactly what transpires on a given excursion. For example, we did the cave tubing excursion. That part of it was fun. The hike through the 3 caves was good and our guide, though very young, seemed to know a lot about the flora, the caves, the stuff in the caves. Then we hitched up 8 innertubes together and floated down the "river", which I later discovered to be a big circle as we ended up where we started. Again, this was neat and definitely cooler than being in the blazing hot sun. The down side was the 90 minute bus ride out and 90 minutes back which is glossed over in the promotional material. The AC on our bus was barely functional and the folks in the back complained the whole way out. Our tour guide was a native and apparently very knowledgeable. I say "apparently" because wile he rambled on and on for the whole 90 minutes out, the combination of his thick accent and the poor quality of the audio system conspired to make him barely understandable. So, it was good once we got there, not so good going and coming. Plus the fact that we got to see the "real" Belize. Experienced travelers know what I mean.
Cozumel was great. We did the Costa Maya beach resort thing. It was very well-done and we had nothing but praise for it. We'd seen the Mayan ruins on an earlier cruise so this time we thought we'd just relax at the beach.
Overall, I'd give this cruise a B-. Out of the 9 cruises this was my least or next-to-least favorite. But it's close to splitting hairs. If a B- is the worst then we're doing okay. Just know that this itinerary is a little different from most in that it's a 5-dayer with two of those days at sea. We love sea days, so that wasn't an issue. And RC can't do a thing about the weather, which was less than hospitable on the 2nd sea day. Couldn't be outside much at all. But we did think the food was not quite as good as on previous cruises and the level of service had declined a bit as well.
Just so you know, our favorite cruise, by far, was on the Celebrity Summit through the Inside Passage in Alaska, Seward to Vancouver. 2nd favorite was a Southern Caribbean on RC. Both of these were 7-dayers.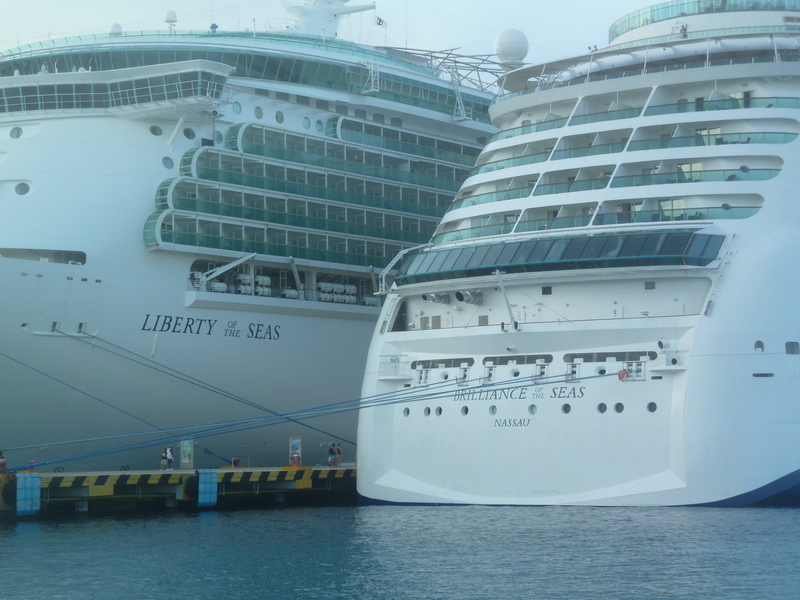 Ship Experiences
Food and Dining
Good, not great
Entertainment
All good except Cirque Du Soleil thing
Service and Staff
We've seen better
Cabin / Stateroom
Very spacious; best cruise shower yet
Ship Tip
First time we've felt like there really were 5,000 people on board. Although Liberty is a large ship, there are times when you know there are lots of others with you.
Ports of Call
I'm rating it "great" in comparison to others. Onboard and Offboard is pretty good here. But be prepared for traffic issues...lots of construction
One of our least favorite destinations. It has nothing to set it apart and the pier area is just sad.
Costa Maya beach resort is great if you just want a day at the beach.
Other Reviews Of This Sailing