Caribbean - Eastern Cruise Review
We'll Miss the Explorer
Explorer of the Seas
Cruise Review to Caribbean - Eastern
Experience: 7+ cruises
Review: 1
Helpful Votes: 11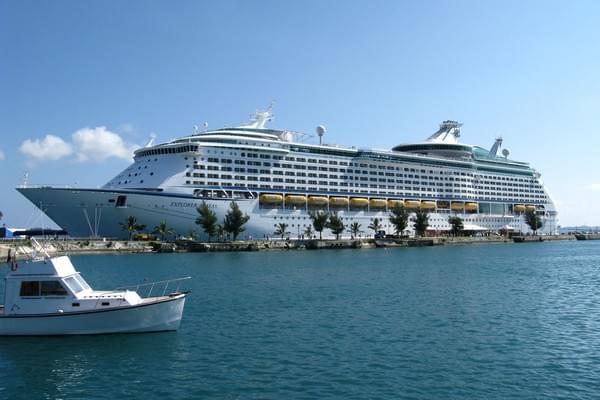 invalid-36027
Sail Date: November 14, 2013
Ship: Explorer of the Seas
Cabin Type: Inside
Traveled As: Couple
Reviewed: 5 years ago
Review Summary
This being our third cruise on the Explorer, I was feeling a little sentimental.  She will be sailing out of Florida as of fall 2014 so we won't be able to take a short drive to catch her anymore.  She has been the workhorse of NY/NJ cruises.  It's always beautiful sailing out of Cape Liberty with the views of Manhattan (including the newly completed Liberty Tower) past the Statue of Liberty and the Hudson River.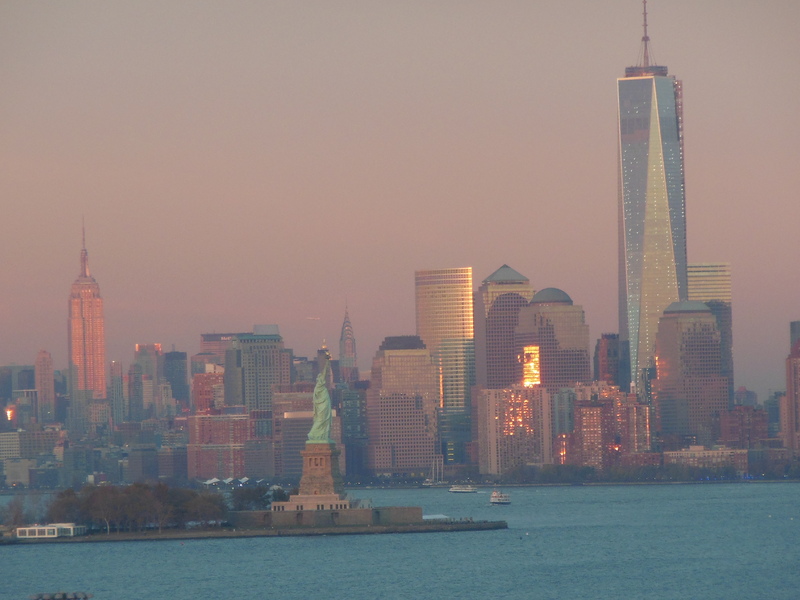 I have to add that Royal Caribbean really goofed up this time at the port.  Apparently the ship was late getting in and then the luggage was mixed up so there was a traffic jam that took an hour to get through before unloading.  Somehow the ship sailed on time.  It sounds like this was very unusual and I know we have never had a problem at Cape Liberty before so I am hopeful but concerned with the new larger Quantum arriving next year.
A couple suggestions:  Arrive very early, like before 11am or very late, after 3pm, to avoid the crowds.
When disembarking, take advantage of the Self Assist Departure, particularly if you need to get somewhere soon.  It's more work, you have to carry all of your own luggage, but it will get off the ship much quicker.
High marks to Audrian Browne, our Cabin Steward.  After a challenging time getting onto the ship he made everything better with his wonderful attitude and service.  With gratuities normally being automatic these days, I don't always add any extra tip but Audrian earned a bonus along with the title of best Steward yet.
Although the food selection and quantity has dropped over the years, (along with the prices) there is always something great to eat.  I suggest lunch in the dining room.  You will find some very interesting selections there when the buffet seems limited.  You would have to spend a lot more money to eat on shore verses a cruise ship.  I think this is one of the main reasons cruises continue to grow in popularity.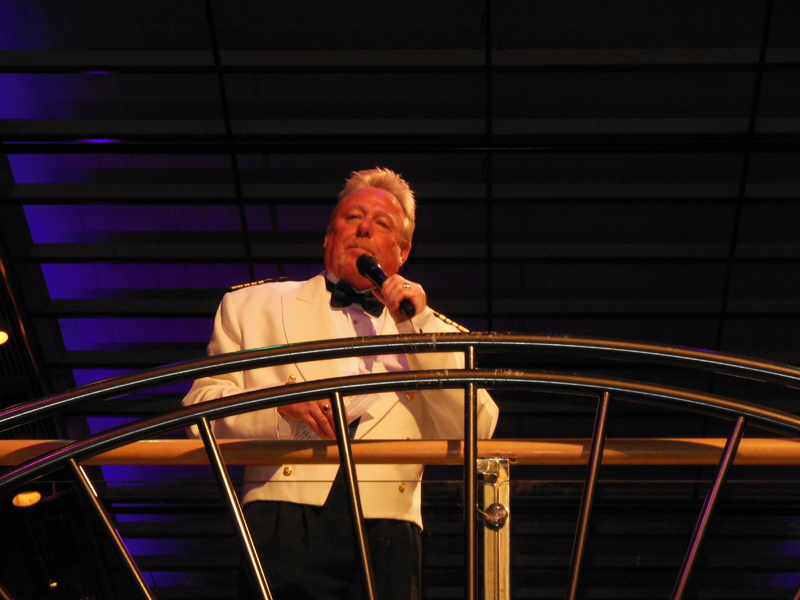 Captain James MacDonald was the most talkative ship captain I have ever seen.  Perhaps that's partly because he is also the first American captain I have had, so English is his first language.  He was always friendly and informative.
Our previous times on the Explorer we sailed to Bermuda but this time we found a last minute deal on a 9 day cruise to San Juan, St. Thomas, Samana and Labadee.  My wife and I paid $500 (including taxes etc) each for an inside cabin which made this the cheapest cruise ever.  I suspect October is a great month to find a cruise if you are looking for a last minute deal.

We arrived in San Juan in the late afternoon which left us little time to enjoy this fascinating port.  I am glad we are already booked on a cruise out of there in February so we could see this as a little exploratory taste before a more extensive visit later.  Great history, great food interesting culture.  The prices are high most places but check out the crafts people selling their wares in the plazas.  We found two lovely painted tiles for $10 each or 2 for $15 that made me ask how the artisan could survive.  (He explained that this was a second job.) 
We ate dinner at the Parrot Club which was a short walk from the dock.  The staff was fun and interesting and the food excellent.  After our waiter, Billy, introduced me to Don Q's Special Anejo rum, I had to further explore Puerto Rican rums with the establishment's expert, Daniel.  It was actually the tile maker who told us the Don Q is the rum of choice in Puerto Rico, not the one we Americans would expect, Bacardi, which is actually a Cuban company now headquartered in Bermuda but made in Puerto Rico.
If you want to watch the sunset go up to one of the fortresses. The city streets are too closed in to get a view.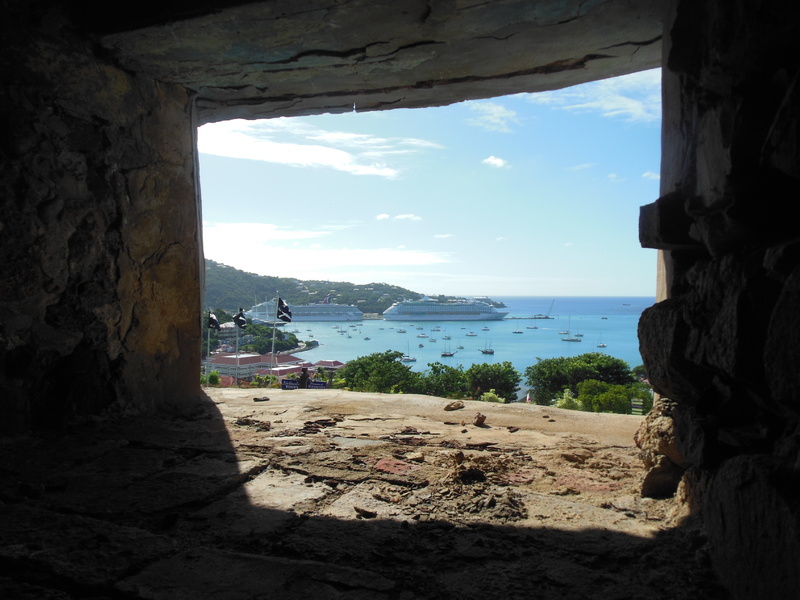 Our next port was Charlotte Amalie on St. Thomas. One of the most visited cruise ports in the Caribbean, there is much to do and too many jewelry shops.  I suggest you avoid walking down Main St. or the people trying to get you into the jewelry stores will drive you crazy. 
We caught a safari bus taxi up to Blackbeard's Castle to start our walking tour of Charlotte Amalie.  There is a set price for taxis so I don't think there is any advantage to taking the safari bus instead of a more private taxi.  It is $4 per person to go from the dock to town.  We paid $5 to get into the castle.  The castle and property cost $5 each for a self guided walk through or $10 each to add a tour of two homes.  We did the cheap version and although it seems weird to have to pay to visit a Historic Landmark it was worth the fee to catch the view.  The photo above is looking out of the castle.
From there we walked down the 99 Steps and stopped in the Rum Factory for some refreshment.  There we found a helpful bartender who was a great resource for things to do and see.  For example he suggested that the beaches on the east end of the island (like Sapphire Beach) were nicer because you get a beautiful view of the neighboring islands.  Most people go to Magen's Bay but there you just look out to sea.  It's always good to ask the locals even if they are only transplants working there, like this guy.
We stopped by the St Thomas Synagogue on our way through town.  It is beautiful and has a great gift shop.  We also tried to visit Frederick Lutheran Church but found it locked up.
Finally making our way through the gauntlet of shops on Main St. we found the Big Kahuna Rum Shack on the waterfront and enjoyed a drink.  I tried their Love Juice, berry infused vodka and if you like a strong and fruity drink you will find it to be a good deal.  We enjoyed lunch at the Cafe Amelia where Justin (another transplant) took great care of us.  The restaurant has a Spanish theme and excellent food.
The US Virgin Islands have special import duty regulations that make them great places for shopping.  Among other things, if you buy at least one bottle of liquor made there, your duty free limit jumps from one bottle per person to five.  If you what a limited selection of discount liquor go to Kmart.  It is straight up the street from the dock (don't turn toward town).  It is a short walk.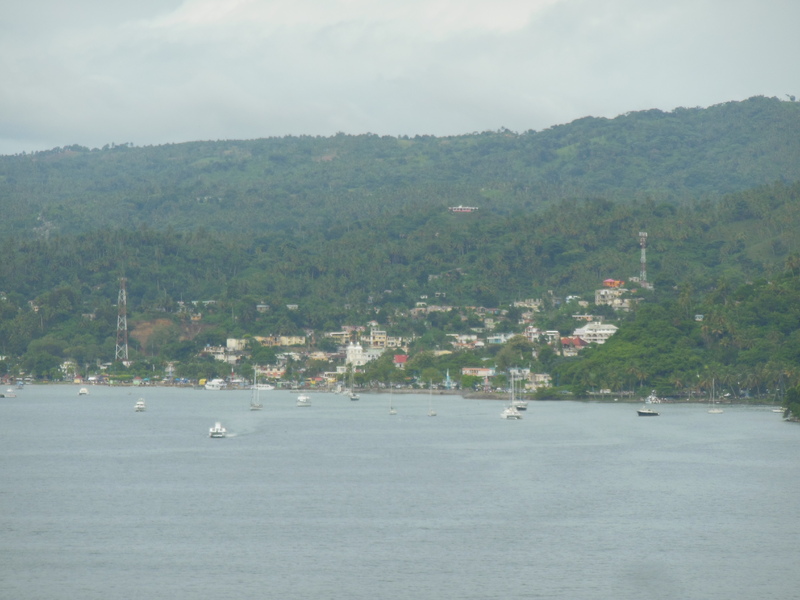 Our next destination was Samana.  That is actually the name of the region of the Dominican Republic.  The port is actually Santa Barbara de Samana so look under that name if you want details on TripAdvisor.  As the photo above shows, there is not much there.  It is being more and more developed since the Royal Caribbean ships stop there on the way to their private port at Labadee.  We arrived with low expectations and so were pleased to have a wonderful time.  We chanced upon a cafe called the Antorcha Restaurant, and had the cheapest lunch of the trip.  we sat for two hours enjoying practicing our Spanish with the friendly staff.  $2 drinks and $5 meals were delicious and made with care.  You will find the place listed a the Caracola on TripAdvisor and the nmae is Bahia Azul on the menu on line.  Hopefully they will settle on one name and make a go of it.  It is at the far end of the little village in the new pastel colored strip of shops.
An interesting feature at the port are the "Bridges to Nowhere" in the harbor.  Apparently built in the 60's as access to a proposed casino they are open to the public for a long walk that gives you a view of the harbor.
Our fellow cruisers also had fun in Samana.  One couple booked an ATV tour online that was very personal and interesting.  Two other couples just grabbed a taxi and went to a beach.  Many people seem disappointed by the port but I think it is great for a relaxing time and environmental tourism.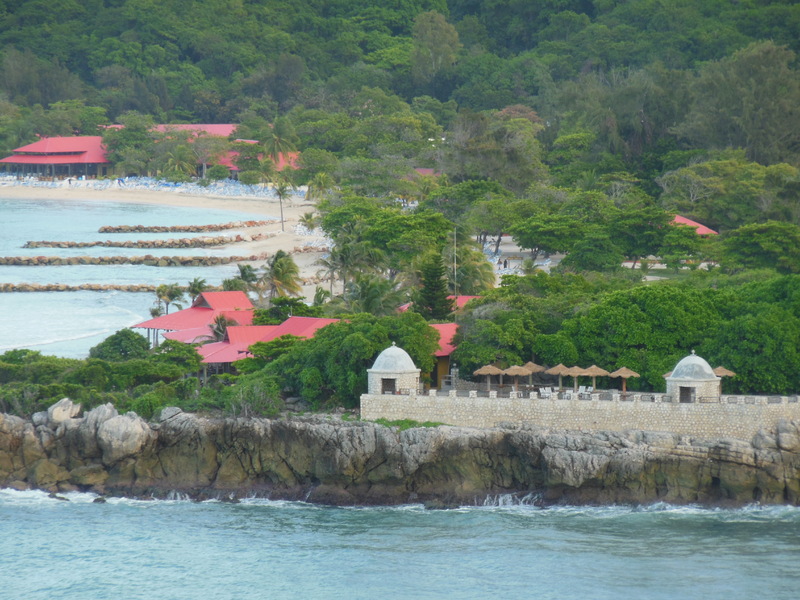 The last stop of our trip was Labadee, which is actually a privately owned peninsula on the north west coast of Haiti.  The idea of vacationing in Haiti seems strange to some but Royal Caribbean has carved out a little paradise here since the 1980s.  They hire local people and contribute the local economy including over a million $ following the 2010 earthquake.  The local man (James) that I spoke to was thrilled to be able to have good employment near his home.
This is basically a beach day.  There are things like the zip line ($95) and the water slide that you can pay to use but the food is delivered by the ships (BBQ chicken & ribs, dogs & burgers, salads and fruit etc) and already covered by your cruise fare.  Don't fall prey to the bottled water sales on the ship or the beach since they give out water, iced tea and sugar free koolaid on shore. 
As you exit the pier go left and you will find a long beach.  The far end has cabanas and the best swimming since there is a breakwater there.  There are lounge chairs all over and even with two ships in port it was not too over crowded.  There is a local craft sale area and the prices are very reasonable but be ready to say "no" firmly to the locals who desperately need your cash.  No credit cards are accepted so bring US funds if you wan to buy some souvenirs. 
We discovered the Dragon Rock bar that sits at the end of the zip line.  It is a pleasant open air facility that was empty even on this busy day.  You can find it from the beach or the almost hidden trail immediately on the left at the pier.  There is also a lovely patio there, which you see in the photo with the round gazebos.
This cruise has almost three sea days at the start and two more at the end.  Since we love the opportunity to relax and read (and eat endlessly) this is great for us.  Remember that you are in northern waters at the beginning and end so bring warm clothes and don't expect to swim in the pool those days.  There is a hot tube in the exercise area if you want to get in out of the wind.
The ice shows are always great and the other entertainment is as well.  We loved dancing to Bosco and the Storm in Dizzy's every night.  They are a dance band from NY State that helped us burn a few calories.  Dizzy's is in the crown of the ship which is the most beautiful venue and one unique to Royal Caribbean.  I don;t know why the other cruise lines miss the chance for a great view by hiding their lounges deep in the ship.  We sat there as we left port and spent every evening there as well as relaxing there with a book on occasion.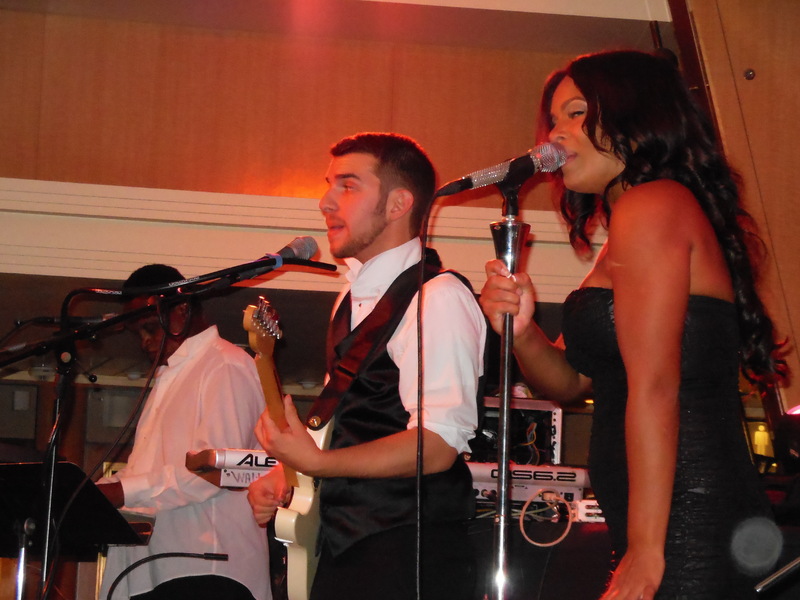 Happy cruising!!!
Ship Experiences
Food and Dining
Eat in the dining room
Onboard Activities
Great Ice Show
Entertainment
Bosco & the Storm
Children's Programs
Service and Staff
Thanks Audrian!
Ship Quality
Soon to be refubished but still nice
Cabin / Stateroom
Ship Tip
Catch her this year before she moves south and the prices go up to sail the Quantum.
Ports Of Call
Cape Liberty (Bayonne), New Jersey
Labadee (Cruiseline Private Island)
Other Reviews Of This Sailing