Trisha asks: 
  We are cruising with friends from home and are nervous about being so close together for a week. How can we have some private time away from each other? It's our first cruise and aren't sure what to expect.  
Trisha, Cruise ships are big enough and have enough activities that you won't have to spend every waking minute with your friends. You didn't mention if you're sharing a cabin. If you are, it makes it a bit more difficult to find some private time, but open communication and a little flexibility will go a long way toward making the arrangement work. If you're not sharing a cabin, there's no reason you have to see your friends any more than you both desire: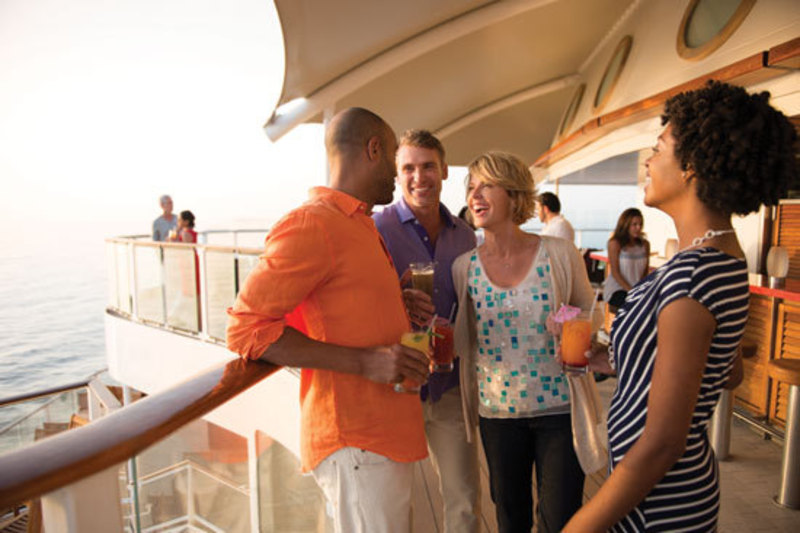 It's fun traveling with friends, but you'll still want to plan some alone time
(photo courtesy Celebrity Cruises)
Here are some tips to get some alone time:
  1. Plan dinner in a specialty restaurant  one night near the middle of the cruise; don't tell your friends in advance, just let them know the day of or the day before that you won't be joining them for dinner that night
  2. When you do dine as a group, there's no need to spend the evening together. After dinner, go your own separate ways unless you all want to have a drink together or both intend to see the show
  3. Book an excursion or two together if you have shared interests, but otherwise make your own plans for touring ashore. If you each do something different, it gives you something to talk about over dinner!
4. If your ship offers an adults-only retreat, book into it for one of the sea days. You'll have some privacy and be able to relax in peace and quiet
It's so easy to make new friends on a cruise that you should allow yourself the opportunity to do so. Break free of your friends for at least a portion of each day... chances are, they want some alone time too!  
If you have a question that you'd like to see answered here on our Question of the Week feature, drop us a line to hello@cruieline.com and we'll do our best to answer it!