Michelle Asks: I signed up to get unbiased info about the next cruise I am taking. How can I know what freestyle cruising on NCL is really like? Is it hard to get a table at the restaurant i want on any particular night? Is it hard to just show up and get a table? I want to eat there when I don't like the menu at the main dinning rooms. I would also like to know if the menus change everyday in every dining area.

Hi Michelle,
Thanks for joining the Cruiseline.com community! You've come to the right place for real info on Norwegian Cruise Lines direct from real cruisers. We've got over 8,800 Norwegian cruise reviews, most of them from verified Norweigan passengers.

Advance reservations for the specialty dining restaurants on Norwegian's ships are accepted in advance and during the cruise, including the day of the meal. So, once you've viewed the menu at the main dining room and decided you'd rather explore an alternative, go ahead and visit one of the 'Dining Information' podiums throughout the ship to make a reservation. Or, if you'd rather remain flexible and make a decision on a restaurant or dining time as the mood strikes, check one of the many TV monitors throughout the public areas of the ship which display real-time restaurant availability. Each restaurant (including the main dining room and buffet) is shown, with the dinner period divided into 30-minute, color-coded blocks (green = no or minimal wait, yellow = filling up fast and red = full) so you can make an informed decision without trekking to the restaurant to find out that the wait is too long. Even though Freestyle Cruising gives you a lot of flexibility, if there's a particular restaurant you know for sure you'll want to experience, especially one of the Cirque Dreams and Dinner or Illusionarium productions on Norwegian Epic, Breakaway or Getaway, it's wise to reserve in advance of your cruise so that you know you've got a confirmed spot.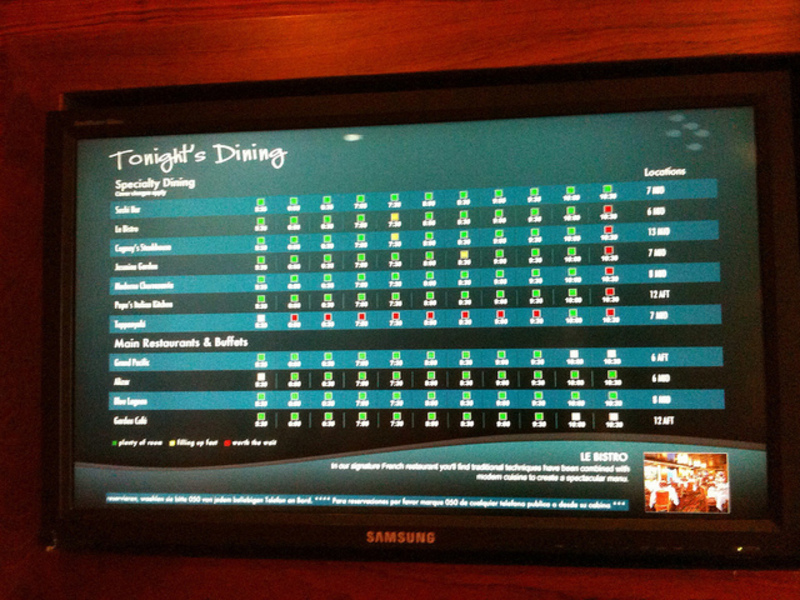 Dining Info Board on Norwegian Jade
Menus in the main dining room and buffet rotate daily, but the specialty restaurants and room service generally offer the same menu from day to day, so the dinner menu in Cagney's Steakhouse, for example, will usually be the same whether you dine there Tuesday or Friday evening. The menu at O'Sheehan's Pub varies based on the time of day, with the breakfast and dinner menus offering more choices than mid-afternoon or overnight.
All the specialty restaurants I've tried on Norwegian have been very good, so it's difficult to make a bad choice. Enjoy your cruise!
(Photo Credit : Paulo Ordoveza, Flickr Creative Commons https://www.flickr.com/photos/brownpau/7372788976/ )