Eric Asks: Why is Princess Cruises the only cruise line to do Coastal cruises along the Pacific?
Hi Eric, Demand for Pacific Coastal cruises seems to come and go, with some years offering a greater variety of choices from more cruise lines. You're most likely to find coastal cruises on the schedule in May and September each year, as the cruise lines move their ships to and from the summer season in Alaska. The biggest reason Princess has so many coastal offerings is the sheer number of ships they have in Alaska -- a mind-boggling 8 vessels this year! Only Holland America Line with 5 ships in the Great Land even comes close. Princess, and to a lesser extent Holland, often moves their ships via shorter cruises along the coast, typically with 1 night sailings between Vancouver and Seattle and 3-5 night cruises from Vancouver to San Francisco or Los Angeles. The other cruise lines typically run the ships to and from Alaska as 14-17 night Panama Canal transits between South Florida and Vancouver, usually with at least one stop in California. But moving ships to and from Alaska isn't the only time cruise lines run Pacific Coastal sailings. Earlier this year, Celebrity Cruises based the Century in Los Angeles (
http://www.usatoday.com/story/cruiselog/2013/08/23/celebrity-century-southern-california-los-angeles/2691505/
) for a series of sailings that included wine country cruises and more. In 2009, during the height of the H1N1 flu epidemic in Mexico, Royal Caribbean reduced the number of Mexican Riviera sailings it offered and instead operated Pacific Northwest sailings on Mariner of the Seas and reported strong demand (
http://travel.usatoday.com/cruises/post/2009/05/rcl-might-make-pacific-northwest-itinerary-permanent/66980185/1
).
Earlier this year, Azamara Club Cruises sailed a one-off 8 night Pacific Coastal "Wine Country" cruise roundtrip from Los Angeles on Azamara Quest. The ship spent 2 nights in San Francisco and called in Monterey and Santa Barbara. The itinerary was well received.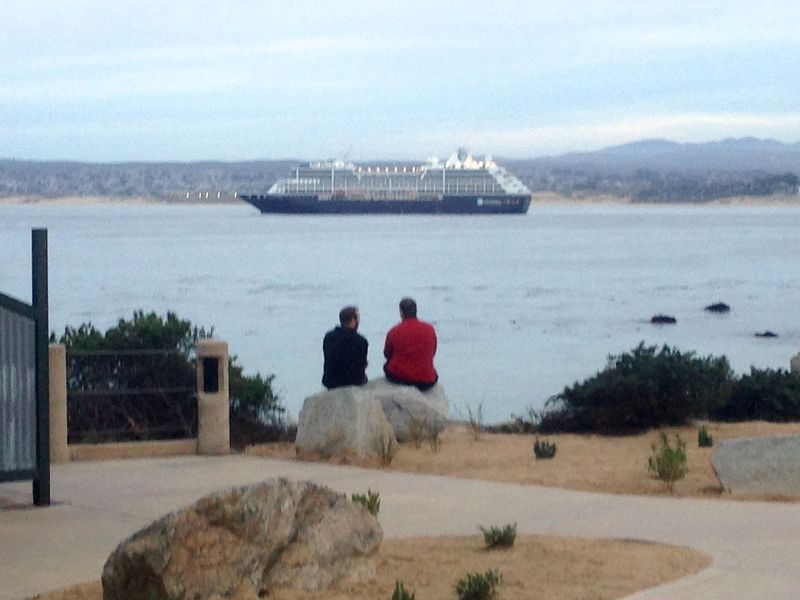 Locals watch the Azamara Quest docked off the coast of Monterey, California in February during her Wine Country Cruise
So, while there might not be any future Pacific Coastal deployments on the schedule right now, it's almost certain at least one cruise line has its' eye on the region for expansion; after all, there are lots of new ships ready to debut in the coming years, and they have to port somewhere!
Learn more about Pacific Coastal Cruises, ports and ships here on Cruiseline.com: http://cruiseline.com/destination/u-s-pacific-northwest