December 2016 - Carnival Magic to Caribbean - Western
"Great Cruise Ship"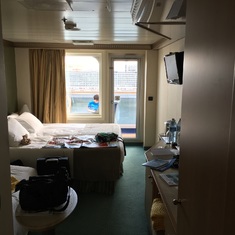 This was the largest Ship my family has been on so far. It was very easy for me to navigate around the Ship. All I needed to know was where the following was located: muster station, gym, camp ocean, pools and dining room. Once I located those I figured out where everything else was. Food was great in the MDR. We didn't do the buffet at all. We did seated breakfast in the dining room. Lunch we tried the BBQ place once everything was good except the collards.
This Ship was packed full of people but never felt crowded except if you choose to take the elevators during peak times I.e. Dinner time.
My son (4) wife and I had a great time. You may see we missed a port but it was do to weather and safety concerns. It rained the last 2 days on the ship but we didn't mind at all we just dropped my son off at camp ocean and enjoyed the spa and whatever else the ship had to offer.
A vacation is what you make of it. I have no complaints on any cruise I ever have been on.