Enchantment of the Seas October 27-31, 2014
Sail Date: October 27, 2014
We were a group of 6 booked on Royal Caribbean's Enchantment of the Seas. We drove in a large van through the night from Minnesota to Florida, a 23-hour trip. Prior to cruising, we spent 2 beautiful days at the Double Tree Cocoa Beach Oceanfront. We had direct access to the beach and enjoyed relaxing before cruising. The extra days also allowed us to visit Port Canaveral to explore before sailing out. Fishlips was a great place to enjoy a bite to eat.
We arrived at Port Canaveral, Terminal 10, early Monday morning on October 27. We prearranged parking at the port for $75 so we could park right next to the boarding area. By 10:30 a.m. we were inside the terminal waiting to proceed to the check-in area. By 11:00 a.m. we began boarding the ship. All was very organized. Once on board, we checked out the Windjammer for lunch but it was very crowded so we then went to the Park Cafe on deck 9 to grab a quick bite to eat. We wanted time to explore the ship top to bottom before the crowds arrived.
At 1:00 p.m. the announcement was made that all cabins were ready. Our cabin, 2550 was on deck 2, a midship ocean view cabin. We had plenty of space for unpacking; the room was very pleasant. The bathroom was very clean and neat. The shower was very small and had the clingy shower curtain but we made do. We were amazed how well we slept; we heard no outside noise once in our cabin. Romeo, our room steward, was fabulous; like an invisible ghost, he would appear when needed and even remembered to relay messages between our group members as needed. We were also surprised to find our luggage already at our door when we arrived at our cabin. Amazing!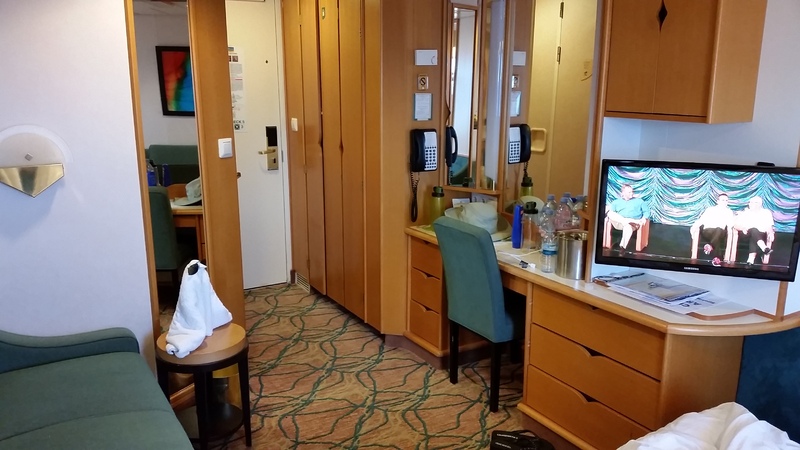 By week's end, we had found our favorite hangout spots on the ship. Deck 10 forward was great for relaxing in the sun and also had shaded areas when needed. Its position above Windjammer and near the bar was also great for our group. Our favorite indoor lounge was the Schooner Bar where great piano tunes were played throughout the day. Our My Time Dinning reservations were for 6:15 p.m. each day which worked well for the shows we wanted to attend. All food in the Main Dining Room was wonderful. We were well taken care of by the team of waiters that were assigned our table.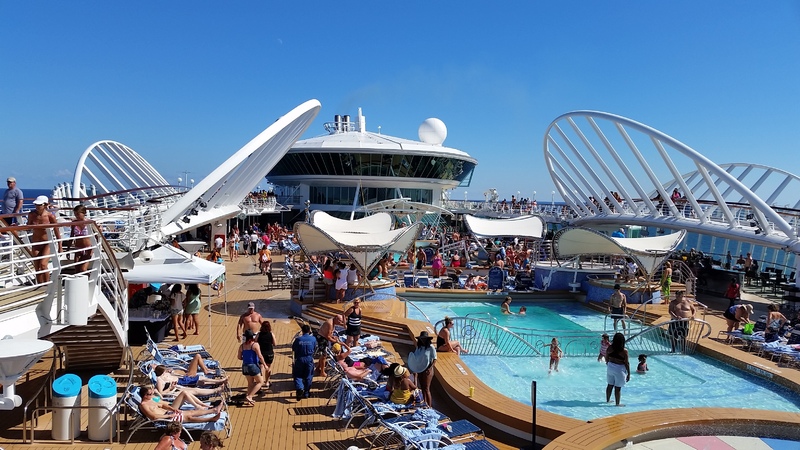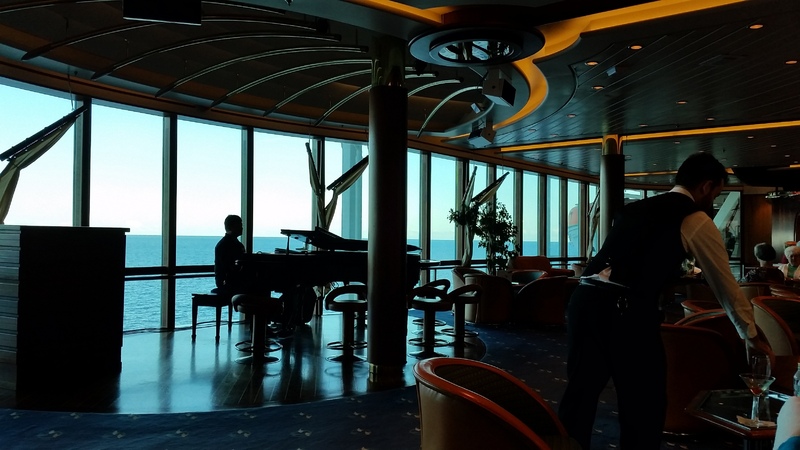 We attended most of the shows on the ship and most were very good. We didn't care much for the magician but really enjoyed the comedian, Rodney Johnson. The Quest Gameshow on this ship did not work as well as on the Explorer. The game took place in the Spotlight Lounge. Not only was it hard to watch in this venue, it seemed quite dangerous.
Our first port was CocoCay and we loved this day on the beach. This is Royal's private island and we didn't know what to expect but each member of our group really enjoyed their time here. The tender boats ran constant throughout the day so you could come and go as you wished. The BBQ lunch provided was very good and the bars on the island accepted our drink package passes. This island does not provide the best snorkeling experience but does provide other activities.
Our next port was Nassau, Bahamas. We had day passes reserved for the British Colonial Hilton and enjoyed our beach stay here. We also toured the Fish Fry area and found Guava Duff to be very good. The Straw Market was enjoyable but beware of the many workers wanting you to see their works. They were never pushy, however, and we found as you talked to them, they were very friendly.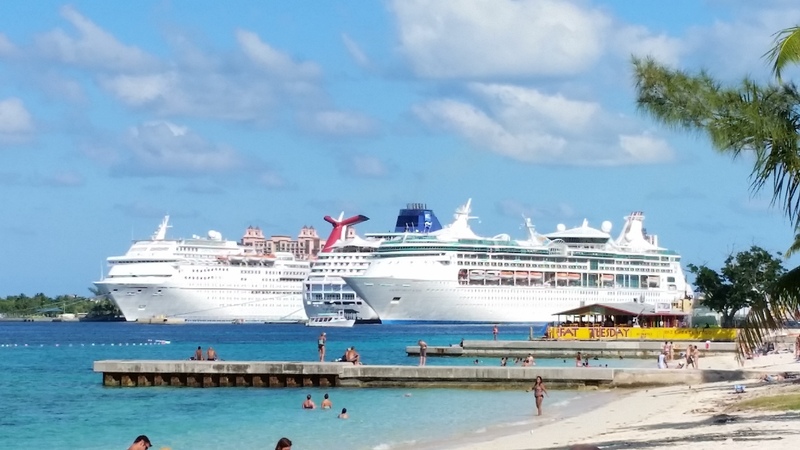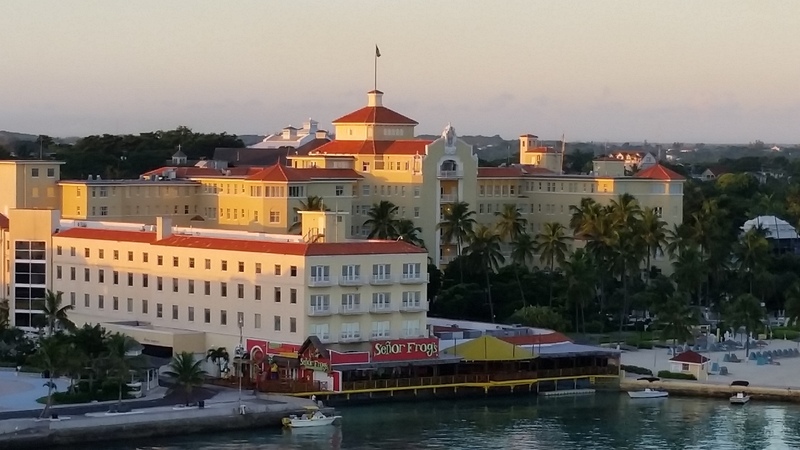 The only spot on the ship we felt the crowd was at the Windjammer. The weather was beautiful so the outdoor venues were fully utilized allowing fewer crowds inside. We did have a great cruise on the Enchantment but Explorer still remains my favorite Royal ship at this time. We'll see if that changes when we board the Anthem in the fall of 2016.
Category Ratings

Click table then swipe to view all columns.
| | | |
| --- | --- | --- |
| Ship Quality | | Enchantment is well-cared for and very clean. I didn't, however, see the constant cleaning that I noticed on the Explorer. |
| Food and Dining | | Our Main Dining Room waiters, Joseph & Partomuan, provided excellent service in a very entertaining way. |
| Cabin / Stateroom | | Would not hesitate to select a cabin on deck two–quiet location near forward elevators. |
| Service and Staff | | The Enchantment staff was amazing. Of special note was our favorite Schooner waitress, Ana Allen, who helped us retrieve some lost items and our room steward, Romeo, who helped keep tabs on our group when needed. |
| Entertainment | | Rodney Johnson was lots of fun. |
| Onboard Activities | | Join in on the fun of the trivia games. |
| Destinations and Excursions | | CocoCay was fabulous |
Port Ratings

Click table then swipe to view all columns.
Tip
Did not spend much time in the Solarium as I did on the Explorer. The hot tubs seemed to need service. The water temperature was not as warm as I like for a hot tub and had trouble getting the jets to turn on. Did enjoy the hot tub one evening in the main pool area around the big screen TV.