Caribbean - Eastern Cruise Review
Review Allure of the Seas Eastern Caribbean 6/5/16
Allure of the Seas
Cruise Review to Caribbean - Eastern
Experience: 4-6 cruises
Reviews: 5
Helpful Votes: 39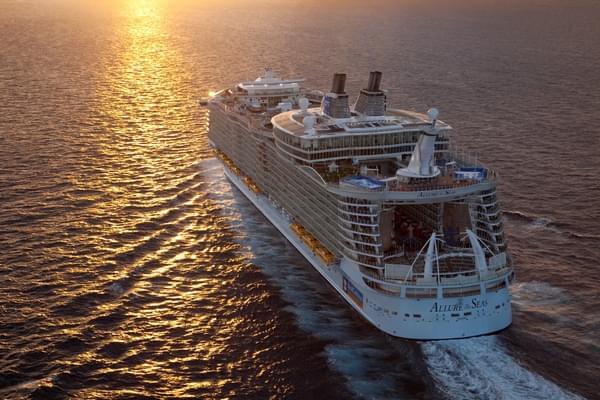 7 Night Eastern Caribbean (Ft. Lauderdale Roundtrip)
Sail Date: June 05, 2016
Ship: Allure of the Seas
Cabin Type: Balcony
Cabin Number: 12220
Traveled As: Large Group
Reviewed: 2 years ago
Review Summary
My DW and I decided that we needed to take advantage of living near Port Everglades and cruise from our "Home Port." We are limited to cruising mainly between May and October due to seasonal occupational restraints (I am a Golf Professional in FL).  RCI is one of a few lines to cruise the Caribbean during that time frame.  We were intrigued by what we'd heard about the Oasis Class ships and convinced some neighbors to join us.  What started out as a foursome grew into a party of 12. Eight passengers drove to Port Everglades from Naples, FL and 4 others flew to FLL from Boston.   Four married couples and two widowed women who shared a stateroom comprised our group.  Six of the eight from FL met in January to discuss on-board entertainment and shore excursion preferences.  It was agreed that each person should do as they wished and then we'd meet up for dinner.  As it turned out, the group mainly stuck together for evening on-board entertainment and enjoyed their own adventures during the day. 
Embarkation—After a jaunt across Alligator Alley (no, we didn't see any alligators); we parked at Park-n-Fly through advanced, long term reservations.  A short, private shuttle ride to the pier was easy and quick.  We arrived at 10:45 at the terminal and hurried into the terminal to check in.  There was virtually no wait because we were so early, were quickly checked in, and cleared to move into the waiting area.  We were only there about 15 minutes before we were allowed to embark the Allure.  We were off the shuttle bus and onto the ship in less than an hour.  I'm guessing it isn't  always that easy, but it was for us.
The Ship--the reason we chose this ship was simply the curiosity factor, yet most of our group had not been to Eastern Caribbean.  Allure did not disappoint.  She is a massive, floating Las Vegas at sea, and is well worth exploring.  Allure bombards ALL the senses.  Sights, sounds, textures immediately hit you as you enter the Deck 5 Promenade area.  It's hard to believe you've boarded a ship!  It's like walking into your hometown mall with many high end shops and restaurants.  There is so much to do and see on this ship that you truly can't do it all in a week's time.  She is impeccably clean, well maintained, and the décor is nice and varied. 
Activities-- Allure has something for everyone.  If you want to relax there are many areas to relax including the adults only area Solarium pool and Bistro, the spa, Central Park, and other quiet spaces on the upper decks to hang out and relax (yes, hard to believe given the amount of passengers, but there are many places to crash and veg out).  Hang out in some of the bars and night clubs during closed times for other quiet places.  If you want to be active, the rock climbing wall, Flow Rider, zip line, pool games, basketball, mini golf, ice skating, Boardwalk, and casino are sure to please.  If you're s shopper, check out the Promenade's vast collection of on-board merchants.   Although there can be over 6,000 passengers on board, all those in our group agreed that we never felt truly crowded or claustrophobic.  There is simply so much space to explore and experience.  YOU WILL NEVER BE BORED on Allure (unless you want to be!)  RCI does a nice job of integrating their activity program into all there is to do on the ship.  The daily activity planner (The Compass) is literally 4-6 pages crammed with activities from Flash Mob dances to classical concerts in beautiful Central Park.  Keep a copy with you at all times!  You'll need it.
Wi-Fi—Voom is simply the best on-board Wi-Fi any of us had ever used.  It was so good in fact, that you can actually stream and FaceTime on board.  Well worth the cost.
Service—Most of our group found the service on board to be quite good.   There were a few issues that needed to be dealt with by Guest Services, but they were mainly due to RCI's ever changing drink package prices and poor communication between marketing and their land based customer service centers.   The hotel staff and stateroom attendants were friendly, efficient, and mostly attentive.  Service in the main dining room was, for the most part, excellent.  The MDR is a massive 3 story restaurant that serves roughly 2,500 people per seating.  Our waiters were really good and were very anticipatory to our likes and dislikes.
State Rooms—All of our party had Superior Ocean View with Balcony state rooms on deck 12 mid ship D-5 category(one couple had a handicapped version of the same room).  The rooms were well appointed with a flat screen TV, vanity, full size couch and ample storage space throughout the room.   The balcony was larger than we expected and became one large balcony when the stateroom attendant opened up the partitions between the rooms for us. The bathroom was average size, but the shower seemed to be slightly bigger than most and had nice, circular, sliding doors instead of a flimsy shower curtain.
Dining—The food in the main dining room was very good.  We'd give it a 4.2 out of 5.  The menus were diverse and there was always something to please our pallets.  It was never a problem to make substitutions or ask for extras.  We visited the Windjammer Café on embarkation day and the food was pretty good.  There are a lot of items to choose from and the food seemed fresh and tasty.  The only problem is that the Windjammer design makes it one of the few places on the ship where you feel crowded.  There are some funky seating patterns that cut into the buffet serving area, which creates traffic jams.   As an alternative, the buffet in the Solarium area (deck 15 forward) was a good, healthy alternative to the Windjammer.  You can get fruits and salads, plus healthy hot buffet entrees as well. The Café Promenade was good for paninis and late night desserts.  All coffee on board, except for Starbucks (fee) is Seattle's Best and it was the best coffee we've had at sea.  The Park Café (Deck 8 aft) was the hidden jewel of the free dining experience.  The roast beef sandwiches are to die for and the make your own salad option was really helpful.   They also make great tasting paninis and quesadillas.  Try the chorizo quesadilla.  It was tremendous!  The setting is hard to beat as well with beautiful trees and foliage all around.  Room service food was good, but sometimes the delivery times were off by a half hour either side of when it was requested for.  Johnny Rockets (fee) was great for some sinful delights, and since you're already blowing thousands of calories there, you might as well walk across the Boardwalk to Ben & Jerry's and polish- off a few scoops of ice cream (fee).  The only food that was sub-par was Sorrento's pizza.  The sauce is ok, but the crust is like rubber (Northeast natives like us, like thinner, crispier crusts).  The Donut Shoppe had free donuts.  They were different, like a cross between a donut and yellow sponge cake.  Not bad, just different.  Four of us visited Izumi for sushi and hibachi and it was very, very good.  We did not visit any other Specialty restaurants.
Children's Clubs—none of us had any children with us so we cannot rate the clubs.  Although this cruise caters mostly to families, it did not seem overrunning with screaming children which might speak to the quality of RCI's children's programs.
Ports/Excursions—First stop after 2 sea days was Phillipsburg, St. Maarten.  DW had been there before, so we decided we'd just get off the ship and do some exploring in town.  Others did the RCI excursion to Orient beach and said it was worth signing up for.  A few did a taxi tour on their own and were a bit disappointed that the cab driver seemed disinterested in showing them around.  After bouncing around downtown Phillipsburg, my DW and I grabbed a cab and headed out to Maho Beach by the airport to watch the planes land virtually on top of the beach.  We had lunch at the Sunset Grille.  It was a great setting right off the beach and could see the planes approach right from our table.  The fish tacos were excellent.  We grabbed another cab ($20 each way from town) and headed back for some jewelry shopping for some gifts to our friends.  
Day 5 we stopped in San Juan.   DW and I had been there before so we opted for RCI excursion to Toro Verde Adventure Park to tackle the Beast zip line (2nd highest, 3rd longest in world according to their pamphlets).  After a slow, slow exit off the ship, we were late getting to the park after an hour plus bus ride.  We don't know if it was RCI not being ready, or not having port clearance to disembark which caused our late departure.  Once we arrived, we were quickly briefed on how to ride the zip line.  Off we went to conquer the Beast zip line (a mile long and 850 ft. in the air).  Neither of us had done anything like this before.  We were a little nervous about it once we realized that after we signed all the releases, we had pretty much signed our lives away (LOL), but we made it through it and 5 other shorter zip lines with flying colors.  If you're an adrenaline junkie (neither of us are, really) this is the excursion for you.  IT WAS A BLAST!  Because of a short stay in San Juan, we were only at the Adventure Park for about 1 & ½ hours and returned by bus to the ship for our 2:00 PM departure from San Juan.  Others in the group did Old San Juan on their own, including the fort and enjoyed the Old Europe feel of the area.
Day 6 brought us to the RCI private resort on Labadee, Haiti.  It was a beautiful island.  The area is larger than any of the cruise line private islands we've been to and offer lots to do.  Three couples opted to rent clam shell chairs on the beach and veg with drinks.  Some opted to go to the giant water park, and DW and I chose to tackle Jet Skiing and ride the Dragon's Breath zip line over the beach.  We all agreed that we really liked what we chose.  The Jet Skiing lasted about an hour.  We did a driver and passenger.  I think my wife was a little bummed that they don't really let you switch drivers.  If you want to drive, you need to rent your own, or else you're relegated to passenger/GoPro photographer role (wife is into muscle cars and likes the speed).  We did have a really nice ride/tour about the bay.  Prior to that, DW and I reserved a spot on the Dragon's Breath zip line.  That was really cool too!  We were "old pros" since having conquered The Beast in Puerto Rico.  The view from the top of the mountain looking down over the beach was really fantastic.  The outdoor buffet or, "giant barbecue" at the RCI pavilions was pretty good.  The food was basic barbecue fare, but who really needs fancy when you're on the beach, covered in sand, and sitting in a wet bathing suit?  It was just right given the setting.
Entertainment—RCI really shines here.  Ocean Aria is not to be missed!  It's an excellent mix of acrobatics and high diving.  Try to see it at night when you get the full effects of the light show.  The Comedy Club was perfect for an evening of adult entertainment.  Blue Planet is different, but well worth seeing.  It is indoor acrobatics mixed with theatrical production set to 80's and 90's music.  Those who attended Mamma Mia thought the production was outstanding.  Jazz on 4 is perfect for chilling and relaxing to some excellent jazz music.  Bolero's is excellent for Latin style dancing.  If disco is your style, Dazzles on deck 8/9 is fun.  The house band was excellent and played a wide range of music.  The Schooner Bar had great sing along stuff and was fun as well.  There were also really nice small, short performances in Central Park and on the Promenade as well.  The Daily Compass is chock full of really good musical performances throughout the day ranging from lone guitarists in the Bow and Stern Bar, to classical quartets, to Big Band music.  The Allure truly has something for everyone.
Disembarkation—Disembarkation was slower than you'd like, but not absurdly so.  It's hard to expect or fault RCI for the fact that 6,000+ people need to disembark, collect their luggage, and pass through customs in a rapid manner.  Things were orderly and efficient, but again, slower than you'd want. 
Summary—Me, my DW, and all of our group would agree that our time on Allure of the Seas was fantastic.  Some, however, felt the ship was just too big.  It wasn't the amount of people so much as it was sheer size.  It is easy to understand that train of thought.   There is just sooooo much to do that you can't possibly do it all in one week unless you stayed away for 20 hours a day!  It sometimes felt that you were literally bouncing from one place/activity to another because you felt you might be missing something.  The crew, service, and food were really good.  The accommodations were nice, and the entertainment was excellent!  If you're sitting on the fence about whether or not to try Allure, go for it!  You'll be sure to find something to like, that's for sure.
Ship Experiences
Food and Dining
Most of the food was very good. Many choices all over the ship. The only sub-par food was Sorrento's Pizza. Very doughy and rubber like.
Onboard Activities
SOOOO much to do on this ship that you can't be bored.
Entertainment
Great entertainment and venues. Ocean Aria is great, as is Mamma Mia. All venues were great.
Children's Programs
We had no children traveling with us. Even though it's a family oriented ship, it wasn't overrun with unattended children.
Service and Staff
All staff members were greatly helpful and cheerful.
Ship Quality
For the second largest cruise ship in the world, it was impeccably clean and well maintained. Truly remarkable
Cabin / Stateroom
Nice superior ocean view balcony cabin 12220, mid ship category D-5. Nice design, lots of storage, and the couch was great to stretch out on
Ship Tip
Definitely get to the Park Cafe for the Roast Beef sandwiches. The hidden gem of the free food venues also has great salads, panninis, and quesadillas.
Ports Of Call
Ft. Lauderdale (Port Everglades), Florida
Even though we live close to Port Everglades, we always try to spend the night before our cruise at a nearby hotel to enjoy the Fort Lauderdale experience.
Beach and shopping are the main attractions. Take a cab over to Maho Beach to watch the planes buzz the beach on approach to the runway.
Definitely tour Old San Juan. European-like atmosphere and very beautiful.
Labadee (Cruiseline Private Island)
Zip lining over the beach is a must do.
Other Reviews Of This Sailing