South Pacific Cruise Review
Had a great time
Sea Princess
Cruise Review to South Pacific
Experience: 4-6 cruises
Review: 1
Helpful Votes: 7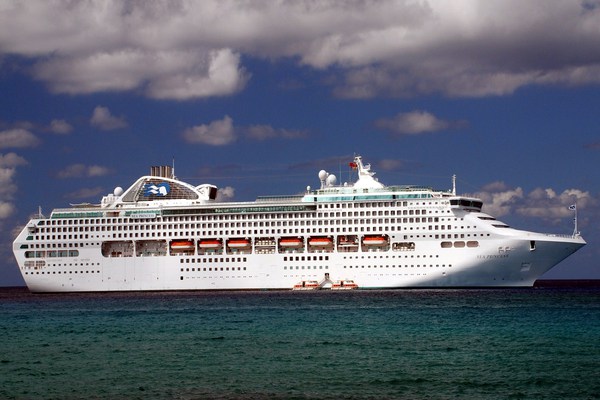 11 Night New Caledonia & Vanuatu (Brisbane Roundtrip)
Sail Date: November 13, 2015
Ship: Sea Princess
Cabin Type: Inside
Cabin Number: P308
Traveled As: Family (older children)
Reviewed: 3 years ago
Review Summary
This was my first Princess cruise, I'd done two P & O Cruises and I didn't know much about Princess and reading the reviews where there was a few complaints, I was a bit worried. 
But overall I was very happy with everything. I'll start with the good things. 
- movies under the stars with popcorn
- free Princess tote bag in my room when I checked in 
- free room service
- staff were very friendly and helpful
- food was very good. Many times after dinner I had to lay down because I had eaten so much or the food was so rich. The food in the restaurants was fancy restaurant quality. I don't eat a lot in expensive fancy restaurants so I can't compare but I would give the food 5 stars. The food in the buffet was good, standard buffet fair, for breakfast, pancakes, waffles, cereal, fruit etc, for lunch and dinner salad, steaks, stir frys, pasta, mashed potato, all sorts of options, there was a lot of variety. 
- free pizza restaurant - I loved the calzone, it was the only one I ate. 
- I was happy with the room. There were other reviews where people complained about the rooms but I was happy. It was an inside twin. It wasn't the flashiest decor but it was spacious and comfortable and had a good size wardrobe. 
- I didn't seem to get as pestered as much as on P & O to buy drinks when sitting on the deck. When I was on P & O, I seemed to have someone asking me if I wanted to buy a drink every 10 minutes but on this trip, I barely got asked and sometimes I couldn't find a staff member when I wanted a drink!
- I went with my 13 year old son and he went to the kids club and seemed to like it. He could come and go as he pleased and he had no complaints
- Happy hour where you buy one drink and get another one for $1!
Bad things
- free iced tea in buffet was extremely watered down
- free lemonade in buffet was really strong, it is the old style lemonade made out of lemons so I needed to add ice to water down the strong lemon taste
- when in Port Villa, from the moment I got off the ship, there were about 30 - 40 local men all waving and gesturing me to come to them. I went to one and he offered to take me around the whole day for $120. I said no, he kept pestering me. I walked away and found a guy holding up a sign for the water taxi to town for $5, I went with him but when I got in the water taxi (basically a dingy) he sat next to me and started pestering me to take me around the whole day and was bargaining with me on the amount and I had to say no a few times. He got out, we crossed the water to town. When we got to the other side, there were about 10 local men who started hassling me about taking me around town. I said no several times again and they were following me as I was walking away, then another man started asking me if he could drive me around town. That really put a damper on things, plus it was very hot and humid so myself and my son decided to go back to the boat and we managed to find a taxi driver to take us back then he started harassing me to take us around. By the end of it, I was glad to get back to the boat and disappointed I had only spent about 30 mins in Port Villa. 
- I found that as we went along from island to island, they seemed to peter you more. I didn't get pestered at all on Mystery Island or in Champagne Bay but on Lifou, I constantly had people asking me if I wanted my hair braided or a massage. 
Ports:
It was supposed to go to Wala and Luganville. It didn't. I don't know why it didn't go to Wala, it was removed before I booked in August but it was replaced with Lifou. And Luganville was removed because apparently they were doing work where the boat docks so the boat couldn't dock or something. 
First stop was Champagne Bay which was beautiful, pristine beach, clear and vibrant water, locals were there selling goods. You could also hire a local to take you to some local spots. 
Second stop was Mystery Island. I had been here twice before and it had changed a lot since I was last there in 2013. There were long rows of huts with locals selling things, you could get your hair braided, have coffee, get a massage or a beer. I had a soft drink in a 'pub' which was just a grass hut and spoke to a very nice local man. Unfortunately it was raining on the day, but apart from that, it was a good day. 
Next stop was Port Villa, which I've explained my experiences above. But if you don't want to go into town, there is probably a kilometre of little huts and stands near where the boat docks with locals selling things and there is cars lined up along this stretch with taxi drivers willing to take you anywhere and you can haggle on price. I talked to some people that paid $30 per person to be taken around town for half a day and they take you wherever you want to go and wait for you while you shop. Because of the missed stop of Luganville, the ship was in Port Villa for 2 days. I didn't get off the ship the second day because of all my dramas. 
Next stop was Lifou. It was really windy, it was a nice island but not as nice as Mystery Island or Champagne Bay. As with the other islands, they had locals selling stuff. And you could see traditional huts they still use as their bedrooms and if they have the money, they build a western style house next to it. 
Last stop was Noumea. I took the $15 get on/get off bus. I think if you wait until later in the day, they open the kiosk for this because I don't remember seeing it when I first got to the tourist centre. They have people standing around selling tickets for the choo choo train, which was about $40 which is a lot cheaper than what the ship charges but because I had wasted so much time deciding what to do, I left it a bit late and didn't want to miss the boat so I decided on the bus which was a 25 minute round trip. I didn't get off because I didn't realise you could go to a really nice beach called Lemon Beach to swim so I didn't bring my bathers and I decided not to go to the museum or other stops because it was midday by this point and I wanted to leave plenty of time to get back to the boat by 4pm, in case there was any problems. Next time, I'll get the bus earlier and get off at some stops. 
As mentioned before, my room was interior, on the Plaza level, and it was quiet, I didn't have a problem with noise unless someone was really being loud outside my door. 
I got the coffee card, I love my cafe quality coffee. The free coffee was ok, but if you are a coffee snob or love your daily cafe coffee, I recommend the card, which it works out to be about $2.30 per coffee which is really good. 
So that was my trip. After comparing this with P & O, I'd have to say I prefer Princess better. And the good thing about Princess is they have a loyalty program so you get more perks the more you cruise. P & O doesn't offer that. And because they're owned by the same company, you can use your P & O trips to get loyalty points on Princess. 
Ship Experiences
Food and Dining
Very happy with the choices
Onboard Activities
Aimed for the older crowd, with things like bingo and trivia but I participated in trivia and it was fun
Entertainment
I didn't see any shows because they didn't appeal to me. They were aimed at an older crowd (50+) and I'm in my 30s. They had a comedian, mentalist and some musical shows.
Children's Programs
Service and Staff
Wasn't pestered as much as on P & O
Ship Quality
Cabin / Stateroom
Ports Of Call
Champagne Bay, Espiritu Santo, Vanuatu