Celebrity Millennium Cabin Category 2A
Floor Plan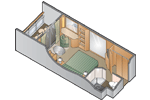 Size: 171 sq ft.; Balcony: 38 sq ft.

Occupancy: 2 guests standard - some sleep 3 or 4

Amenities: Two lower beds convertible to queen-size bed (except as noted) floor-to-ceiling sliding glass doors that open to a veranda with lounge seating sitting area with sofa 20-inch interactive flat-screen television bathroom with shower mini-bar telephone thermostat-controlled air-conditioning 24-hour room service and hairdryer. Some sitting areas include a sofa bed.

Please Note: Staterooms 7136 and 7142 have smaller verandas that are semi-private.

Wheelchair Accessible Staterooms: 7137 7139 7141 and 7143 (272 sq. ft.; Balcony 38 sq. ft.)

Wheelchair Accessible Amenities: Wider doors no doorsills to get into stateroom ramped bathroom threshold bathroom grab bars lowered sink and stateroom vanity roll-in shower with fold down shower bench lower closet rods and accessible balconies.

Please Note: Celebrity requires guests booked in this category to acknowledge need for the accessible stateroom by completing a Guest Special Needs Form.

Please Note: Smoking is not permitted in staterooms or on stateroom verandas.
Deluxe Veranda Stateroom 2A Cabins:
Deluxe Veranda Stateroom 2A cabins can be found on:
Deluxe Veranda Stateroom 2A Cabins - Balcony
Other categories for Balcony cabins include: