Caribbean - Western Cruise Review
A wonderful slow cruise to Mexico - 07/01-07/09
Carnival Vista
Cruise Review to Caribbean - Western
Experience: 2-3 cruises
Review: 1
Helpful Votes: 8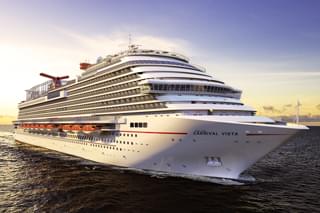 7 Night Western Caribbean (Galveston Roundtrip)
Sail Date: June 29, 2019
Ship: Carnival Vista
Cabin Type: Balcony
Traveled As: Family (young children)
Reviewed: 6 months ago
Review Summary
Overall our 8 day Cruise was great. We loved the pools and slides and everything offered on the Vista. I am sure I've missed a lot but that's OK. We would totally do this trip again. There were a lot of sea days but that was OK with me!!
Embarkation
It has been a while since we had taken a cruise, and this time we had our 4 year old son added to the mix. Embarkation was fast and easy. We didn't have to wait at all!
Ship Experiences
Food and Dining
Everything was amazing. We ate in the main dining room every night except one, and we regretted it. While the buffet had plenty to offer, I missed the dining room experience. Danu was our waiter and he was great! We didn't go to the Italian, Sushi or Steakhouse restaurants but we tried all of the other places and they were so good!! The sea food shack was worth the small charge, and the taco place was my favorite. Guy's Burgers were fabulous, but I don't eat much beef so I only ate there once or twice. We didn't get to drink much, but the adult beverages we did have were great. Just like we remembered them. We did have a power outtage one evening after dinner. The capitan, cruise director and brand ambassitor (John Heald) did a wonderful job of keeping us all updated. The ship didn't lose any navigation controls, or engine power, only the lights in half of the ship. It didn't last long, but of course you could hear people saying that they wanted a free cruise out of this situation. The power had only been out for about 15 min.. i just rolled my eyes and went on my way. It upsets me that people are so quick to think they are going to be compensated more than they already have just because of a small inconvenience.
Vista Lobby and Bar
The atrium lacked a bit of wow factor, but the bartenders were great, and all of the parties held in the area were fun.
Guy''s Burger Joint
This place is just so good.. My husband ate here almost every day. I don't eat much beef, but did eat here a few times during our trip. You can have it made your way, and the fries were pretty tasty too!
Cherry on Top
It's a dangerous thing to have a candy shop on a cruise ship! It was so good, and they had a very wide variety of candies. They also had ice cream, but we didn't get to try it.
Blue Iguana Cantina
The tacos here were amazing! I was only able to eat here twice, but both times it was yummy!
Onboard Activities
Having our son with us this time around we realized it would be difficult to do a lot of the extra activities. He didn't want to go to Camp Ocean so we tried to do things that he would enjoy. He LOVED the mini golf, and all of the other games in that area. He especially loved the indoor soccer / pool game they had. We also went to an IMAX movie (Under the Sea) and enjoyed it. The price was reasonable ($5.50 for each of us) for the documentary we saw. Not sure how much the regular movies were. I would imagine close to a normal ticket price, or maybe a little less. They also have the thrill ride type of movie theater, but we did not see any of those. Helpful hint: If you are in extreme need of a fountain soda, the movie theater has them!! All other sodas are warm cans poured over ice so they loose their oomph fairly quick. The candy shop (Cherry on Top) was evil LOL Too many god things to choose from. We hit this place up several times to get some sweet treats.
Carnival Waterworks
Lots of fun, even for us adults! My 4 year old loved to play in all of the water features..shh I did too
Sports Square
My 4 year old loved this area! Pool tables, bean bag toss, shuffle board, Foosball..Mini Golf. We spent a lot of time in this area. It was a good time for every age
Entertainment
I loved the ships DJ, Cruise Director and entertainment staff. They were all amazing. The DJ played great music at the pool every day and at the 80's party. The cruise director (Matt) was involved with all of the activities and he was super nice and pretty funny. We only went to one show, and it was good. We really aren't the show type so my opinion will be different from those who love going to the shows.
Children's Programs
My son did not care for the Camp Ocean area. I don't blame Carnival for this at all. The room is geared towards 2-5 year old kids, and there was a lot of stuff for the younger kids, but nothing my son was really into. I think as he gets older, the next club up will be better suited for him. We will try again next time around!
Outdoor Playground
We found these on the very last day at sea. My son wasn't a fan of Camp Ocean so we struggled ti find a lot for him to do.. had we known these were open to everyone, he would have used these a lot more..and save us form the 100th game of mini golf
The Clubhouse
This area is probably meant for older kids, but my son loved the pool / soccer game that was in here. And mom loved the AC :) we would play mini golf or another game, and head in here after to let him run out some energy and cool off a bit. There is also a bowling game (costs 2.00 to play) and ping pong. Note: Those Ping Pong games can get pretty heated, and some older kids / adults can get a bit out of hand/heated.
Service and Staff
If I could give more than a 5 star rating I would. Everyone we came in contact with was AMAZING!! Our room steward was Mario, and he and his crew made sure we were taken care of. He was so good with our son too. My little one would see Mario waaay down the hall and run to him to give him a high 5 or a hug. I had to choke back the tears on our last night because my little man didn't want to go home. He wanted to stay with Mario on the ship. Our waitstaff in the dining room was fabulous.. never let our drinks get low, and they were also great with my son.
Ship Quality
I only give this a 3 star because i wasn't a huge fan of the layout. We could never seem to remember what floor we were on, because often times you had to go to a certain floor, then take the stair up or down one to get to your destination. I am sure a lot of it has to do with the fact that my memory is shot due to lack of sleep for the last 4 or 5 years. LOL The crew worked hard to keep things clean, i just wish other guests weren't such pigs. We saw half eaten ice cream cones left in the hallways.. general careless messes left in the elevators, on the stairs etc. It wasn't the crew not doing their jobs, it was mostly guests being slobs. I hate to put it that way, but it was the truth. I guess my past working in the restaurant business I tend to keep my mess to a minimum, but some people just don't care. And that really is a shame, the ship is very nice and to just leave food all over where it shouldn't have been made me upset.
Cabin / Stateroom
We loved our cabin, they turned the couch into a bed for our son, and he felt so cool that he had his own little bed. The balcony was great, but then again any balcony is great. We spent quite a bit of time out here just watching the world go by.
Ports Of Call
Montego Bay, Jamaica Did not visit port
We did not go to our original ports of call.. We are hoping that we will go again in a year or so.
See comment above.. We ended up going to Costa Maya, and it was OK. Not much to do unless you book an excursion. They were all sold out, so we just walked around port, and went back to the ship to enjoy everything with no one around.
I love the Cozumel port. This time we did an excursion through Carnival. We went to Isla Pasion via Power Catamaran.. it was great!! The boat ride over was a little long, and hot, but once we arrived it was great. We were the 1st group on the island and it was pristine. No seaweed on the beach, no trash anywhere. Plenty of tables, shade etc. The service was fast and we never went without a drink. I had a couple adult beverages, and they were good. Not too strong and I expected that. We all enjoyed our time here. The water was perfect, and we even found some shells and coral to take home. We made it back to the port with plenty of time to get a snack and shop a little. I would do that excursion again in a heartbeat.
Disembarkation
It was a little difficult but we knew that taking our own bags off the ship would be. It always is.. plus my son didn't want to go home. That just made it a little extra hard. Next time I know what not to pack so hopefully we won't have as much to carry off.
Other Reviews Of This Sailing