Caribbean - Western Cruise Review
My Ocean Balcony Suite was lovely, large, lots of closits but SMOKERS ALLOWED on deck RIGHT BELOW!!!
Carnival Dream
Cruise Review to Caribbean - Western
Experience: 7+ cruises
Review: 1
Helpful Votes: 2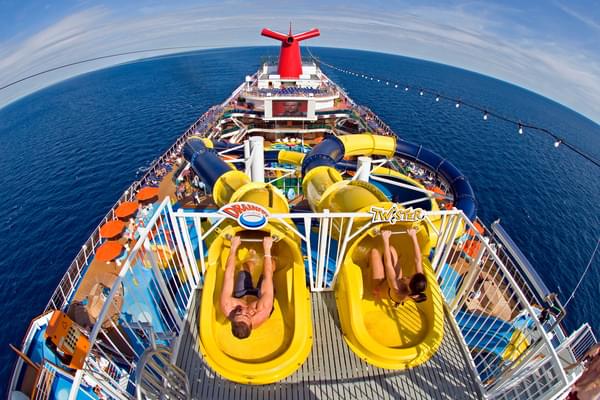 7 Night Western Caribbean (New Orleans Roundtrip)
Sail Date: June 14, 2015
Ship: Carnival Dream
Cabin Type: Suite
Cabin Number: 7358
Traveled As: Family (older children)
Reviewed: 3 years ago
Review Summary
  Where to start? The crew members were very nice and tried very hard but the competency level was lacking in many areas. We were in the worst possible location for an allergic-to-smoke cruise customer. I kept calling the Guest Service staff because I was smelling smoke. They offered housekeeping because "no smoking allowed on any balcony or in any rooms on the ship". But my beautifully appointed suite was directly over the 5th deck smoking area! Therefore I couldn't enjoy the balcony or open my door to the balcony. When the ship was moving slowly up the Mississippi River or to dock or worse, when docked, the smoke from the smokers seemed to seep directly through the floor. Forget about opening a door or enjoying the balcony. The Guest Services manager who told me that it should be ok when the ship was moving rapidly through the Gulf was correct. There was nothing they could do to move me and my daughter because they were full. We needed Medical Services twice related to ship sponsored activities & had difficulty getting there (deck 0) because of lack of staff competence in knowing what to do or which elevators went all the way to the 0 deck. I called my agent to report the major problems but have not heard back from her yet.  The staff really kept trying to solve problems and were nice about everything but I wonder about the level of training.  Plus, there was "nothing they could do except tell me to keep doors to balcony closed during slow moving times in River and during docking or leaving docks at our ports of call. I could also leave my suite to be in another area of the ship where the smokers were not allowed to smoke (dinning rooms, spa areas) if the smoke smell got too bad. I was instructed to call housekeeping when I smelled smoke at night so that they could attempt to locate the source.  I have never experienced this before so was quite shocked. There is no mention of the potential for smokers being allowed to smoke below the Ocean-Balcony-Suite that I reserved in any advertisements.  The food was good in all of the restaurants. I would have wished that my family could have all sat together at dinners but alas we did not know that we had to reserve for our family in advance (11 of us) of boarding the ship. One of the travel agents said it was not possible to accommodate 11 at a table but we learned that this is not the case at all. Allergies to the smoke and injuries sustained on the trip put a damper on ability to fully enjoy all that the ship had to offer but they graciously refunded the advance money paid for excursions. I hope to hear from my travel agent today about this cruise. I'll be glad to provide any further details upon request.  
Ship Experiences
Food and Dining
Wonderful staff. Friendly. helpful. Food was good but not memorable compared to other cruises
Onboard Activities
Lack of supervision from Carnival staff for children's & teens activities seemed evident. Library only opened 1 hour in the morning and 1 hour in the afternoon. Fortunately I brought my reading materials. Again, other cruise lines have more lending libraries and more have free wi-fi. Going through the casino meant being exposed to smoke from smokers. Going near the 5th deck where the smokers were located meant being exposed to smoke. I would wish there could be signs to warn those of us who are allergic to smoke.
Entertainment
The Bucktown All Stars were great and the highlight of the ship entertainment. Taking a selfie with the Cruise Director was nice and I appreciated his updates on everything.
Children's Programs
Supervision of Carnival Staff did not appear to be very good. The soccer game on the 12th deck was one of the most disastrous events for us because my grandson ended up needing surgery (happening today now that we are home). the Carnival crew did not offer to help or even to stop the game while teenager was bleeding from cut over his eye. A nurse who was there offered her towel to apply pressure to the bleeding wound and told my daughters how to get to the Medical Clinic. Then the elevators would not go down to the 0 deck and we could not figure out which elevators could get to the 0 deck where the Medical Clinic was located. The nurse in the clinic was wonderful.
Service and Staff
All of the crew members were outstanding. Guest Services had one very outstanding young man (Kamlesh) and one surly young woman. If I can find my notes to complement the gentleman (Kamlesh) who helped me with phone calls to United Airlines (in case I had to evacuate family member(s) from Roatan) I will send a note directly to Carnival. I also noticed him (Kamlesh) working with other guests while waiting in lines (long lines) and he never lost his cool.
Ship Quality
Some parts of the ship were nicer than others. I appreciated that my adult children and their children were able to open the balcony doors for sharing. Some elevators did not work at all. Most were slow. Not all elevators went down to the Medical Clinic and we needed to get there STAT on 2 different occasions. Elevators should not have 0 listed if it is not possible to get there. All staff should be trained in first aid and in how to get to the medical clinic. We actually had to transport one adult through 3 elevators because our wheelchair transport staff member did not know which one worked to get to the 0 deck. nice people but not fully trained.
Cabin / Stateroom
Room was great but location was AWFUL. Balcony could not be used because ALLOWED SMOKERS would smoke at any time on deck 5 right below our suite. Plenty of closet space & bathroom had jetted tub. Could not enjoy balcony because of rising smoke from deck below. Bed not very comfortable but I don't expect same level of my home's comfort when traveling. Just don't expect luxury and don't have an allergy to smoke and this ocean balcony suite is ok.
Ship Tip
Learn where the smokers are going to be so that you can avoid reserving any type of balcony suites that will be exposed to the exhaled smoke. Do not order room service water to be delivered to your room in advance as the water tastes really nasty. Took many ph. calls to have green bottles removed.
Ports Of Call
Wonderful city. Lots of music & great food. Easy port to park, embark and leave. Porters are available and very competent.
Mahogany Bay, Roatan, Bay Islands, Honduras
WE were unable to keep our horseback riding excursion due to Spa experience but rented a van & driver & guide and enjoyed the views from the top of highest point of the island, local shopping and food.
Very nice shopping & wi-fi access. Easy walking
Easy walking. Good food. Nice people. Good shopping.
Other Reviews Of This Sailing