Caribbean - Western Cruise Review
Frustrating Vacation
Allure of the Seas
Cruise Review to Caribbean - Western
Experience: 7+ cruises
Review: 1
Helpful Votes: 9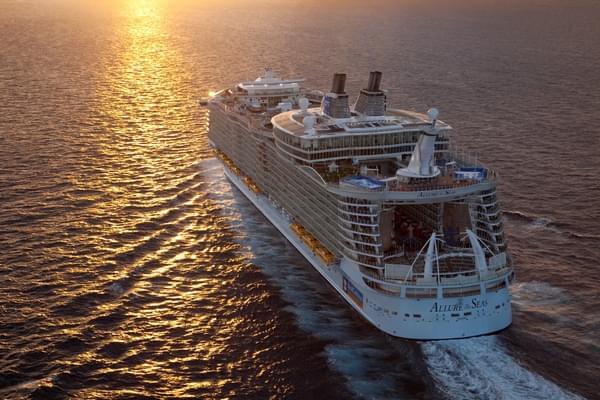 7 Night Western Caribbean (Ft. Lauderdale Roundtrip)
Sail Date: October 20, 2013
Ship: Allure of the Seas
Cabin Type: Balcony
Cabin Number: 7608
Traveled As: Couple
Reviewed: 5 years ago
Review Summary
Let me begin by saying the ship is beautiful.  Four great pools, several hot tubs, zip line, and very nice balcony cabins with  room to walk around.  The Casino was large, but trying to get rated was expensive.  They look for $50 minimum bet for about 4 hours a day.  Forget about the slots if you are looking to earn anything worthwile when compared to other cruise lines, but I did hear several jackpots being hit.  I typically like to play at $25 Blackjack tables, but there were none.  There were only $10 and then it jumped to $50 or $100 a hand..  I found this frustrating as lot of people at the $10 tables do not understand the game.
We saw Chicago and OceanAria.  Warning!!  Even if you made reservations in advance, get there at least 30-45 minutes early or you will get lousy seats.  I sat behind a pole at the Chicago show.  I also did not care for the show, but that's me as I am not into musicals.  OceanAria is AWSOME  Do not miss that show.
My cabin attendent was much to be desired.  Although he was very cordial and would open our door when he saw us walking down the hall.  His service ended there.  Whenw e first boarded I asked that he ensure that we have ice every day around 4-5pm.  Hus response was that he would check it at around 1230pm and at 630pm, when he was off for the day.  Guess what.  That did not happen.  He did not give us any ice at least 3x that week.   Getting frustrated, I called the cabin attendant's line one day and was told that they would have ice to me in 10-15 minutes which was acceptable.  Guess what,  an hour lated I still did not have it.  I finally got it after a second call.
This may be picky but I think everypne looks forward to getting the towell animals in their room.  Well, we got 3 out of 7.  I checked with my traveling companions and they got theirs every day but not us..
Toiletries?  Forget it.  we bring our own so it was not a problem but from a service point of view it was a joke.  My wife found a sign hidden in the cabiinet under the sink that says RCL proivded comp toiletries and all you need to do is ask your cabin attendand.  I would not be surprised if he piut that sign out of sight so he would not have to replace any if used as he never did fill the soap despense in the shower as I know that was empty since I knocked it off the wall the second day of the cruise!!!
Here is the kicker.  Youj know when they give you the envelopes at the end of the cruise so that you can recognize good service with an extra tip.  Well, this guy had the nerve to put his name on one of the two envelopes.
I also ran into a problem with some liquor I bought ashore.  This may have been my fault as I did not see the check in desk in the cruise terminal in Jamaica.  As a result nobody stopped me going through the terminal security or the boat security.  It was not till I was on board looking for a place to drop it off that a security gauard asked me if it was liquor I was carrying.   They took the liquor which is what I expected but did not give me a recipt like they normally do.  I was asssured that it would be delivered to my room in 20-30 minutes.  Guess What?? after wating an hour im my room I called and was given an excuse but not to worry so I went to the pool.  3 hours later still no receipt.  !230 AM, still not receipt so I called but no one was answering the phones.  They timed out 3 x on my.  I tried Customer service, Operator, Room Service etc.  Finally I got someone in the entertainment area to answer.  TO make a long story short I finally got someone who cared.  After explanning the problem to him he mentioned that he was aware of the problem but could not find a receipt in the system for me.  Well,  that is because I was never given one so he had one to me in 15 minutes and promised that he would follow though and ensure that I got the liquor.  If he could not find it he would take it out of bar supplies.  Got it, all is well.
Perhaps this is being picky but I fould it to be very frustrating.  There is only one Buffett.  If you go there for breakfast, the spread looks great but if you want custom eggs or ommletts you cannot get them.  You need to go to another restaurant to get them.  If you go to one of the other restaurants, you miss out on all the things you could have gotten at the buffett.  Best place we found for breakfast was Johnny Rockets (no charge for breakfast) or the main dinningn room.  You can get REAL EGGS there.
Lunch was similar.  Overall the food was very good.  Lots of choices but if you wanted a Panini, corn beef, patrami etc you needed to go to a different restaurant.   They did have lunch meat at the buffett but the bread was on one buffett table, the meat and cheese (and mayo) on another, but you needed to go to a third if you wanted mustard.  Please not that they did have a roast beef caring station (that is where they put the mustard).  I am a pickle lover and only ones that had were hamberger slices.- no dill spears.  I know this is someone picky but I do not think that is asking too much.
Specialty Restaurnts - Chops very good,  Giovani's poor, Brazilian very good, 150 park (for lunch) not bad.   Hot dog stand - pretty good but I could not find place to get tea or lemon aide.  Seem like they only had paid drinks.   Donut shop free coffee and donuts - pretty good.  Coffee was Seattle;s best.
One other thing.  There is only one buffett area.  If you are at pool side you need to go inside to someplace to eat.  There is no fppd service by the pools.
Lastly, my biggest concerned was the muster.  RCL does not provide life jackets in the room.  You need to go to your muster station.  Ours was in the ice skating area which held approdximately 2,000 people.  They say that in an emergency that they crew would pass out the jackets to you there.  I am sorry, but I do not buy that.  For one thing, I don;t want to have to wait in line trying to get a life jacket.  Number two, and will all due respect do you think crew members with actually be there to help in an emergency.  In my opinion it would be every person for themself.  I cann;t help wonder if this procedure conforms to Coast Guard regulations.  I guess for that reason along I probably would not want to sail with RCL again even though chances of the boat sinking are next to zero.
Just my 2 cents worth
Ship Experiences
Food and Dining
service in main dining room was excellent / food ok
Onboard Activities
Entertainment
Service and Staff
good but need more help answering the phones
Ship Quality
beautiful ship lots to do
Cabin / Stateroom
good / service poor
Ship Tip
Johnny rockets is good place for Breakfast. You may need to pay for a tour or be a Diamond member or above to use the better beaches on Labedee.. You should check with guest services before going ashore or you will be disappointed.
Ports Of Call
Ft. Lauderdale (Port Everglades), Florida
easy to get in/out of port
Labadee (Cruiseline Private Island) Did not visit port
Falmouth, Jamaica Did not visit port
did not go beyond the shops
it rained heavily, did not do much
Other Reviews Of This Sailing