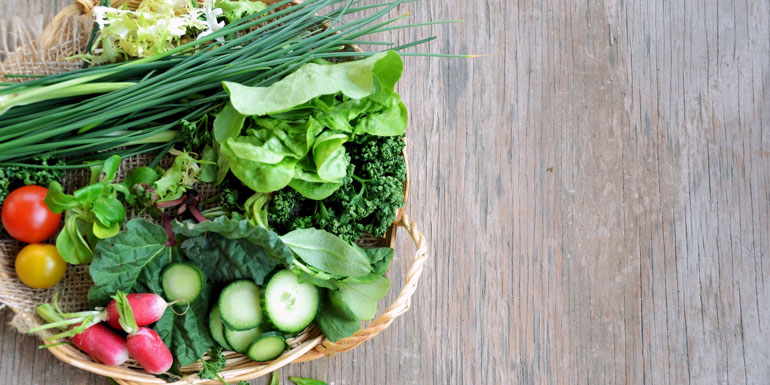 Not sure how to communicate with your cruise line that you're a vegetarian or a vegan? Follow these helpful line-by-line instructions to make sure you get what you need at every meal.
Tip:
Haven't booked yet? Keep in mind that small ships and premium/luxury lines typically have a better selection of vegetarian options.
Once you're on the ship, remember to ask, ask, ask. Ask your waiters in the restaurants, and have a manager follow you around the buffet so you can confirm that dishes were not prepared with meat. The ship's staff will be more than happy to work with you if you make your preferences known, and if you ask politely, sometimes the staff will go off-menu to prepare you a special dish.
Cruise Line
What to Do & Meal Options

Discuss your diet requirements with the head waiter of the main dining room on the first night of the cruise. Whenever you eat in the Lido Restaurant, which is a buffet, ask to speak to a member of the senior dining staff, and that person can walk you through your choices. For more information, contact their special requests department at specialneeds@carnival.com.

Complete a Special Needs Form at least 40 days prior to sailing. Celebrity automatically sends a report to the ship of any requests prior to sailing, but remind your server at meals as a precaution. Email their special needs department at special_needs@celebrity.com if you have further questions.

All ships offer vegetarian menus, which include options for vegans.

All dining areas offer vegetarian options. The line suggests that you talk to your waiter at dinner the first night to discuss your preferences. In addition, if your diet is further restricted, you can request special options through reservations or with guest services prior to sailing.

Crystal's main dining room sample menu

Advise your reservations representative that you are vegetarian or vegan at the time of booking, and it will be added to the reports that are sent to the dining rooms. Your server will be advised in advance; however, you can also check in with the maître d' after boarding.

Cunard's sample vegetarian menu (vegetarian options are marked with a carrot)

All main dining rooms have a vegetarian menu. However, the line encourages you to attend an Onboard Dining Session during embarkation, and to discuss your requests with your server during each meal.

What to Do: Fill out a Special Requirements Information (SRI) Form before sailing and it will be passed on to the dining room management in advance. At dinner on the first night of your cruise, speak to the restaurant manager.

Holland America's sample vegetarian menu with vegan options

Complete list of sample menus for all Holland America restaurants

Speak to the restaurant manager the first night onboard. They will make a note in the reservation when you check in at any restaurant. In addition, be sure to discuss specific restrictions with your server.

Use the Cruise Personalizer to inform the line of your dietary restrictions no less than 35 days before the cruise. Once you board, confirm your request with the maitre d' the first night of the cruise, and remind your server at meals.

Princess's sample menu (vegetarian dishes are marked with a "v")

Tell the cruise line in advance of your sailing, so that the culinary team can obtain special ingredients in advance. All menus, however, do feature vegetarian options, and you can discuss your choices with the chef once onboard.

Complete list of Regent's specialty restaurants with sample menus

All of the lines' restaurants offer vegetarian options, and vegetarian meals are available on all menus in the main dining room and Windjammer Cafe every day. Guests can also communicate any dietary restrictions to the maître d' in the main dining room. Guests do not need to make a special request for these meals.

Complete a Special Requirements Information Form in advance of your sailing. On embarkation day, speak to the dining staff about arrangements.

Seabourn's sample menu (vegetarian options are marked with a "V")

All of the daily menus offer a selection of vegetarian and vegan choices. If you have specific requests, contact Silversea at least 75 days prior to departure.