Bermuda Cruise Review
Was pleasantly surprised!
Norwegian Breakaway
Cruise Review to Bermuda
Experience: 2-3 cruises
Review: 1
Helpful Votes: 13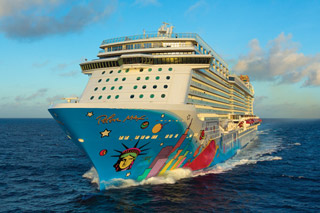 Sail Date: September 29, 2013
Ship: Norwegian Breakaway
Cabin Type: Balcony
Traveled As: Large Group
Reviewed: 5 years ago
Review Summary
We booked our cruise long before the ship was even complete. Once it started to sail, I read tons of negative reviews and was positive I was going to have a horrible time. But I was pleasantly surprised!
Many had complained of long lines, crowded conditions, a 45 minute+ wait for a dinner table, and a lack of deck chairs; that was not the experience we had. My husband and I cruised with a group of 18 family/friends, and although we had a large group, we had no trouble finding chairs on the deck together at any point in the day. I did all 3 water slides on 2 separate days and never had more than a 5-minute wait for any of them, and there was plenty of space in the hot tubs and pools at any given time. I also did the ropes course twice; I walked right on both times.
There was never an issue with dining or drinks (at the bars) either; there were always plenty of tables at the Garden Café and plenty of seats at each of the bars. For dinner, we waited no more than 5 minutes at any of the complementary restaurants with no reservations. My husband and I also made reservations at Le Bistro one evening and were seated immediately. The bartenders throughout the ship were both fast and pleasant. When one opened a new bottle of wine for me and it tasted odd, he immediately refilled my glass from another bottle at no charge- even though I had walked away from the bar several minutes prior.
I had read many a review that complained about the cruise staff being rude- absolutely not true. When we had issues with both the bowling game and the penny machine at O'Sheehan's, someone was there within 3 minutes to fix the problem. Housekeeping greeted us every time we passed them in the halls on our way from our stateroom. A woman working in the Garden Café saw my mother sitting alone and came over to chat with her for 10 minutes about things to do in Bermuda. Every Norwegian staff member I encountered had a smile on their face and a kind word to say.
Perhaps it was the time of year that we went (fall- after kids are back in school/college), but as you can see, our cruising experience was much different from some of the summer cruise reviews!!!
Now, onto my actual review:
This was my first time cruising with Norwegian. Previously I have cruised with Royal Caribbean twice, last on the Explorer of the Seas, so that's what I'll be comparing our trip to.
Food:
Norwegian's food is, by far, better than Royal Caribbean's. And I'm not referring to the specialty restaurants (my husband and I ate at Le Bistro and I found that to be sub-par; it was the meal I enjoyed the least on the entire cruise). The buffet was different every day and offered anything and everything you could ever want. Breakfast/lunch was staggered throughout the ship, so even if you missed breakfast in one place, you could still catch it in another location (until 11:30 am). The food was hot, the meats were cooked perfectly, the bread was fresh. Dinners had a fixed menu, but also included a list of 3-4 "chef's specialties" each night. I didn't have one bad meal in Savor/Taste (which have the same menu), or the Manhattan Room. I had a decent burger at the Uptown Grill for lunch one day, and a few sandwiches/salads at the Garden Café. I never had a chance to eat at O'Sheehan's, but several people from my group did and they really enjoyed it. The room service pizza was fairly decent, as were a few of the other items on the room service menu. The hot dogs from the cart were delicious. Cruise staff set up a table on the pool deck one day and handed out fresh watermelon slices to everybody.
Food was ALWAYS available, any time of the day, which I appreciated. On Royal Caribbean, you didn't have many choices after 9 pm, and their buffet was the same recycled, slightly warmed foods over and over again for both lunch and dinner. Royal Caribbean's main dining room was decent, but I didn't like that dinner always took 2 hours and I had to eat at a certain time (although on the flip side, the positive to always eating at a set time is that you have the same waiter/waitress every night, so you can really get to know the staff).
Entertainment:
Royal Caribbean's entertainment is, by far, better than Norwegian's.
The things we did get to see on the Breakaway, we enjoyed. Howl at the Moon, the dueling piano show, was fantastic. We saw them 2 nights and had a blast. Not only do the talented 3-some play a ton of great songs, but they really "put on a show" by interacting with the crowd. They were a joy to watch and laugh with. The Not-So-Newlywed Game Show is always a good time- it would have been nice if they'd hosted this in the theatre, where everyone could see the stage, but it was still funny. The comedian/magician act was great (funny and entertaining). And the Cirque De Soleil Show was absolutely worth the money spent. If you spend money on one thing on the cruise, spend it on this! We don't have children, and still had a blast. The entertainers were talented, the waiters/waitresses attentive, the food was good, and we absolutely loved the show.
That being said, on the Norwegian Breakaway, we found ourselves bored a lot at night. As a result, many of our group were in bed by 10 pm every night. Because of the scaled-down size of the theatre and other entertainment venues, many of the shows need to be booked in advance. This led to us not being able to see any of the specialty shows. Comedians were always booked, so we missed the Second City. We also missed Burn the Floor and Rock of Ages. Besides sit around and listen to a band, dance at the club, or burn money at the casino, there was little to do after 9 pm any night.
On Royal Caribbean, there was ALWAYS something to do. Their entertainment directors were amazing, wonderful to watch, engaging, and always up to something. There was a different show every night, at 2 different times, and there were always seats. Additionally there were always multiple entertainment options from 9 in the morning to after midnight every night. No reservations were ever required. If entertainment is important to you, I wouldn't recommend a Norwegian cruise.
Top deck:
Both cruises were fantastic. We tend to spend the majority of our "at-sea" days on the top deck sitting by the pool, and neither cruiseline has disappointed us. There were chairs always available, waiters always stopping by to fill our drink orders, the decks were clean, and there was plenty of entertainment/live music. The water slides and ropes course on Norwegian were great. For the thrill seeker, the speed slide and plank are both awesome and terrifying. Mini-golf was a fun family activity, the arcade was enjoyable, and the rock wall was fun to watch (we didn't attempt it this year).
Staterooms:
No complaints here. We had a balcony room, and since this was our first time with a balcony, I have nothing to compare it to. Was it small? Yes. Did I expect it to be? Yes. Staterooms are ALWAYS small on a cruise ship. I didn't find this one to be any smaller than previous rooms I have stayed in. The bathroom was large, there was plenty of storage, and the bed was comfortable. Water pressure was decent and the water was hot when I needed it to be. The TV had more channels than I remember Royal Caribbean ships having. Others have complained about having to put their key card in to turn the lights on- this really isn't a big deal. I liked that inserting the key card activated a light outside the room, so we could easily tell which members of our group were "home." Also available were "Do Not Disturb" and "Make Up Room" lights that let housekeeping know whether or not to enter. A very nice feature.
My mom had a studio room, which was pretty neat. It was the perfect amount of space for one person. My two complaints about her room: 1) No refrigerator (for the price, every room should come with a fridge) and 2) We needed a studio key to access the area her room was in. This meant we had to call her to meet up, instead of just walking by and knocking on her door, which I found to be annoying. Otherwise though, the studio rooms are a really cool option for solo travelers!
Bermuda:
This was my first time in Bermuda, and I LOVED IT. I have been to many Caribbean islands and to Mexico on the Pacific side, and I think Bermuda was the most beautiful location I have ever visited. I have never seen water so aqua or sand so perfect. Additionally the island is clean and Bermudians are polite and easy to talk to. I just read a review in which somebody said 3 days was too long to spend in Bermuda, and I think that's ridiculous. I would like to go back for a week, but we were able to see a lot in 3 days without feeling too rushed. We spent the first day in the shipyard, did some shopping, and had drinks at an outdoor bar. My sister spent a few hours at Snorkel Park and had a lovely time. We did two excursions while there (which both ended up being with the same company, on the same boat). We took an enjoyable Sunset Rum Swizzle Cruise the first night, which allowed us to see Bermuda from the water and hear some of the history while drinking never ending rum swizzles. The second morning, we did a snorkel trip which took us out to a reef and then to a shipwreck. There were many jellies in the water at the reef, but the coral and fish were really neat to see and the scenery was gorgeous! I had the unlucky instance of being bitten by a snapper fish (along with 3 other people), which kept me from the water at the shipwreck site, but others in my group really enjoyed it.
Later on the second day, we took a bus to Horseshoe Bay and spent the day on the beach. The water was warm, the weather was perfect, and we had a lot of fun climbing the cliffs on the side of the beach and exploring a cave we found. There's a changing house/bathroom with showers, snack bar, chair/umbrella rentals, and bar on the beach, which we appreciated.
We explored Hamilton in the evening of the second day, but most of the shops were closed (they close at 5). It's mostly just typical shopping (brand names/stores, etc.). We had dinner in Hamilton and then took the ferry back to the boat.
On Day 3, we took the ferry to St. George's – AMAZING! Lots of history there. We walked the cobblestone streets and did a little shopping. We ended up walking through a few gardens to the unfinished church and then continuing onward to Tobacco Bay Beach. From here we walked to Fort St. Catherine and took a tour. The fort has a free shuttle that will take you back to downtown St. George and the ferry, where we were able to have a quick bite and a drink at a nice little bar before heading back to the ship.
Price:
Last but not least, I want to touch on the price of this cruise. In my opinion, Norwegian is expensive. They nickel and dime you for every little thing, and automatically add $12 PER PERSON PER NIGHT to your stateroom fees. This means that, at the end of a 7-day cruise, you will automatically have a bill of $168 for 2 people just to stay in the room. You will be charged this even if you don't use housekeeping services. It's true that Royal Caribbean also requires you to tip your housekeeping staff, but I don't remember it being this much.
Bowling on the cruise was $5 per person, per game. They will charge you $30 for a towel if you accidentally leave one outside your room. Specialty restaurants will cost you anywhere between $15-$50 per person, and lots of items are an extra fee (Bingo, Ice Bar, Cirque De Soleil, Carlo's Bake Shop, etc.)
Other Comments:
The fireworks are really nothing to be excited about. They last about 5 minutes, the "grand finale" is 3 fireworks going off at once.
Overall, the ship is beautiful and clean. I enjoyed the top deck, and the modern décor in the bars/staterooms is a nice touch. I didn't love how the ship felt so divided. One of my favorite things about Royal Caribbean was that the rooms were large and everything was off a main avenue in the middle. On the Breakaway, you have to walk through the casino, the art gallery, or the little shopping area to get to the restaurants on the other side of the ship. I didn't like how I had to walk through one "room" to get to another. I also found there were things I missed on the ship. For instance, I stumbled across Carlo's Bakery on the last day, after they were already closed. I never found Dolce Gelato, but did see it from afar once I had disembarked. The theatre was too small, as were the other entertainment venues. In my opinion, the layout was better on the Royal Caribbean Explorer of the Seas, although the décor was superior on the Breakaway. Hard to say if I'll book my next cruise with Royal Caribbean or Norwegian. There are pros and cons to both.
I hope this long review helps somebody!
Ship Experiences
Food and Dining
Onboard Activities
Entertainment
Children's Programs
N/A
Service and Staff
Ship Quality
Cabin / Stateroom
Ports Of Call
Woman at security was rude, otherwise OK
Other Reviews Of This Sailing