Marina Cabin Category B4
Floor Plan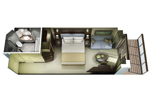 Size: 282sq. ft. including private veranda

Occupancy: 2 guests standard - some sleep 3 guests

Amenities: These spacious staterooms feature two twin beds or a queen-size bed with luxurious 700-thread-count linens private veranda marble/granite-clad bathroom with shower and separate tub sitting area with sofa (some feature sofa-bed for additional guests) vanity desk and breakfast table. Additional amenities include LCD flat-screen television robes and slippers direct dial satellite phone and cellular service hair dryer safe refrigerated mini-bar with free unlimited soft drinks and bottled water.

Please Note: Smoking is prohibited in staterooms and on verandas.
Veranda Stateroom B4 Cabins:
Veranda Stateroom B4 cabins can be found on:
Veranda Stateroom B4 Reviews
Wonderful Western European Journey by bbross

Verified Review / Sail Date: / Traveled As: Couple
Bucket List Cruise, Bucket included by Puph2

Verified Review / Sail Date: / Traveled As: Couple
Overall Rating by lefrench412

Verified Review / Sail Date: / Traveled As: Couple
Veranda Stateroom B4 Cabins - Balcony
Other categories for Balcony cabins include: