Bermuda Cruise Review
Mixed review with an overall 2.8 rating
Grandeur of the Seas
Cruise Review to Bermuda
Experience: 1 cruise (first)
Review: 1
Helpful Votes: 26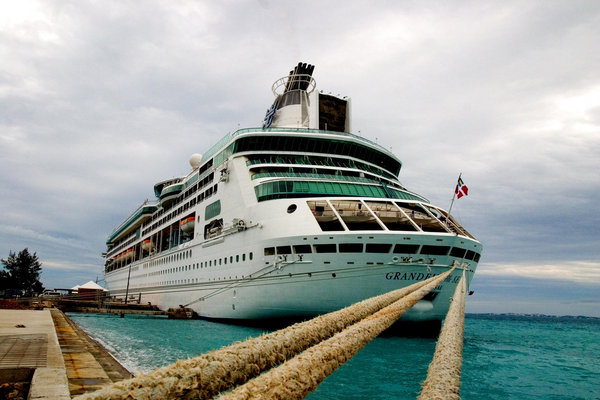 7 Night Bermuda (Baltimore Roundtrip)
Sail Date: July 18, 2014
Ship: Grandeur of the Seas
Cabin Type: Oceanview
Cabin Number: 2012
Traveled As: Couple
Reviewed: 4 years ago
Review Summary
First I want to start by saying I have mixed feelings about my overall experience with Royal Caribbean. Some of the things I'm sharing in my feeback about RC is positive and some not so postive. If I had to rate the onboard experience, I would rate it a 2.8 stars for the following reasons. 
 Royal Caribbean had significant difficulty finding my prepaid gift excursion that my son purchased for my birthday. Though I provided a confirmation number, guest relations couldn't find documentation in their system. Initially, they told me that it could take a week for the system to update with recent and/or third party excursion purchases and it's likely that we would be back on land by the time the system updates with the prepaid excursions. I was pretty upset because my son insisted that I make sure I enjoy my excursion gift during the cruise. I ebded up missing out on my first day in Bermuda because I was patiently waiting for the outcome several hours after we arrived at port. It took a bit of persistence to escalate my concerns to the manager, Lourdes when I realized there was an ongoing delay. When the guest relations team finally agreed to let me speak with the manager Lourdes, I felt her professionalism was as beautiful as her name. She took time to listen to me and spoke very eloquently offering a few additional solutions to find the excursion. She was determined to fix the problem and asked for my patience while she researched it further. In the meantime, she extended a complimentary dining certificate for me and my husband to use one evening during the cruise, I was most impressed with how Lourdes under promised but over delivered with the dining certificate gesture. This was because when
went through the reasons I should cruise, the booking agent chimed about how Royal Caribbean gives guest a "birthday cake" on their birthday. Initially I was indecisive about booking the cruise vs. vacationing in Hawaii and told my booking agent to give me a few days to think about it. My booking agent embellished about how Royal Caribbean gives guest a nice birthday cake to further entice me. When I inquired about the cake with Lourdes (I asked merely to gage whether RC was offering services consistent with what third party advertised), Lourdes politely explained that RC does a slice of birthday cake not an entire cake. Lourdes set my expectation to recieve a slice of cake during my formal dining but she actually had Chops grill deliver the most beautiful and delicious birthday cake....definitely a tear jerker moment for me. I feel this was an example of exceptional customer service for Lourdes to go above and beyond to correct misinformation that
gave. RC never found the excursion though because it turns out the third party that sold it to my son had a slight delay with sending the information to RC. While I recognize this is not RC fault, I feel the cruise line should put warnings to potential customers that third party companies are using links that look like you are purchasing directly from Royal Caribbean. I feel this way because RC inundates us with other emails to register your credit card for onboard purchases so why not mention things like this to minimize the risk otherwise. 
Among my BEST onboard experiences was dining at Chops restaurant! My server Bolwin TRULY made it a memorable evening. He was so attentive and friendly. He even came out and tried to surprise me with my birthday cake but I sorta ruined the surprise because I happened to look around as he was trying to sneak up behind me with his colleagues. When they sang happy birthday, they were not only harmonious and handsome....but they even added humor to the experience. I LOOOOOVED everything about dining at Chops...what an incredible evening!
My not so pleasant feedback was my state room was EXTREMELY tiny and they had two twin beds as opposed to the queen bed I repeatedly requested when I booked the cruise via
. I also felt very uncomfortable showering because the shower curtain looked soiled. It drove me crazy everytime the shower curtain touched my body. I tried to avoid it touching me but it was nearly impossible because the shower was so tiny. The odor in the bathroom smelled like sewage. It often made the entire cabin smell foul. I ended up using a lot of my expensive perfume to kill the odor because I didn't want to keep calling our bell hop to freshen the air. They also said they don't have any air freshner so I was left with the option of using my perfume which upset me.
Another horrific incident was my interactions with the photo center. I was less than impressed with the staff. They acted uppity and pretentious. On formal night, the photographer did not put any effort into photographing me and my husband whereas he seemed to spend a considerable amount of time with another couple at our table. When I mentioned how I would like my picture more so if the position of my eyes was in the direction of the photographer rather than the opposite direction, the check out clerk said,"well you knew he was taking your picture so you should have looked at the camera". As I went through my other photos, I heard two other unhappy guest complaining about their experience. There came a point where we started sharing our story with one another and the concensus was to mention it to management. I asked to speak to a manger (Jason) to see about getting my photo fixed. He helped to some degree. The other manager Ouj didn't really convince me that he cared about my critique. To sum it up, I really did not like dealing with the photography center at all. Not to mention, they were disingenuous about the copyright issues. It turns out that I'm having trouble getting copies of the photos as I expected I would due to not having a copyright release on professional photos. I don't understand W H Y management would lie about this?!
I enjoyed shopping at the onboard gift shops HOWEVER, my jeweled lanyard is loosing stones everyday! I feel it was a ripoff because the quality was poor; I should not be loosing stones so quickly. The cruise couture clothing is outstanding and it seems to be maintining the overall quality after laundering. My watch is horrible quality not suitable for a bubble gum machine. The Guess jewelry rating in a C grade at best. Not to mention the staff in the Guess store gave me the run around repeatedly when I inquired about purchasing a third bracelet. They kept telling me to check back in about an hour so they could go into their storage to see if they have anymore in stock. After my third trip back to the jewelry store, they changed the story to claiming they told me they would call when they retrieve it. Clearly I know what I was told but they were adamant and didn't mind insisting I misunderstood them. I have no complaints about the duty free liquor transaction...other than wishing they had not run out of Malibu Rum. The cashier was friendly and suggested Ciroc cocunut rum instead and I actually like it in my daiquiris now that he introduced something new to me.
Another area of concern was the buffet dining. I want to say RC does their best to educate travelers about minimizing the spread of bacteria. On the other hand, the buffet staff could improve their overall guest relations and buffet upkeep. During my buffet dining, there were travelers that disregarded RC video directions about coughing and sneezing in the inner arm as well as signage asking guest to use a paper towel to open the rest room door. I'm a germ phobe so I'm cognizant of these type of things. Anyhow, I feel the food tongs could have been swapped out periodically due to many people that sneezed and coughed without taking precautions to protect others from the spread of germs. I was MOST disturbed when I saw a bus boy sneeze and he did not cover his mouth. When we made eye contact, it was evident that he was aware that it alarmed me. He did not go wash his hands, he continued working. With regards to staff interactions, there was a few that was consistently pleasant. However, the leadership team seemed disengaged as well as borderline abrasive with guest. There was an incident where my husband joined me minutes after I was standing in the omlet line. The staff dramatically rushed over to him and said the line was closed. My busband politely walked away and left me in the line to wait for my omlet. Nonetheless, staff gathered stanchions and blocked the area like prison guards. They proceeded to vent speaking in their language as opposed to speaking English. While I can't confirm whether they were indeed venting about the matter, I will say it wasn't a good look for the staff to abruptly display disdain while speaking and guarding the stanchions. I feel stanchions was a clear indicator to prevent people from entering the closed line and the staff standing bickering was a bit extreme.  
Of further frustration, I felt the casino didnt have the friendliest staff. A few was appropriately pleasant. However, I misplaced my card in one of the machines and asked for assistance. I felt like staff didn't want to be bothered. There was another incident where a lady complained to the manager because the quarter drop gamble machine seemed to drop quarters into the sides of the machine and then stick to the sides on the way down. The manager that responded was a tad combative. The lady had a speech impediment and I was playing at the machine next to her so I explained that I noticed the same thing with my machine, After demonstrating what I was referring to, there came a point where he opened the machine and found that a number of coins were in various places near the redemption slot but they didn't quite fall into the slot. The first manager was dismissave rather than acknowledging the quarters should not stick to the sides once they fall. Anther manager who happened to be walking by mentioned the coins shouldn't be sticking and claimed it might be the humidity. He offered to have someone wipe the slot down but I decided it was time to stop playing that machine because it seemed awfully suspicious that the machine had this issue which results in more money for the casino. When I won a little money from the wheel a fortune game, they pressure you to buy lottery tickets. In doing so, I found out that you can only purchase tickets for the current evening, not on a "drawing that hasn't already occurred". It didn't make sense to me but it almost soounded like the game I purchased tickets for had already been determined prior to purchase. 
In closing, I would have given a higher rating if I didn't have the photo center issue; casino as well as the cabin sewage smell and tiny state room. As a business owner myself working in the children's spa industry, I have a high standard of excellence when I'm spending my hard earned money. I will say I enjoyed the nightly entertainment. Every now and then, I miss seeing Ricky dancing and getting hype on the floor and rails. I love the backup dancers and expecially the Indian in the YMCA performance. I also loved the two guys in the weather performance. I feel bad because I'm terrible with names. Oh and I thoroughly enjoyed the other guy that directed the RC live show and Quest with Ricky ( I can't recall his name but I also recall seeing him direct line dancing and the comedy show)! My bell hop, Neuman was consistently pleasant as well.
Teresa Greene
Ship Experiences
Food and Dining
The buffet did not meet my expectation. I found blonde hair in my food and I keep trying to upload the pictures but my revisions get deleted and I can't see the photos once I upload it. I also felt the dining room got way too crowded to the extent that I lost interest. However Chops grill was great
Onboard Activities
I just remembered his name, DARYL!!!! I love his energy. I could not remember his name when I wrote the first half of my review.
Entertainment
I miss seeing Ricky get hype on the floor and rails.
Children's Programs
N/a
Service and Staff
Some of the staff was exceeded my expectations but there was a percentage that seemed pretentious and lacked professionalism.
Ship Quality
The state rooms are unbearable tiny.
Cabin / Stateroom
The cabin does not look as nice as this picture. My husband and I had two twin beds with a nightstand in between our beds. The cabin smelled like sewage and the shower is very tiny. They should consider replacing the shower curtains and cleaning mold out of the crevices. The bell hop Neuman was pleasant and good about freshening the room upon request. I had to use my expensive perfume to kill the odor of sewage because they don't have air freshner. When they clean the bathroom, the odor comes back within minutes of cleaning.
Ship Tip
The buffet and main pool area was absolutely overcrowded and disgusting. WHY CAN'T I UPLOAD MY PICTURES OF THE BLONDE HAIR I FOUND IN THE BUFFET?!!! I WOULD ALSO LIKE TO UPDATE MY BEAUTIFUL CAKE PHOTOS BUT ALL MY REVISIONS GET DELETED EVERYTIME I ATTEMPT TO UPLOAD PICTURES?!
Ports Of Call
Other Reviews Of This Sailing