Highly Recommended If You Do Not Like Crowded Cruises
Traveled As: Family (young children)
This was my first cruise and I had a decent experience at this ship. It was more quiet than expected which was great. If you enjoy partying and entertainment, and a ton of stuff to do, this one is definitely not for you. Most of the passengers were mainly senior citizens and there weren't that many children. I felt like everything closed really early like 10-11PM. The ship is rather empty most of the times so you feel like you're on your own private ship.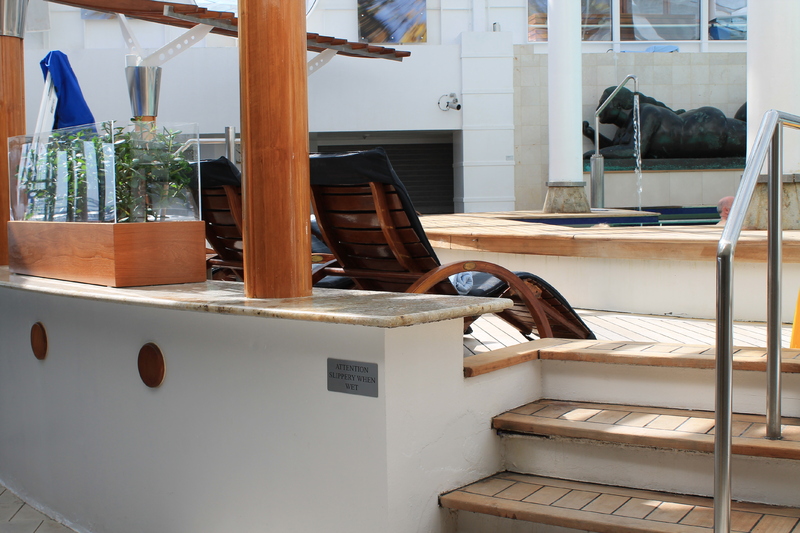 The ship is pretty clean and the rooms are pretty neat. I would prefer if there was some air freshening for the bathroom since it smells like sewer sometimes. Otherwise, they replace your towels very often. The staff is extremely friendly here and I haven't experience a single rude staff member. They were also very accomodating.
Food was decent. It isn't all that great but I can't expect too much for something all-you-can-eat. The ice cream was good too. I looked forward to eating breakfast, lunch and dinner here every day. My only issue is with the utensils; sometimes they look very dirty. Cups also. Their french fries are really good. Breakfast could use some improvements, but lunch and dinner is really good. They also provide seasick medication for those who are sick from the rocking of the ship.
I loved that they had an indoor therapy pool. It was very comforting and had a lot of spots with shade if you don't want to hit the sun or tan. The outdoor pools were really cold all the time. I'm happy that the staff is so accomodating and the entire experience was so generous. They gave you a complementary tote in your cabin, you get to use the umbrella, they give you beach towels, and chocolcate every night. They also answer all your questions and concerns. The ship is very nice with a lot of great places. The restaurants are beautiful and the classic decoration is amazing. It is very classy yet has places that are casual.
My slight disappointment was the amount of time it took to disembark entirely at the end of the cruise. It was a bit tedious. I also wish the Self-Assist program was an option on the spot. I personally don't like my luggage being taken for me. It took a very long time for them to get us our lugagge onboard. I think I got it when it was almost dinner 7PM when they were taken onboard around 4PM. I also do not like having to leave my luggage out the door for them to pick it up the night before the last day, who knows.. someone could've stolen something. It was an overall good experience other than the litlte things I wasn't too happy about. I liked this cruise and don't mind going again. I liked the staff very much, as they were all very nice and always greeted you anywhere. The food is decent, only bad thing I tried was scrambled eggs.
Category Ratings

Click table then swipe to view all columns.
| | | |
| --- | --- | --- |
| Ship Quality | | The ship looked a bit old in some spots. The windows were dirty. |
| Food and Dining | | Food was decent. It was "Great" for me since I don't set high standards for food. I loved the desserts, the buffet, etc. |
| Service and Staff | | Staff was VERY nice! They are very accommodating and helpful. |
| Entertainment | | I'm not all for entertainment, but they have a lot of spots for you to enjoy your time from comedians, dancers, casino, and little bars and cafes. Pools were nice. Gym was available and they had activities for children. |
| Children's Programs | | Little cousin was busy for hours at the Fun Factory. |
| Onboard Activities | | |
| Destinations and Excursions | | The port/dock didn't really have much to offer other than the beautiful view. It was really far from places we wanted to visit like the beaches. |
| Cabin / Stateroom | | It was really small and tight for 4 people (three adults, one 4-year old). We had to use the ceiling bunk bed or the sofa bed. There's almost no room anywhere. Also, the bathroom needs a little freshener sometimes. It smells like a public bathroom, especially after you "go" and the smell doesn't go away for a really long time. I was a bit disappointed with the size and how tight the cabin was.. like I said, the amount of floor space available isn't sufficient especially after you get your luggage. It was really uncomfortable. |
Port Ratings

Click table then swipe to view all columns.
| | | | |
| --- | --- | --- | --- |
| Cape Liberty (Bayonne), New Jersey | | This port is really tricky to find. When you're at NJ, don't assume you'll find this place by seeing the ship. We didn't until driving all the way to the end. It was hiding in perspective to a building from a distance. | |
Tip
You can take the tote & umbrella in the closet. If you're able, it's probably better taking the steps for short trips onboard; elevator takes forever sometimes.