Celebrity Silhouette Onboard Activities
Celebrity Silhouette - Onboard Activities
Explore Celebrity Silhouette Onboard Activities
Celebrity Silhouette Bars
Cellar Masters
Inspired by the vineyards of Napa Valley, Cellar Masters brings to life the experience of a global wine tour while you learn about and...
Champagne Bar/Martini Bar
In the mood for a bit of bubbly? Then our Champagne Bar is sure to have a vintage that satisfies. Maybe you prefer the perfect martini....
Michael''s Club
Adorned in mellow sophistication, Michael''s Club is the perfect place to order your favorite cocktail and let yourself be entertained...
Sunset Bar
The Sunset Bar provides breathtaking views of the length of the ship and the entire world around you. With its Country Club inspiration...
Crush
An intriguing alcove off The Martini Bar, Crush is a cool, classy setting featuring an ice-filled table center. Chat the night away wit...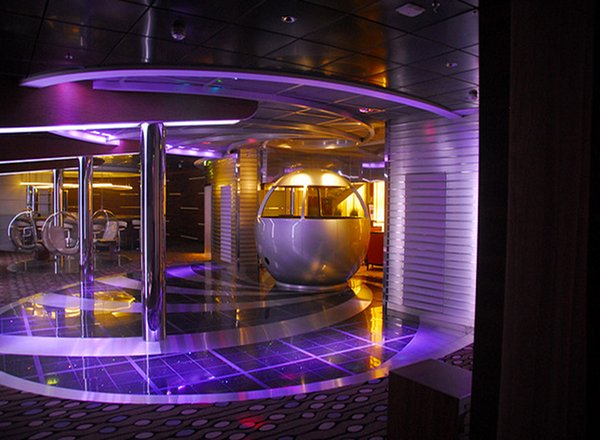 Quasar
Dance the night away in a vibrant nightclub designed for those ready to kick back and get down. Quasar is a modern nightclub like no ot...
Celebrity Silhouette Casinos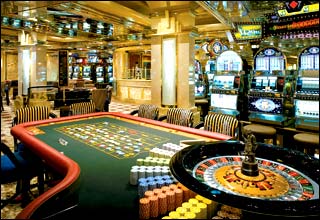 Fortune''s Casino
With Lady Luck by your side, spin the roulette wheel or play the slot machines in our tastefully decorated casino. Containing the ambie...
Celebrity Silhouette Entertainment
Card Room
Try your hand at a game of gin rummy or simply take in the lovely sea view in this intimate space.
Celebrity Central
For an evening of lively, spontaneous entertainment, the versatile Celebrity Central is the perfect destination. Catch a late night com...
Celebrity Theater
The stage comes alive in our state-of-the-art theater with dazzling special effects and Broadway-style productions. While accommodating...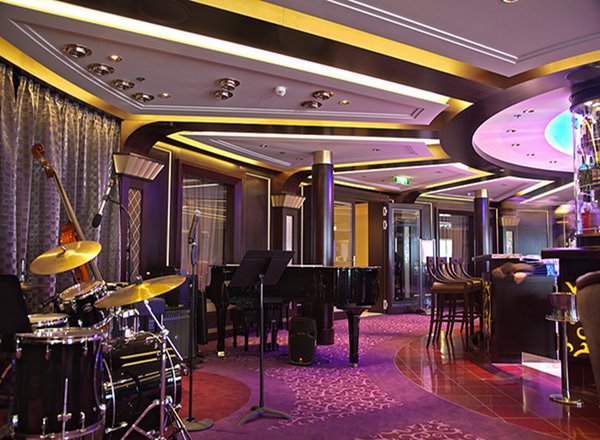 Ensemble Lounge
Start your evening off right with a soothing backdrop of instrumental or vocal sounds and the palpable air of anticipation as you gathe...
Grand Foyer
When you enter our Grand Foyer, you''ll immediately understand why we make such a great first impression. While your eyes are immediate...
Library
Escape into a good book or browse through one of your favorite magazines in our spacious and peaceful library; two floors of quiet cont...
Patio on the Lawn
Luxury adopts a casual, country club charm at the Patio on the Lawn. Overlooking the beautiful The Lawn Club, it''s an ideal place to r...
Sky Observation Lounge
Don''t look back, look forward and be amazed by the breathtaking views in our ultimate observation lounge. The floor to ceiling windows...
Solstice Deck
Whether you''re looking for the ideal spot to do some early morning yoga, stretch out on a canopied lounge bed, or for the best view of...
The Lawn Club
A freshly manicured lawn on the highest deck. Enjoy casual outdoor activities in a decidedly Country Club atmosphere, and let the gras...
Hot Glass Show
Did you know that every window in your house was made on a cruise ship? Well, they actually weren''t... but, some pretty cool glass ar...
Persian Garden
Accompanied by the calming strains of new age music, enjoy the warmth of a relaxing steam or treat your skin to the solitude found in a...
Celebrity Silhouette Kid's Areas
Arcade
The video arcade is one of many entertainment options for young and young-at-heart passengers.
XClub
Younger cruisers ages 12-17 can cut loose and kick back the way they want in our hip VIP area geared specifically for teens. From teen-...
Fun Factory
Open to children ages 3-11, and supervised by fully trained youth staff, Fun Factory offers plenty of games to play and activities to t...
ShipMates
ShipMates offers plenty of games to play and activities to take part in specifically for children age 3-5.
Celebrity Silhouette Others
Guest Relations And Excursions
The place to go for general ship information, to report lost or damaged goods, and to exchange money or traveler''s checks. Shore excur...
Sky Conference Center
Host your meetings in serenity and style in our state-of-the-art facility, with the ability to accommodate up to 200 guests. This moder...
Celebrity iLounge
A fresh twist to our Internet Cafe, set in a modern lounge environment where certified staff will introduce you to the latest Apple Ma...
Internet Caf
All of our ships have Internet Cafs. Internet access is available in the Internet Caf 24 hours a day until 6:00 a.m. on Debarkation Day...
Celebrity Silhouette Pools
Celebrity Silhouette Shops
Shops on the Boulevard
Beautiful walkways lead you from sophisticated boutiques to fine jewelry stores that hold stylish clothing, precious gems, cosmetics, f...
Celebrity Silhouette Spa and Fitnesses
AquaSpa by Elemis
In the serene environment of this world-class spa, you can enjoy treatments by Rasul body care, featuring medicinal muds and an herbal...
Acupuncture at Sea
Get porcupined up and feel like a million bucks afterwards. Let''s just hope the seas aren''t too rough while you''re getting stuck.
Fitness Center
Featuring the latest equipment and inspiring classes, including yoga and pilates, enjoy an exhilarating workout with views that will ta...
Hair Salon
After a day spent in the sun you might be ready for a little pampering. A visit to our shipboard Salon is sure to have you looking your...
Celebrity Silhouette Sports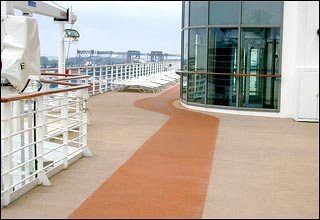 Jogging Track
Run laps while taking in the view. Our tracks are open to anyone and proper shoes are recommended.
Lawn Bowling
This isn''t like normal bowling, so you can leave your 17 pounder at home. Lawn bowling is a little less strenuous and a lot more appr...
Find a Cruise on Celebrity Silhouette
*Cruiseline.com is not a booking agent or travel agency, and does not charge any service fees to users of our site. Our partners (travel agencies and cruise lines) provide prices, which we list for our users' convenience. Cruiseline.com does not guarantee any specific rates or prices. While prices are updated daily, please check with the booking site for the exact amount. Cruiseline.com is not responsible for content on external web sites.