Caribbean - Southern Cruise Review
Mixed Feelings - 2.5 Stars
Carnival Freedom
Cruise Review to Caribbean - Southern
Experience: 2-3 cruises
Review: 1
Helpful Votes: 3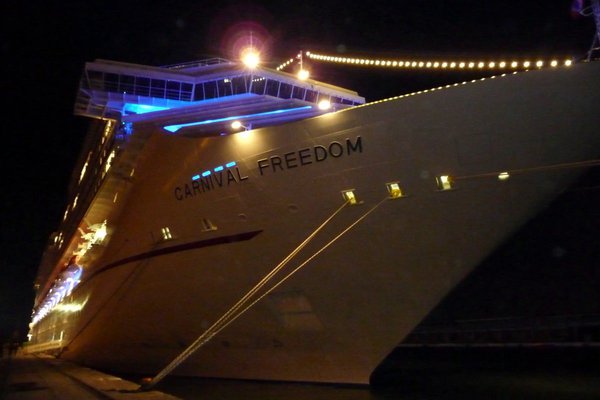 8 Night Southern Caribbean (Ft. Lauderdale Roundtrip)
Sail Date: July 13, 2014
Ship: Carnival Freedom
Cabin Type: Balcony
Cabin Number: 1056
Traveled As: Couple
Reviewed: 4 years ago
Review Summary
My husband and I usually take a land vacation utilizing a Cabo one bedroom/two bath timeshare that we had. The resort is less than 10 years old and has a beautiful layout both on the grounds and the rooms themselves. This year, we wanted to do something different since it was our 25th wedding anniversary and decided to take a cruise. We took our first cruise in the late 90's and this would be our second one. We booked the 8 Night Exotic Southern Caribbean on the Carnival Freedom. Shortly after booking it, I discovered that the Freedom was going into drydock and would have updates when we sailed, which was great news. I booked through an online booking tool and asked if the staterooms were updated. There were times that I contacted Carnival directly. During one of those times, I asked if the staterooms were updated in the drydock and she told me yes. At the suggestion of a friend, we booked a port-side balcony, and I'm glad we did. It was nice to be able to see the ports as we arrived and departed and to just sit out and look at the splendor of God's creation of the clouds and the sun as it bounced off the crystal clear blue water. We are not smokers, but the person in the stateroom next to us was so we'd leave when she came out. I read an email from John Heald one of the cruise directors that stated balconies will be smoke free.
The Good: We had a wonderful time at the Steakhouse. It was well worth the $70. For starters, I had crab cake and my husband had jumbo shrimp cocktail. That was followed up by a Caesar Salad. Our entree was filet mignon, lobster tails and a baked potato. For dessert, my husband had raspberry sherbert and I had a huge slice of cheesecake which we took with and ate the next evening. Our first elegant night was a meet-n-greet with the captain and crew so we decided to dine at the Steakhouse after the meet-n-greet since we were all dressed up. The Steakhouse offered a free bottle of merlot or chardonnay wine that evening. During the meet-n-greet, I asked Jennifer, the awesome cruise director, if she knew if we could pay an upcharge and get a bottle of moscato. She said she'd call the Steakhouse. I asked her if she'd tell them we were celebrating our anniversary. She called and informed us that that was not a possibility and said we'd have to purchase the moscato, which was fine with us. Imagine our surprise when one of the wait staff approached us after we were seated with a bottle of moscato compliments of Jennifer!!! That was the beginning of a phenomenal dining experience. The ambiance was great, the food was simply delicious and the wait staff and chef were very attentive. In fact, the chef checked on us at least twice. At one point, one of the wait staff insisted that we take some fresh bread instead of continuing to eat what we received earlier because the fresh bread was warm.
I would compare the caliber of the Steakhouse staff, decor and food to some of the top Chicago steakhouses any day of the week but you won't get all of this for $70 at those places. In addition to the moscato, we were also given the free bottle of wine. After dinner, they brought a plate with the words Happy Anniversary written in chocolate. No doubt Jennifer told them it was ur anniversary when she inquired about the wine. She is awesome!!! The plate also had a candle and strawberries on it. This place was a class act from start to finish. I understand that people may not want to spend money to dine when they've already paid for meals but if you are celebrating a special occasion or do not mind spending the extra $35 per person for a nice, romantic and delicious dinner, this is the place.
We also enjoyed Guy's Burger Joint and the morning breakfast choices that the other restaurants offered. I'm a creature of habit so I ate at the Omelette Your Way station daily and enjoyed it immensely. The outdoor movie screen was great. It was like being at the drive-in on a ship. Be sure to wear a jacket because it tends to get cool at night. Another pleasant surprise was the adults only Serenity sundeck and an outside area on deck three that we discovered midway through the cruise.
The Bad: As mentioned, we were told that the drydock included stateroom updates. Imagine my surprise when we arrived to our stateroom to find soiled cushion covers on the small sofa, the curtain not hanging correctly because some of the hooks were missing, a lampshade with multiple dents and the cabinet door that concealed the mini fridge hanging. Our steward, Romano was great. He took the cushions to be laundered and replaced the curtain hooks on day three of our cruise. He said there was nothing he could do about the dented lampshade.
Another issue was with a staff person that services the tables near Guy's Burger Joint. Seats tend to be scarce in that area so while my husband was getting our burgers, I found us a table. When I sat down, I noticed some jello on the floor underneath the table. I pointed this out to one of the employees that cleans the tables and he said "it's jello" and walked away. Really??? When I saw him again, I asked for a napkin so I could clean it up and he gave me one, which I put the jello in and handed it to him.
We also went to a presentation to find out about shopping at each port. The presentation was a bit long and the presenter, Victoria, spoke so much on Diamond International and another company so much until it began to sound like she worked for them instead of Carnival. While at the presentation, we purchased the $25 value book with coupons. Some of the coupons offered free stuff but none of it added up to the $25 we spent for the book. The one free gift that was good was a waterproof thingy that my husband put our spending money, credit cards etc. in. My guess is that we could have purchased it for less than $25 bucks but as a friend of mine says, people love free stuff. I guess if you are a big shopper at some of the places listed in the coupon book, you might find a deal. However, we went to some of the stores and found the prices to be extremely high. I'm a shopper and like nice things and can find them a great prices so again, I found the prices to be extremely high.
The Ugly: After a few days, the lavatory in our stateroom began to reek of perfume laced urine. It would get better at night after the toilet was cleaned but by the next morning, it would start to smell again. Closing the lavatory door was a small help and the only way I could get away from the smell was to use the mirror in the stateroom to apply my makeup. Unfortunately, the other end of the mirror furthest from the lavatory door had a large decorative piece on it which made no sense at all and blocked a portion of the mirror so it was either use the side of the mirror closest to the lavatory or the side with the partial view.
Since we are not cruisers, I asked the online travel service what time we needed to arrive to board the ship but was unable to get that information so we decided to book our airfare with the cruise. Huge mistake because you cannot get the flight information until the cruise is paid in full. I paid ours in full on a Saturday and discovered that our outbound flight was at 5:55AM with a connection and our return was a 3:45PM flight with an 8PM connection in Atlanta. The flights were on Delta. I went to their site to see if I could change them but they didn't have a record of them yet so I called the online travel service and was told that they were booked through Carnival and their management office would not be open until Monday. Most airlines offer a 24 hour period to change flights without penalty but that would not have been an option for us since it would be 48 hours before we could reach Carnival. Both were horrible times but the return flight was the worse because we were at the Ft. Lauderdale airport for hours.
We also had some issues with Delta. I checked us in online and also checked at the desk before boarding to see if we needed to do anything else and was told no. However, at boarding, my husband went through but my boarding pass did not. I was told that for some reason, Delta had dropped us (even though my husband went through) from their system so we had to step aside until they could find us seats, which were not together. We also had to check-in our carryons. When we got ready to board in Atlanta, we couldn't because the people in Chicago did not re-enter us in the system. Again, we had to step aside and watch them scramble to find us seats, which were not in the same row. When I got to my "assigned" seat, a gentleman was sitting in it. The flight attendant informed him that he was upgraded to first class so he moved. Shortly after I sat down, I went to the lavatory and heard someone on the P.A. system asking who the owner of a blue D&B purse was. I thought to myself, that's my purse. I could hear the announcer say "is she in the bathroom?" Of course, I was not in a position to answer. Upon exiting the lavatory, an attendant near the door asked if that was my purse and I told him it was. He said one of the attendants had it. As I headed back to my seat, the attendant approached me and told me to sit in a seat that was further away from my "assigned seat." As it turned out, the gentleman that they moved to first class was an error. In addition, the flight was delayed due to weather, which added to the time we were at the airport.
Disembarkment day was l-o-n-g. We woke up at 6AM; arrived at the airport before 11AM and got home at 11PM. We live in the Chicagoland area. My guess is that a direct flight would have gotten us home shortly after 5:30PM, the time we departed from Ft. Lauderdale for our Atlanta connection that departed at 8PM. I was good and tired when we got home. It took me a few days to regroup.
The Ports: We enjoyed each port. The water was absolutely beautiful and the weather was too. Again, we are not cruisers so we opted not to do excursions. Instead, we shopped near the ports and also hung out at the beach in Grand Turk and then went over to the pool at Margaritaville which is part of the shops and beach. We had a great time at the pool. We visited four places - Grand Turk Island, The Dominican Republic, Curacao and Aruba. I enjoyed them all but I'm a shopper and enjoyed the shopping in Aruba best. The ship was in port at Curacao until 11PM. We went back to the ship for our early dinner and were told the next day that the majority of the shops closed at 6PM so I'm not sure why we were there until 11PM. Although I enjoyed visiting four places, we visited each port four days in a row which was a bit much. I would have preferred visiting two back to back with a day or two at sea then visiting the other two.
Overall, the cruise was good, but not great. The flight issues and stateroom conditions were very disappointing and took away from what I'd hoped to be a memorable way to celebrate our 25th anniversary. I'm not saying we will not cruise again but if we do, it will be on a newer ship and maybe a different cruise line, with three ports or sea days in between if four ports. I will also book nonstop flights and avoid Delta at all costs!!!
Ship Experiences
Food and Dining
The Steakhouse was fabulous. The regular dining memo was just ok with basic menu options so I opted for fried chicken or the chicken breast. Hardly exciting for an Exoctic Cruise. I think they had lobster tails one night but we weren't aware that they were having that and dined elsewhere. We had the shrimp cocktail and the shrimp were small and slimey.
Onboard Activities
Entertainment
Children's Programs
N/A
Service and Staff
Jennifer the cruise director. She is the absolute best and Romano (spelling) our cabin steward.
Ship Quality
Cabin / Stateroom
The stateroom showed signs of wear (dirty cushion covers, missing curtain hooks, bent lamp shades, stained carpet, broken door that concealed mini-fridge and stinky lavatory).
Ship Tip
Go to the Steakhouse!!! You'll be glad you did.
Ports Of Call
Ft. Lauderdale (Port Everglades), Florida
Was there to get on and off ship only.
Enjoyed the feel of the shopping area and the pool at Margarativlle.
Enjoyed the shopping here but not the 11PM departure, especially since the town didn't have much going on after 6PM
This was my favorite port. I enjoyed the shopping.
Other Reviews Of This Sailing