6 Insider Tips For Cruising on Allure of the Seas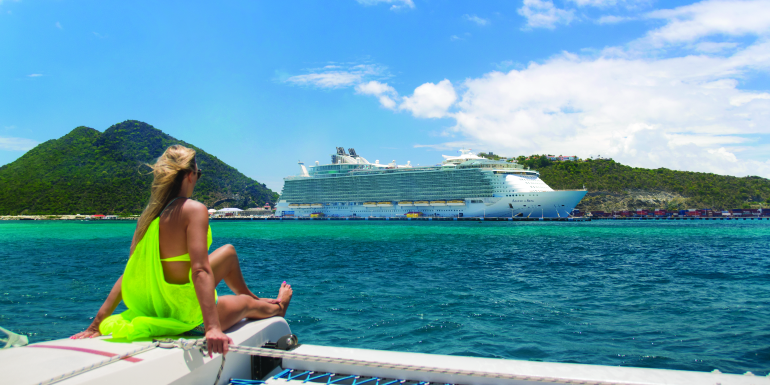 Whether you've already booked a cruise on Allure of the Seas or are still in the research phase, this collection of insider tips curated from thousands of member reviews will help you get the most out of your sailing.
1. Avoid the Windjammer for Breakfast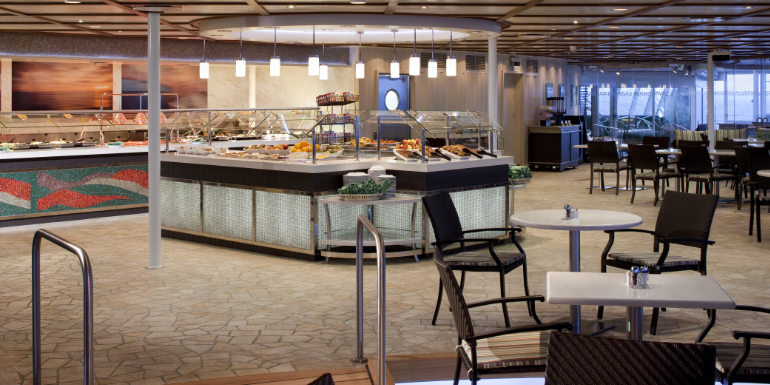 Our members tell us the Windjammer buffet is often overcrowded for breakfast. Thankfully, alternate options exist, namely the Wipeout Cafe, noted for the made-to-order omelet station, the Solarium Bistro, which offers some healthier choices, and Johnny Rockets, where the standard cover charge is waived for breakfast.
"The WipeOut cafe has a good buffet-style breakfast selection, including made-to-order eggs/omelets, and is less crowded than the Windjammer. " - PhilJ1
"We loved eating breakfast and lunch at the solarium!! The food was great and the lines were short. The windjammer was a little crowded around meal times." - dcnelson4
"Johnny Rockets serves the best breakfast on the ship and no one seems to know this but there is NO upcharge at breakfast! The setting outdoors in quiet and beautiful." - markhabram
2. The Park Cafe is a (Surprisingly) Overlooked Gem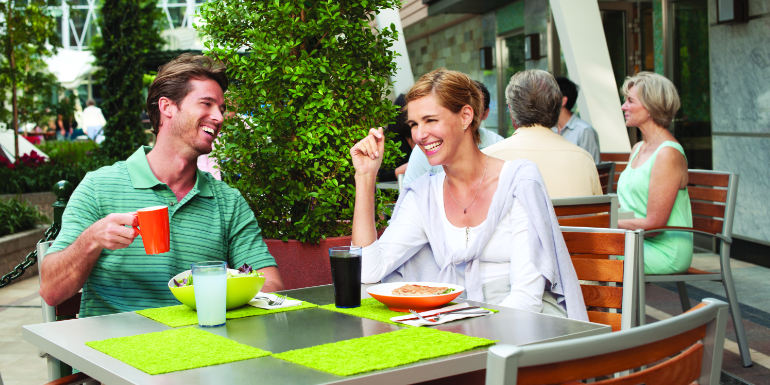 Despite a seemingly prominent spot right on Allure's Central Park promenade, the Park Cafe earns rave reviews for being an uncrowded spot to pop-in for a snack, with the roast beef sandwiches taking top honors.
"Try the roast beef sandwich at the Central Park cafe for lunch. It is wonderful." - CaptClubMembr
"If you don't want to lunch in the windjammer, head to the Park Cafe in the Central Park neighborhood. They have prime rib sandwiches that are to die for and are FREE!" - MrCruzeaddict
"Central Park has a great cafe that during lunch allows you to make your own salad. I wish I would have known this earlier. It is also not nearly as crowded as other places on the ship." - sutburns
3. Boardwalk and Central Park Balcony Rooms Don't Offer Much Privacy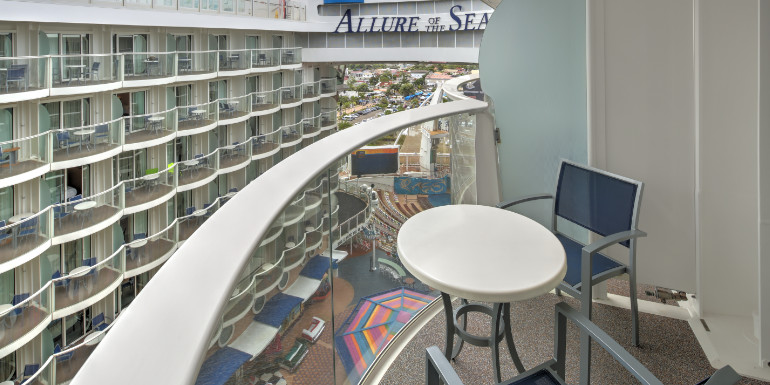 The unique, internal-facing balconies overlooking Allure's Central Park and Boardwalk neighborhoods were the talk of the cruise industry when the Oasis-class debuted, and they initially commanded higher prices than oceanview balconies due to their novelty. Nearly a decade later, cruisers have discovered that they can be noisy and don't offer as much privacy as a traditional cruise balcony stateroom.
"the inside balcony's tend to be noisy but in the right spot you can watch the shows from your room." - sfish20
"Avoid the Central Park and Boardwalk balcony cabins. It's like living in a fishbowl, thanks to the clear balconies… you'll have very little privacy, and it's even possible for cruisers on the pool deck to look down into your Central Park balcony " - SimonCommunity
Allure Deals From /Night
4. Reserve Your Entertainment in Advance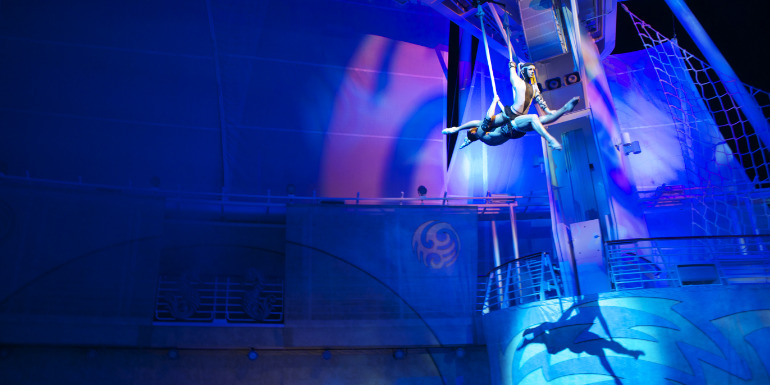 With showstoppers like Broadway's Mamma Mia, Blue Planet and the unique Aqua Theater productions, it's not surprising that the entertainment options on Allure are popular. Like with most mega-ships, passengers can reserve their show times before their cruise, and our members recommend doing so, as the stand by line can be a gamble.
"Book ahead everything and anything you can in the cruise planner on Royal Caribbean's site, this includes your dinner times. It'll save you so much stress. We did that and it was nice just walking up to shows and getting in and the same with my time dining. There was a reservations line and a non-reservations line. The "non" line was always long and slow moving." - GroovyJulie95
"Do not make the mistake we did, and reserve your shows early! With a big ship, prime slots fill up quick and the stand by option can be a pain an unorganized." - meghad23
"Make your entertainment reservations in advance! but don't hesitate to standby if you don't. We were on a holiday cruise and surprisingly there were lots of no shows!" - CruisinDiva
5. Bring Appropriate Attire for the Rock Climbing Wall, Zipline and Shore Excursions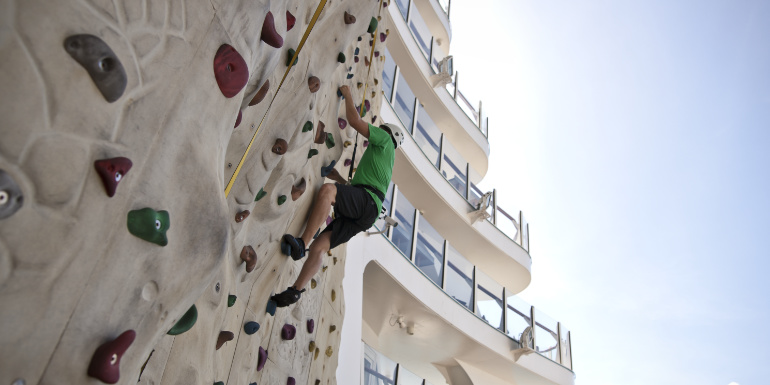 Packing for a cruise can be stressful and time-consuming, and it's not always clear that you'll need special attire or accessories for certain activities. Don't be like these members who forgot to pack closed toed shoes and missed out on two of Allure's biggest attractions, along with some shore excursions.
"I wish I would have known that the kids need shorts to do rock climbing and bring tennis shoes or water shoes for excursions in Haiti and Jamaica. My girls only wear dresses and flip flops so we couldn't do some awesome excursions but we still made the best at those islands and had a great time." - big40fam
"make sure to bring closed toed shoes if you want to do the rock wall, or the zip line." - momto5vs
6. Despite Cruising with 6,000 of Your Closest Friends, You Can Find Spots to Relax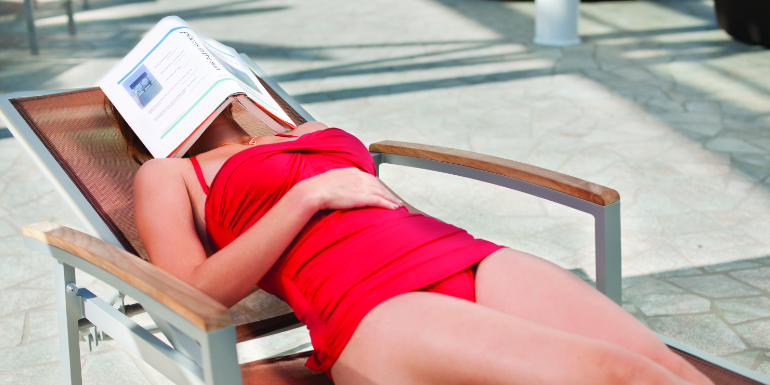 Yes, Allure of the Seas is one of the largest cruise ships in the world, but thanks to a well-thought out design, it doesn't feel like it. There are many nooks and hideaways to relax. Here are some of our members' favorites.
"For a secret hideaway on the back of the ship, take the track to the back and you'll find some chairs overlooking the back of the ship. Plenty of shade and away from it all. Also, check out the Sundeck when the ship departs. It's kinda hidden, but follow the signs. Best view from the front. " - lucasaragon (read review)
"If you like a more peaceful time when laying out in the sun, go to the solarium on the front of the ship. There is a pool with fountains, hot tub, and a bar. Ages 16 and up only." - dhickman57 (read review)
"Get tired of the noise, crowds? For a time of solace, check out the library." - cwfitz
"There is a quiet place to read next to the running track at the front of the ship." - mccromickwaltri
"If you want to relax, walk Central Park at night." - jh27nc
"There is a wing on the front of the ship that is only accessible from the port side on the 14th deck and the view was amazing." - zstock00
See All Tips For Allure of the Seas!
Allure Deals From /Night