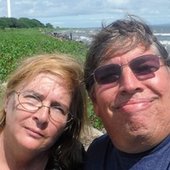 Srjohnson
Tonopah Az
Joined 03/2014
We went on our first cruises Nov '14. Did a B2B on the Glory. Fell in Love. My husband and I are both are former navy. Me mostly shore and him, mostly sea. Had to convince him to get on another ship...lol. We both enjoy meeting other people. Right now, I spend most of my time at home and taking care of grandbabies. My hubs. still works. 5 more years and we can really start having fun. We take our RV out when we get the chance, mostly short trips. We have 3 cats, which can be more bratty than the kids..lol.
Upcoming Cruises
Past Cruises
January 2018 - 4 Night Catalina & Baja Mexico (Los Angeles Roundtrip) Cruise on Carnival Inspiration
September 2017 - 4 Night Catalina & Baja Mexico (Los Angeles Roundtrip) Cruise on Carnival Imagination
November 2016 - 15 Night Panama Canal - Ocean To Ocean (Ft. Lauderdale To Los Angeles) Cruise on Island Princess
Awsome cruise Through the Panama Canal
We really liked going through the Canal and listening about the history of the Canal. We were on deck 10 in C230 which was about 10 cabins from the secret deck. We watched going through the Canal from there.
We were really impressed with embarkation and disembarkation. Both of them were really smooth. I think it took about 20 mins. to get the ship. And maybe an hour to get off and part of that was just waiting at our assigned place. Once we started moving, we were off the ship in no time.
The mini-suite was really comfortable and roomy. The shower had a tub, which it gave more room for showering. Our steward was awesome. In fact everyone we came in contact with were extremely nice.
We didn't go on too many excursions. We just went off the ship and walked around. Only in a couple of places were the vendors were pushy. But over all the ports were nice.
Going to the shows were fun, like people said, you need to get to them early in order to get a good seat. But the shows were really good. I liked the fact that they had a band, instead of canned music during the shows.
We did have some bumpy seas. Made walking interesting! Watching people in the pool when the water was moving around was fun. Had our own wave pool.
We really did enjoy this cruise! 
November 2014 - 7 Night Eastern Caribbean (Miami Roundtrip) Cruise on Carnival Glory
November 2014 - 7 Night Exotic Western Caribbean (Miami Roundtrip) Cruise on Carnival Glory
No Tips Added
Following
Cruise Line
Ship