Volendam Cabin Category U1
Floor Plan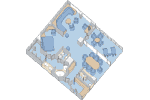 Size:1296 sq. ft. including Balcony

Occupancy: Up to 4 guests

Amenities: A private bedroom with king-sized bed private balcony floor-to-ceiling glass windows living room with sofa bed dining room private bathroom with shower and oversized whirlpool tub dressing room guest bathroom pantry mini-bar refrigerator flat-panel television DVD player mini-safe telephone multichannel music and a hairdryer. Additional suite amenities include use of the exclusive Neptune Lounge and personal concierge service complimentary bathrobes personalized stationery feather pillows complimentary laundry/dry-cleaning service fresh fruit video library afternoon tea hors d'oeuvres served before dinner upon request corsages and boutonnieres for the first formal night and special disembarkation privileges.

Please Note: Smoking is prohibited in all guest staterooms but smoking is permitted outside on balconies.
Pinnacle Suite U1 Cabins:
Pinnacle Suite U1 cabins can be found on:
Pinnacle Suite U1 Cabins - Suite
Other categories for Suite cabins include: