Bermuda Cruise Review
First experience with Royal Caribbean - very disappointing
Explorer of the Seas
Cruise Review to Bermuda
Experience: 2-3 cruises
Reviews: 2
Helpful Votes: 17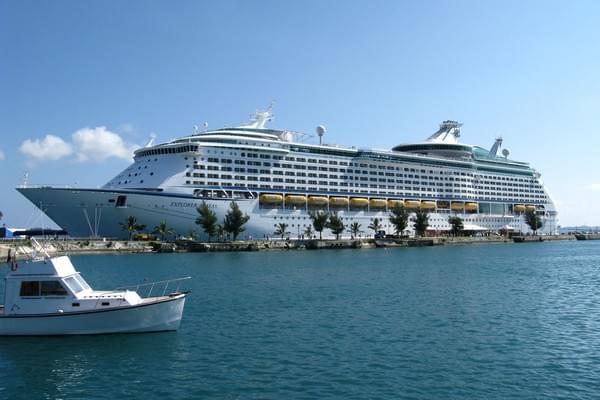 5 Night Bermuda (Cape Liberty Roundtrip)
Sail Date: May 11, 2013
Ship: Explorer of the Seas
Cabin Type: Balcony
Cabin Number: 6272
Traveled As: Couple
Reviewed: 5 years ago
Review Summary
Comments regarding our vacation with Royal Caribbean "Explorer of the Seas" (5 day cruise to Bermuda, May 11-16, 2013) We have previously cruised with Princess Cruises and Celebrity Cruises and were very happy with our cruise experience on both of these. We decided to try another cruise line, for the experience and are very, very disappointed with our recent cruise vacation with Royal Caribbean. We may have been naive to think that all cruise lines had the same (or close to the same) standards, but it is now very evident that this is not the case. Here's the list of mediocre standards encountered on our cruise: Smoking Being non-smokers, we had a particularly difficult time with this. While we understand that smokers are customers too, it seems to us that there are now a lot more non-smokers than smokers and that should be reflected in the amount of areas available to each group. Cigarette (and other smoking materials) smoke smells a long time, permeates into everything that is porous (fabric, wood, etc.) and that the 'old smoke' smell is absolutely disgusting when it is very humid. I guess you have to be a non-smoker to have this experience. It would be interesting to know how many of the Royal Caribbean execs are smokers... This ship is well suited for smokers and should be 'marketed' as such. In fact, we think this ship should be renamed "Ashtray of the Seas". Here are examples of our experience: • 2 outdoor pool bars (the only ones outside) with ashtrays on the bar counter. Of course this attracted all the smokers to 'hang out' at the bar, smoking their little hearts out while the non-smokers, held their breaths, waiting for their drinks to be prepared and move to other locations. • The casino area is completely open on the deck and, of course, smoking. I guess we should be thankful that we had one evening dedicated to non-smokers. It was not very interesting to us to spend time (and money) in the casino, even on the non-smoking evening with the stench of old cigarette smoke everywhere (upholstery, carpets, etc.). To make things worse, the casino, being located on a deck opened on either side to the adjacent bar areas, the smoke smell travelled to these other locations on a couple decks (4 and 5). • Half of the public outdoor deck areas permitted smoking. So wherever you were, whenever the wind blew our way, we got that wonderful smoke smell. My-time dining Your my-time dining system is not working properly and not efficient. We have no problem with waiting a reasonable time for a table. Here are examples or our experience: • One evening, we were told that since we did not have a reservation, we could not have a table for quite some time. This was at 7 PM and the hostess asked that we come back and check at 9PM. The hostess did not even take a look at her table chart or at what she could do. This is completely unacceptable. We've always used our-time dining with our other cruises without any problem. At most, we have waited 45 minutes, with very sympathetic personnel and follow-ups. We finally decided to go to the Windjammer for dinner and missed out on our lobster dinner. • The following morning, we decided to call for a reservation for that evening. We called the 3333 number that was suggested in the My-time dining section of the daily journal. This was at 7 AM. There was no answer but a voicemail message came on saying that they were not available and to leave a message. So we left the message giving our stateroom number, the number of people and the hour of our reservation. Believe it or not, when we showed up for your reservation, we got the ''No, you do not have a reservation dear' from the hostess. We then explained that we left a message and we were told that that wasn't possible. One employee then agreed that there was a voicemail where people left messages but that they never checked them.... The hostess then quickly assigned us a table in front of the waiter's service counter (where they bring back the dirty dishes). We guess we got what we deserved right for trying to fit into the 'system'. • We believe that your My-time dining should be renamed "the hostess will decide when/where you'll dine" . Food quality Having been on the other two cruise lines, we could compare the quality of the food served and we felt it was not up to par with our other dining experiences. Many things seemed not 'home made' but ready-made. Among other things, we were quite disappointed with the Caesar salad -too simple, ordinary, French onion soup - just a consommé no onion pieces, a plate of battered fish and seafood –ordinary (the one at Costco is superior), the shrimp and scallops were way over cooked, key lime pie – filling very 'ready-made'. The lamb and aged beef were good. We didn't get to taste the lobster due to the above-mentioned situation. Premium beverage package Again having had other cruise line experiences, we were able to compare the packages. The Royal Caribbean premium beverage package is very much lacking versus its competition. First, this seems to have been something 'new' for the personnel onboard. Everyone seems to not quite know and had to 'check' what was included or not. If we take the example of Celebrity Cruises, for the same daily price, everything that was $12 or less per glass/bottle was included. That means water, sparkling water, juices, freshly squeezed juices, specialty coffees, soft drinks, all wines (within the $12), all beers, all spirits, etc. If we wanted a drink that was over $12, we were charged the difference. Example of our experience with you: • If we wanted something other than what was included, i.e. Guinness beer, we paid the full price. If we wanted another type of wine than the house wine, we had to pay the full price. In fairness, they should give you a credit and make you pay the difference. This is a very expensive package if you still have to pay for water, fresh juice, an espresso or a Guinness beer. Ship not suited for destinations from Bayonne, New Jersey We had very cold and windy weather with this cruise. Our previous cruise from Bayonne was with Celebrity Cruises. The ship was well suited for this destination, having a covered pool area. The Explorer of the Seas is not well suited for this type of sailing destination. We did not even check this aspect this time since we assumed that since we can have cold weather, that all the ships departing from New Jersey had this type of feature, a covered pool area. That way we still are able to enjoy these amenities. We were quite surprised to see that this was not the case. Comfort We had a hard time finding confortable chairs and well lighted areas inside the ship in order to relax a couple of hours without the need to change position every 5 minutes (one exception, the 3 blue chairs in the cloud nine saloon were pretty decent and we felt lucky every time we could use them). All in all we found that the ship was very 'dark' and not well lighted. We are very sorry to say that this sailing experience was very, very disappointing in comparison to the others we have had, and for this reason, we will not consider cruising with Royal Caribbean in the future or referring the cruise line.
Ship Experiences
Food and Dining
Have had better on other 2 cruises
Onboard Activities
Entertainment
Children's Programs
Not applicable
Service and Staff
Ship Quality
Older, needs lots of tlc
Cabin / Stateroom
Needs updating
Ship Tip
For the 3 most comfortable seats on the ship, go to the Cloud 9 lounge.
Ports Of Call
Cape Liberty (Bayonne), New Jersey
look into having a reserved lane for shuttles