May 2015 - 7 Night Eastern Caribbean (Ft. Lauderdale Roundtrip) Cruise on Oasis of the Seas
OUTSTANDING Cruise on the Oasis.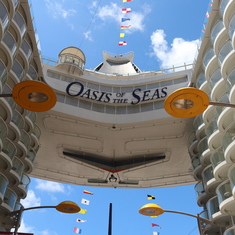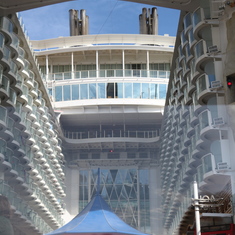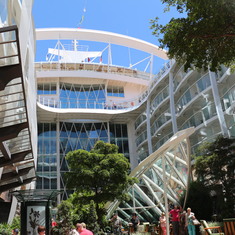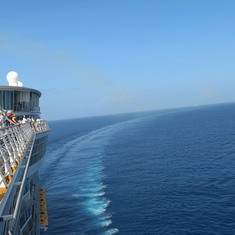 We just returned from our first cruise. We selected the Oasis Eastern Caribbean cruise as a destination celebration for my 50th birthday. The ship is amazing, impressive, massive and fun. We had our concerns as first time cruisers as to whether or not we would like it, would get sea sick etc, etc. We loved it. We had NO issues with sea sickness even with a day or slightly rough seas. Neither my husband nor I took seasickness meds. I did however wear the sea bands for the day the seas were rough. The ship is so massive and impressive that we found ourselves saying several times….."I can't believe we are on a ship". 

FOOD: We loved the food. Yes, we are foodies and are super critical of food including presentation and taste. We found the food good. With the amount of food they make daily, I was impressed with the quality, variety and taste. There are many options for food….some are complimentary and others require a fee. We explored most dining options (free and fee based). While not fans (in general) of buffets, we loved the Windjammer Cafe (buffet). It was a great place for breakfast and lunch. The menu changed and there was plenty of variety. Dinner we dined mostly in the Main Dinning room as well as 2 specialty restaurants - Giovanni's and Chops. The main dining room was good. They will make you what ever you want….just ask. We generally ordered extra appetizers and desserts and an entree each. Giovani's was outstanding. I ordered the lamb and it was beyond delicious. Giovanni's is a specialty restaurant that charged $20 per person. We also dined at Chops- the steak house. Also outstanding. The other dining options, Solarium bistro and Vitality cafe offer healthy "clean" food for breakfast and lunch but if you want a basic burger or hotdog…there are options for that too. You will NOT go hungry! As our treat a few days was the soft serve ice cream poolside. 

Activities and entertainment: 

To say we are exhausted is an understatement. We TRIED to do it all. There is no way to do everything….so don't try. Choose what you like. Advice: book the entertainment shows prior to sailing. We read up on the shows and booked an early dinner (6PM) so that we could make the 8PM or later shows. That strategy worked well for us. We caught all the shows expect for Cats. We decided to skip Cats to do other things in those 2+ hours. Make sure you book the comedy show as the venue is tiny and sells out early. Frozen the ice show is great too. 

Other activities were so much fun. Each day you will receive a planner for the next day's activities in your cabin. We would go through that and jot down the activities we wanted to do. We LOVED the extra shows: Love and Marriage Game show, QUEST game show, Majority Rules and several trivia contests. Like I mentioned before we are exhausted….we ran all over the place having fun! 

Zipline, golf, flowrider…..do it. Try them at least once. You will have a blast. And it is not your thing to do…go and watch others. It is so much fun. Spend time pool side when the music/band is playing. 

Attitude and behavior……my ONLY complaint is about a few people on board. Some people tend to forget their manners. Often times people got frustrated waiting for elevators. I found some people pushed in or pushed others to get into an elevator. Men remember to hold the door open for others. Be patient…and be kind to others. 

Advice on excursions: 

St. Marteen. We decided to see the butterfly farm. We loved it. You get a small tour of the island after the tour of the butterfly farm. Afterwards, the tour driver let us out near the beach and we then took a water taxi back. 

Nassau: We just walked around the town. We did not select an excursion, as we were not that interested in that port. Since we were there such a short time, the Atlantis excursion felt like a waste of money. 

St Thomas: We enjoyed the Land tour that took you around the island. We then spent time in town shopping
Our Cabin: This was our first cruise, so we were not sure what to expect and trusted the advice of our travel agent and others when selecting the room. Our cabin was on Deck 10 and overlooked Central Park. At first I was concerned that the cabin was in a corner and next to the stairs and elevator. I called and chatted with RCL folks and they assured me it was a good location….and they were correct. The cabin is the last one in the row/area and next to the crew prep area where they keep the linens and supplies. Next to that room is the area for elevators and stairs. We did not encounter ANY noise from the crew room or elevators, stairs or hall. It was a perfect location as we had no neighbor to our right. The cabin was small but nicely appointed. Our cabin was laid out with the bed next to the closet and the couch next to the balcony. They were very creative in providing cubbies and areas to store your things and clothes. I overpacked and I still had plenty of closet and drawer space. We also found the bed to be very comfortable. Note there are not a lot of power outlets. We found one under the bed and there was one on the vanity. We brought with us a power "block" that allowed us to plug in multiple devices. There is not a power source in the bathroom. The bathroom was clean. We laughed at the size of the shower. I call it the space tunnel. It is a small capsule. If you are of larger stature, it may feel cramped to you. The small bathroom worked fine for us. Everything about our cabin was perfect. We also enjoyed that our balcony never got blazing hot with full sunlight due to its location. We could sit out on it all day or night. It was awesome….to sit and listen to the live music at night,eat breakfast in the morning and just relax. The window sheers helped give you privacy without having to use the black out shades during the day. Remember to close your balcony door when you are out on the balcony. To save on energy, the AC will not run while the balcony door is open and your room will heat up quickly.
Ft. Lauderdale: We toured around on our own the day before the cruise. We went to the beach and shopped. We did the same when we came back as we had a few hours to kill before our flight home.
Nassau: We just walked around. We were not very impressed with the port and since we were there for such a short time, we did not want to pay to go to Atlantis.
St. Marteen--Butterfly Farm
Excellent. Great tour and Danny our driver was hilarious. Also went to the beach on the way back to the ship. We then took a water taxi to the ship. The owner of the farm was very informative. Traffic is terrible on the island…..leave plenty of time to get back to the ship on time.
St Thomas --City Tour
Great way to see the entire island and do some shopping. The busses are open air so it can be a bit warm. They are not well equipped for those with mobility challenges.