Carnival Vista Review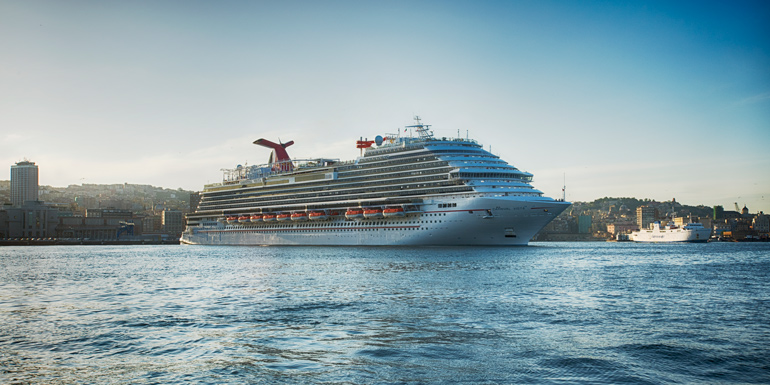 Overview | Design | Activities | Entertainment | Dining | Cabins | Kids & Teens
Line: Carnival Cruise Line
Built: 2016
Passengers: 3,934
Class: Vista
Routes: Vista will sail the Mediterranean before repositioning to Miami, Florida in November 2016 for year-round Caribbean itineraries.
Best For:
Multigenerational vacations, couples, and singles.
Not For:
Those looking for a quiet ship.
Highlights:
Sky Ride
Al Fresco Dining Options
RedFrog Pub and Brewery
Havana Retreat
Family Harbor Cabins
First IMAX Theater at sea
Overview: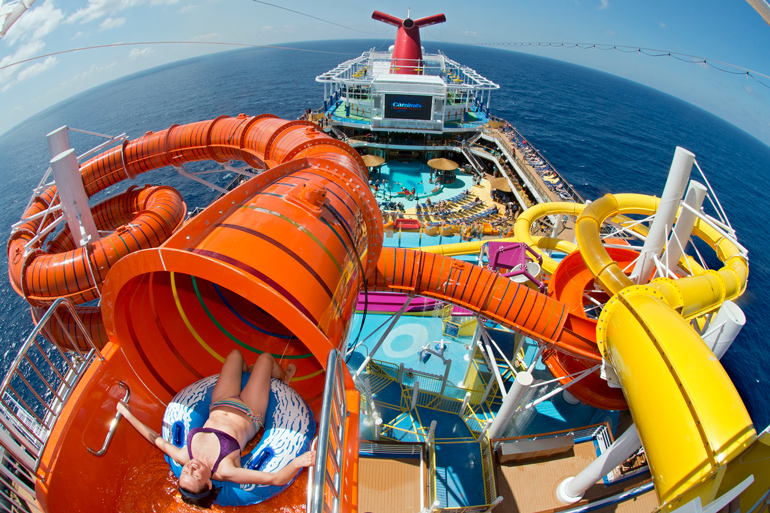 The view from Waterworks - Photo by Carnival Cruise Line
Carnival Vista is the new first-in-class ship from Carnival Cruise Line, outsizing the previous Dream class by 5,000 tons. By borrowing a lot of successful features from past Carnival ships and adding a few new ones, Vista has become one of 2016's hottest tickets.
Branded and created partnerships are what really stick out with Carnival Vista, from the complimentary poolside hamburger venue Guy's Burger Joint — created by celebrity chef Guy Fieri — to the RedFrog Pub and Brewery, the first brewery at sea in North America.
Vista utilizes the latest technological advances to great advantage. Facial recognition software allows passengers to sort through digital photos, whether via iPads in the Pixels gallery, on the stateroom television, or even on smartphones via the line's newly introduced HUB app. This app also helps guests find out what's going on around the ship, view their onboard spending accounts and chat with other passengers. (While the app is free, there is a $5 fee to access the chat feature.)
Staying connected during your cruise won't cost an arm and a leg thanks to tiered Internet pricing plans. The social media package is $5 per day, while for $16 per day the value plan includes web browsing and E-mail. The premium plan, at $25 per day, includes all of the above plus voice calling and video streaming. While the connection is solid ship-wide, it tends to work best in the public areas.
Design:
The Dreamscape - Photo by Carnival Cruise Line
Aesthetically, Vista is a significant departure from Carnival ships of the past. You'll no longer find bright, gaudy carpets and miles of neon lighting. Instead, Vista has a palette that reflects the vibe of a contemporary Caribbean resort. Gone, too, are the glass elevators found in the atriums of many of the line's other ships. Instead, the highlight here is a three-story HD LED tube known as the Dreamscape. Over the course of the voyage, the screen — which resembles a tornado's vortex — shows a wide range of images which subtly alter the mood of the space. A miniature version of the truly stunning centerpiece can be found in the casino's bar area.
Exploring Vista, you'll quickly realize this is a ship designed to foster conversation, be it with traveling mates or new friends. Public areas — such as the Havana Bar or Ocean Plaza — feature comfy seating arrangements, as do unexpected areas such as the hallways along deck four, where benches are built into the wall.
Activities: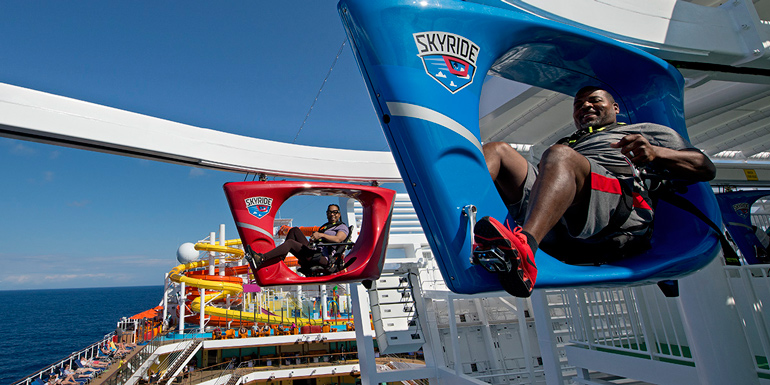 Skyride - Photo by Carnival Cruise Line
The most buzzed-about feature on Carnival Vista is the Sky Ride, perhaps best described as a spin cycle in the sky. Suspended above deck 10, the pedal-powered vehicles offer an incredible view, a little bit of a workout and a unique experience you won't find elsewhere. A word of warning: This is not for those with a fear of heights. The same holds true for the ropes course — suspended high above deck 14 — which is similar to what you'll find on other Carnival ships, featuring both a beginner and advanced option.
Vista has three pools and six hot tubs, including the Havana Pool & Bar area which is available exclusively to guests staying in Havana cabins during the day, but opens to the public (and becomes party central) after dark. The line's largest-ever WaterWorks park entertains kids of all ages, and includes the enclosed Kaleid-O-Slide, the line's first enclosed raft-riding experience with lighting effects and a whole lot of twisty, turny fun.
Those looking to escape the heat can seek shelter in the multiplex, where you'll find an IMAX theater showing first-run movies and a Thrill Theater which uses special effects and technology to delight viewers with unexpected thrills by putting them into the heart of the action.
Entertainment: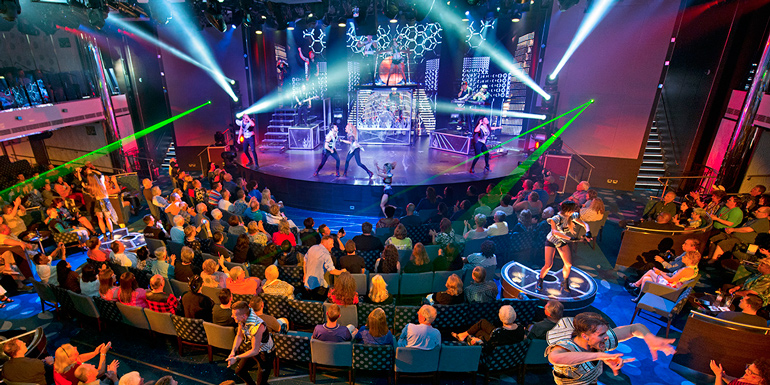 America Rocks! - Photo by Carnival Cruise Line
Evenings are packed with entertainment. You'll find three different production shows in the Liquid Lounge: Amor Cubano, A Caribbean Dance Romance with a seven piece latin band; America Rocks!, a high-energy show featuring a live band and songs by the likes of Springsteen and Aerosmith; and finally Flick: The Power of Motion Pictures. After hours, the lounge transforms into a nightclub with the ship's DJ playing top hits and house music.
Laughs can be found in the Punchliner Comedy Club, but seating is limited, so you'll want to get there early. The RedFrog Pub and Brewery has an acoustic soloist nightly performing everything from rock to country music, and live music can be found all over the ship, from the main atrium to the Piano Bar.
Dining: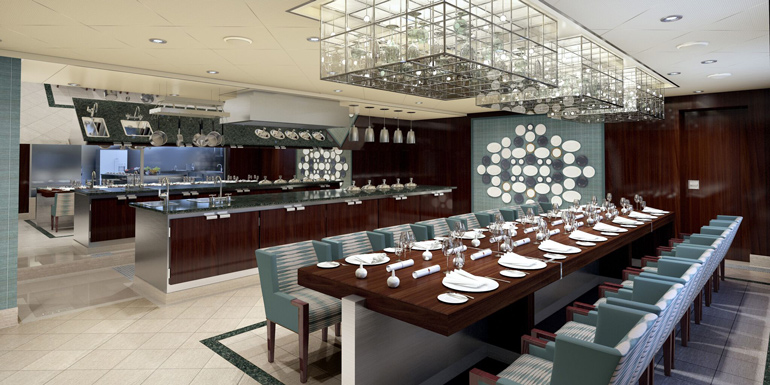 Chef's Table - Photo by Carnival Cruise Line
Vista means view, and this ship offers all kinds of spots from which to take in the stunning sights, including dining and drinking venues like Guy's Burger Joint, the Seafood Shack and Fat Jimmy's C-Side BBQ. One of the most unique food-related features is Fresh Creations, a salad bar that can be found only in the adults-only Serenity area.
When it comes to the main dining rooms, Vista largely goes traditional with Reflections and Horizons. The former is designed to accommodate early and late seating, while Horizons hosts those opting for anytime dining. To that end, Horizons actually features a small bar, perfect for a pre-dinner drink while anytime diners are waiting to be seated. On longer voyages, a sea day brunch is available in one of the main dining rooms.
The Lido Deck Marketplace — aka the buffet — is spacious with plenty of seating. Breakfast tended to be the most crowded time of day, with the ship's other venues helping disperse the crowd at lunch and dinner times.
For-fee staples include Fahrenheit 555 steakhouse, Italian Cucina del Captaino, and JiJi's Asian Kitchen, and reservations are recommended at each. Still hungry? 24-hour room service is available, and Cherry On Top is the perfect place to satisfy your sweet tooth.
Finally, Carnival Vista elevates the Chef's Table experience with a dedicated dining room featuring windows that look directly into the galley.
Cabins: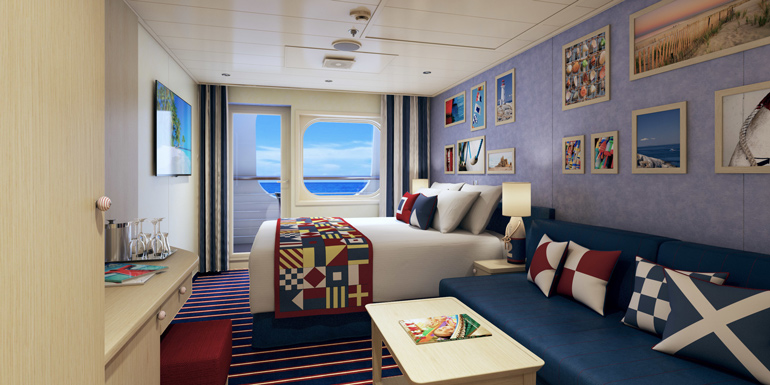 Family Harbor Balcony Cabin - Photo by Carnival Cruise Line
Carnival Vista features all of the standard cabin classes you would expect to find on a modern ship, but adds two new twists that change the game:
The first innovation is the Family Harbor staterooms, a perfect option for clans looking to avoid having to book two separate cabins. Available as interior, ocean-view, balcony or suite, they come with exclusive access to a lounge in which families can enjoy complimentary snacks, play games, and even enlist the help of a concierge during limited hours.
The other new option is Havana Suites, which feature rainfall showers, a fenced in lanai, hammocks and exclusive daytime access to the aforementioned Havana pool area. If you want to snag one of these suites, plan to book early, because these cabins will sell out quickly on every sailing.
Kids & Teens: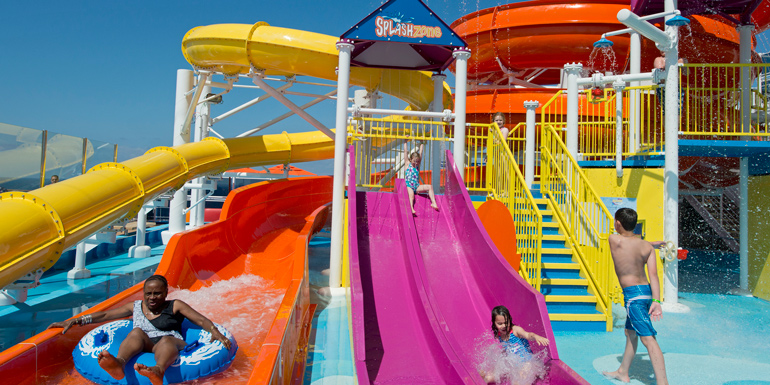 Waterworks - Photo by Carnival Cruise Line
There's a reason Carnival attracts more families than any other line. Here, a wide variety of options are available for younger passengers. Camp Ocean offers a variety of supervised, age-based group activities for kids 2-11, all of which have a nautical theme. For the 12-14 year-old set, there's Circle C, while Club 02 tends to those 15-17. And proving that fun truly knows no age limit, the whole family will enjoy hanging out at Dr. Seuss Bookville, which is almost as colorful and unique as the creations found in the author's books, around which the space is designed. Finally, parents looking for a little alone time can take advantage of the Night Owls program, where for a nominal fee, tiny tots under 11 will be well cared for until 1 a.m.