Carnival vs. Norwegian: Smackdown!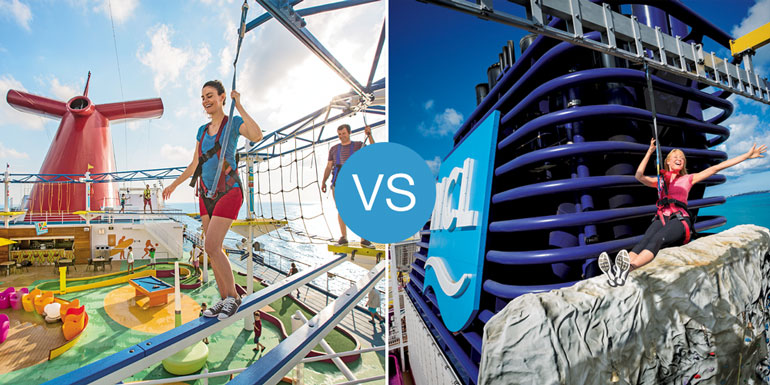 These two cruise lines have a lot in common: huge ships that attract families with kids, as well as couples and singles. Their appeal boils down to plenty of choices and features like water slides, climbing walls, and ropes courses. On both fleets, the vibe is casual, and prices are lower than their competitors. Similarities aside, Carnival Cruise Line and Norwegian Cruise Line have their differences too. Read on to vote for your favorite, and see our selections:
Dining
Norwegian has been the trendsetter ever since it rolled outs its Freestyle Cruising program more than a decade ago. Most of Norwegian's ships have an excellent variety with more than 10 choices, though you'll pay to eat in most of them; some carry a flat per-person cover charge, the others are a la carte. In recent years, Carnival has improved its own dining lineup, with Food Network star Guy Fieri-branded burgers and poolside taco stands that would give Chipotle a run for its money. Carnival's buffet and main dining room offer solid, consistent meals that are sure to please.
Fajitas from Carnival's Blue Iguana Cantina and Teppanyaki, a specialty restaurant on Norwegian.
Our Pick: Norwegian slightly edges out Carnival, but you're definitely paying for the higher quality.
Standard Cabins
For decades, Carnival has consistently built ships with roomy standard cabins, measuring 185 square feet or larger, with sizeable showers and bedside reading lights. Norwegian, on the other hand, had a reputation for scrimping on cabin size: 128 square feet.
Balcony cabins on Carnival are a bit bigger than their Norwegian counterparts.
Our Pick: Carnival — If you like space and plan on spending time in your room, Carnival comes out on top.
Specialty Cabins
Norwegian's studio cabins are a boon for singles: They're tiny but come with a low price tag and access to a private lounge. Norwegian has come up with other innovative cabins too. Spa cabins have free access to the thermal suite, and suites in the Haven area share a private lounge, pool, hot tub, gym, and butler. Carnival has started to close the gap with their Family Harbor cabins on Carnival Vista and Carnival Horizon, which offer even more well-designed space and a private lounge for families.
Carnvial's Family Harbor Stateroom and Norwegian's haven.
Our Pick: Norwegian — While Carnival's standard cabins are big, Norwegian excels at out-of-the-box options.
Entertainment
Norwegian is great at trendsetting, with entertainment from well-known brands like Blue Man Group and off-broadway hits like the Brat Pack: Live in Concert. On the other hand, Carnival has always excelled at providing a party atmosphere, with big discos and packed piano bars. The line's stand-up comedy acts — both family and adult-only shows — are also big hits, and the Carnival Live Concert series brings big-name stars like Jennifer Hudson, Carrie Underwood, and Chris Tucker to select ships, though you'll have to purchase an extra ticket.
"Burn the Floor" on Norwegian and LeAnn Rimes performs for Carnival Live
Our Pick: Norwegian — It's a close call, but Norwegian's width and breadth of entertainment is superior.
Itineraries
With a few exceptions, Carnival sticks to the Caribbean, The Bahamas, and Mexico. Norwegian cruises those destinations as well, plus has multiple ships in Europe and Alaska, the Panama Canal, and Bermuda.
Norwegian Pearl in Alaska and Carnival Triumph in the Caribbean
Our Pick: Norwegian — If you're looking to expand your horizons, Norwegian pushes the boundaries more than Carnival.
Kids
The newest ships of both fleets have large drop-off playrooms divided into sections by age. Both lines also have water slides, water playgrounds, and ropes courses on their latest ships, and both have character partnerships.
Dr. Seuss Bookville on Carnival and a waterpark on Norwegian
Our Pick: Carnival — The offerings for children are pretty similar on each line, but Carnival's partnership with Dr. Seuss gives them the edge.
Value
Just a few years ago, these two lines were comparable in price. Savvy deal hunters could regularly find inside cabins for under $60/night on both lines, with oceanview and balcony cabins regularly going for less than $100/night. Prices haven't changed much on Carnival, but finding a Norwegian sailing for under $70/night is now a rare occurrence. Still, the Norwegian's studio cabins are undoubtedly the best value for solo travelers.
An inside cabin on Carnival and one of Norwegian's studio cabins
Our Pick: Carnival - It's consistently the best for cruisers on a budget, and Norwegian's recent price hikes only seals the deal.
Overall
Both lines provide affordable Vegas-meets-Orlando vacations — a marriage of flashy decor and theme park-style amenities.
Our Pick: Norwegian wins by a hair, as a result of innovation and the more contemporary, upscale vibe on the ships. Still, the quality does come with a slightly higher price tag, which will nudge many families and cruisers on a budget toward Carnival.
Join The Discussion
Which line do you prefer?