Disney vs. Norwegian: Smackdown!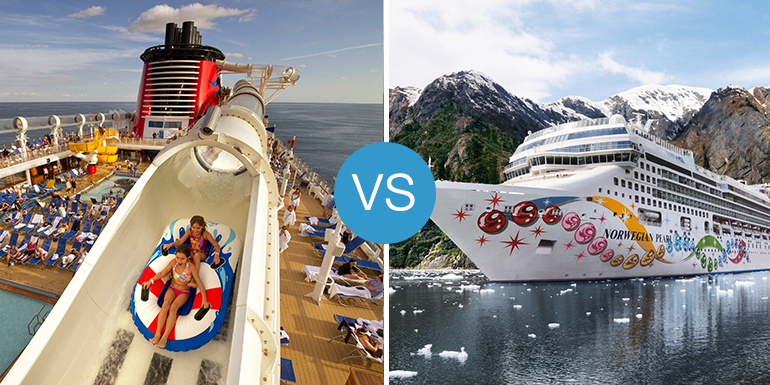 Disney Cruise Line and Norwegian Cruise Line are both great choices for families, with flexible dining options, shows, and activities for all ages, plus movie and TV characters doing meet and greets around the ships. One major difference is price: Disney will almost always cost more. Read on to vote for your favorite line and see our selections:
Standard Cabins
There's nothing typical about Disney's standard cabins: They're huge and have two bathrooms, a bedtime game changer for families. Norwegian's tiny cabins — some less than 130 square feet — are smaller than just about every other line's.
Disney's spacious standard cabins (left) are a huge perk for families.
Our Pick: Disney. This one is a no-brainer: Disney's standard cabins are the best at sea.
Disney deals from $
Specialty Cabins
Disney started with a great cabin model and has stuck with it through four ships with very few tweaks (one tweak is its animated portholes for inside cabins). Meanwhile, Norwegian has created some innovative choices as of late: New studio cabins for singles have access to a private lounge, while the suites in The Haven concierge-level area get great amenities, including a private pool, hot tub, gym, and butler. And the line's spa cabins get free access to the thermal suite.
Norwegian's haven offers a private "ship-within-a-ship" experience.
Our Pick: Draw. Disney excels at big and functional, but Norwegian is getting really creative these days.
Dining
When Norwegian rolled out its groundbreaking Freestyle Cruising program more than a decade ago, fixed dining times and assigned tables were scrapped — and eating on a cruise ship hasn't been the same since. Most ships in Norwegian's fleet have more than 10 dining choices, some free and others charging from $15 to $49 a person. (That $49 gets you dinner at Ocean Blue, which dazzles parents on a night out.)
Disney's family-friendly venues, however, bring theater into the dining experience, incorporating digital technology in the décor, along with flamboyant themes (think tropical birds and lush gardens) to keep kids entertained while they wait for their next course. To balance this, the French food in Disney's adult-only restaurant, Remy, is exquisite.
Disney's Animator's Palate and Norwegian's Ocean Blue.
Our Pick: Draw. Disney's got plenty on the menu (and complimentary, unlimited fountain soda is a great perk), but Norwegian fires back with its sheer number of eating outlets.
Entertainment
Disney's musicals are excellent, incorporating its beloved characters with original story lines and impressive special effects, from animation to acrobatics. The line's deck parties and fireworks displays include stunts and special effects no other cruise line can match. Norwegian has a fireworks show on its newest ships and puts a lot of thought and effort into its shows fleetwide: The funny and family-friendly Blue Man Group and Second City performances get raves. A big difference between the two lines: Norwegian has casinos; Disney doesn't.
Disney's fireworks show and Second City on Norwegian.
Our Pick: Draw. What these two do is different, but they both do it really well.
Activities
Norwegian ships have a lot going on for people who like to burn a few calories while having fun: The newest vessels have climbing walls, ropes courses, sports courts, and bowling alleys. Meanwhile, Disney's got game shows and trivia contests. Both cruise lines show movies on giant indoor and/or outdoor screens and offer big water slides that have all ages lining up for a thrill, as well as multiple pools (though Disney's family-friendly one is so small, it fills up quickly, and the quieter option is adult-only). The toddler splash park on Disney's two newest ships is great for this often overlooked age group, and older kids and adults can't resist a go on the water coaster ride that zips you up, down, around, and over the side of the ship.
Disney's Toddler Splash Park and Norwegian's Walk the Plank.
Our Pick: Norwegian. Its newest ships go all out with sporty flair that includes much more than water features.
NCL deals from $
Itineraries
Disney does three- to 14-night Caribbean, Bahamas, Europe, Alaska, and Hawaii routes, while Norwegian offers those choices plus long itineraries to South America, a week in Bermuda, and two-night sailings to nowhere. Disney does stand out with it's private island, Castaway Cay, which is ranked as one of Cruiseline.com's most popular rated ports.
Church of the Savior on Spilled Blood in St. Petersburg and Machu Picchu.
Our Pick: Norwegian. The line's reach is farther as it has more ships going more places.
Kids
All four Disney ships and Norwegian's newest have massive drop-off playrooms divided into sections by age, with Disney also offering a drop-off nursery for ages 3 months to 3 years and impressive teen rooms with indoor and outdoor space. Disney's movies and musicals are kid pleasers, as are Norwegian's bungee trampolines on its newest ships. On its two latest ships, Disney's water coaster is a big hit, and so are features like a giant plasma movie screen in the Oceaneer Club, with real-time animated appearances by Disney characters.
Both lines cater to kids, tweens, and teens.
Our Pick: Disney. It wrote the book on family fun, and its nursery and private Bahamian island just can't be beat.
Overall
Our Pick: Disney. Sure, this line costs more, but if you can afford the difference, it's worth it for families traveling with children.