Carnival vs. Royal Caribbean: Smackdown!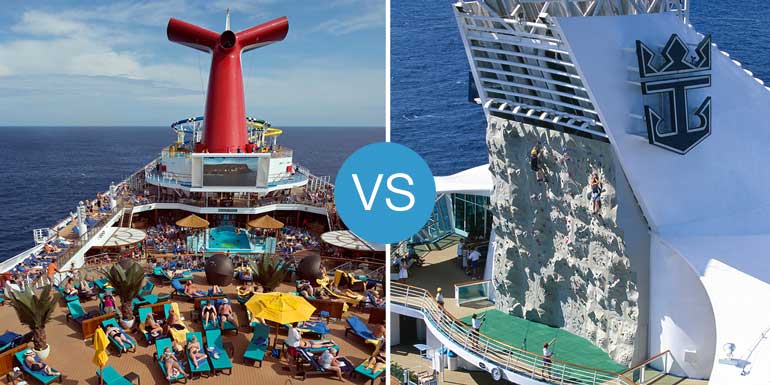 These two lines rule the waves. They're the cruise world's biggest, most well-known players. Both have giant new ships geared toward just about everyone: young, old, singles, couples, and families. The cruises are low-priced (Carnival's especially), casual, and focused on good old-fashioned fun rather than lectures or highbrow classes. The differences between the two lines lie in Royal Caribbean's focus on sporty activities — think climbing walls and boxing rings — and Carnival's innovative entertainment, like stand-up comedy and live concerts with big names. Read on to see how the two stack up:
Standard Cabins
Carnival ships have always been as big on cabins as they are on fun, and you won't find one in the fleet smaller than 185 square feet — even in the inside rooms. The shower stalls are roomy to match. Compare this with Royal Caribbean's notoriously narrow tubelike showers (if you have to bend over to pick up your soap, good luck) that mirror the compact cabins — inside cabins on Majesty of the Seas measure a paltry 114 square feet.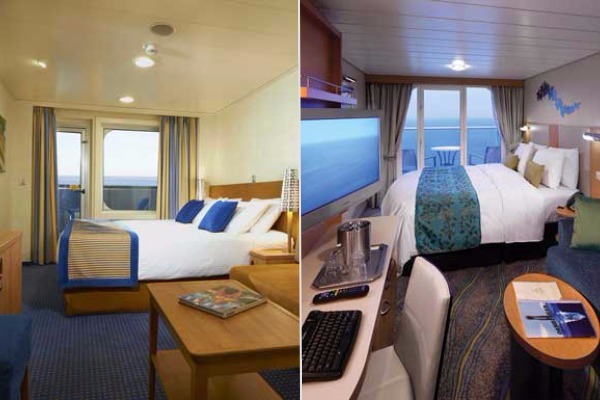 Specialty Cabins
Royal Caribbean's two-story, glass-walled loft suites on the Oasis- and Quantum-class ships have a sea-facing living room below and loft bedroom above. These two classes of ships also have prime suites facing the diving and swimming shows in the AquaTheater. For those with smaller budgets, the Quantum ships will have inside cabins with virtual balconies — digital panels displaying what's happening outside the ship in real time. On older ships, Royal Caribbean was an innovator with interior cabins that overlook the busy interior public areas. Carnival's cabins are very functional, but they're predictable.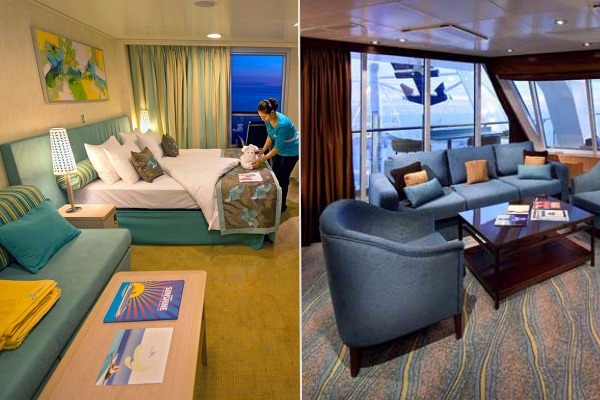 Our Pick: Royal Caribbean
Carnival's standard cabins definitely have size going for them, but Royal Caribbean's have a twist.
Dining
Both lines have been working harder on what comes out of their galleys. Royal Caribbean's soon-to-launch Quantum-class ships (the first is scheduled to set sail in November 2014) will have 18 restaurants, from classic pub grub by James Beard Award-winning Chef Michael Schwartz to rustic Italian from celebrity Chef Jamie Oliver and Asian fusion cuisine comprising Chinese, Japanese, Thai, Vietnamese, and Indian dishes. Some Royal Caribbean ships have pizzerias, doughnut shops, and hot dog stands; others have Johnny Rockets® diners. Meanwhile, Carnival's been cooking up a storm with its Food Network star Guy Fieri-branded burgers and impressive poolside burrito bars.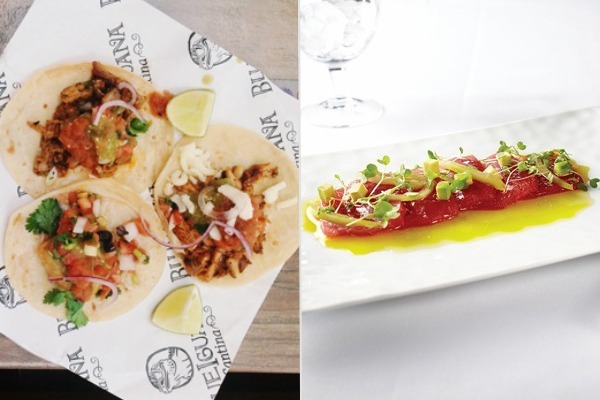 Our Pick: Draw
They both have impressive new options, plus some dependable old ones: Carnival's lunch buffets (the Indian section is excellent), and the burgers, shakes, and french fries in Royal Caribbean's Johnny Rockets.
Activities
Royal Caribbean excels at innovation, from climbing walls and indoor ice-skating rinks to FlowRider® surfing simulators. The line moved on to diving and synchronized swimming shows, ziplining nine stories above deck, and now bumper cars and even a sky diving chamber are set to debut on Quantum of the Seas. For years, Carnival relied on basic fun, with passengers happily swigging beer out of the can and cheering on shipmates in belly flop contests by the pool, but hats off to the line for rolling with the times and offering a greater variety of things to do over the past few years, from the ropes course to minigolf, water slides, and game shows based on Hasbro favorites, like Connect Four.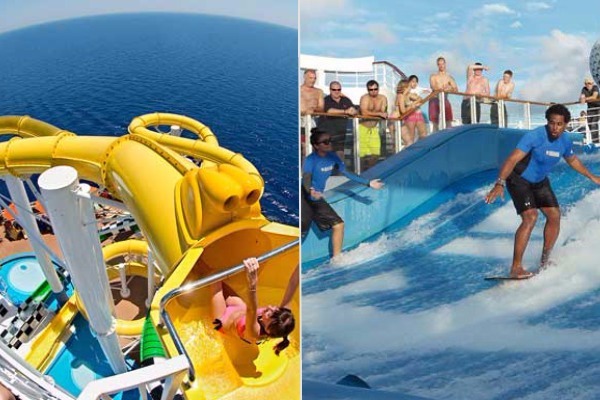 Our Pick: Royal Caribbean
The line "went there" before anyone else did, and is still going bigger and better than the competition.
Entertainment
From the start, Carnival's forte has been its ability to throw a really great party night after night, with passengers dancing the hours away in cavernous discos and popular piano bars. Over the years, Carnival added stand-up comedy — both R-rated and family shows — and, most recently, its ingenious live concert series featuring the likes of Foreigner and Jennifer Hudson. Royal Caribbean is no slouch, pulling out all the stops on the new Quantum class, where a full-length Broadway version of "Mamma Mia" will be part of the lineup, plus six high-tech robot-like screens that will "perform" for passengers. The line's older ships have character parades, movies, and ice and water shows based on Royal Caribbean's partnership with DreamWorks.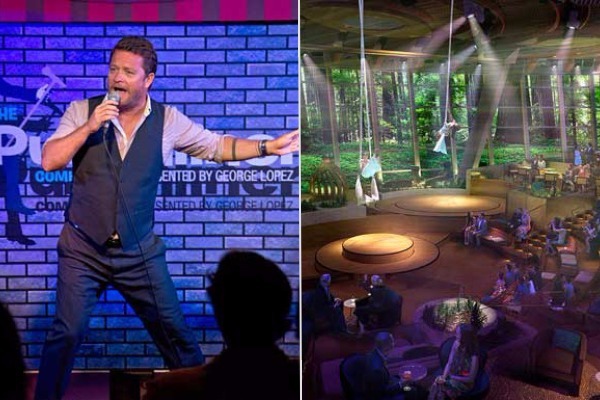 Our Pick: Carnival
It's a close one, but Carnival's nightlife and partying are unrivaled, even on its older, less high-tech ships.
Itineraries
The vast bulk of Carnival's cruises ply the Caribbean, Bahamas, and Mexico, while Royal Caribbean's fleet of globe-trotters hits those places plus everywhere else, including Europe, Asia, Australia, South America, Bermuda, and Alaska.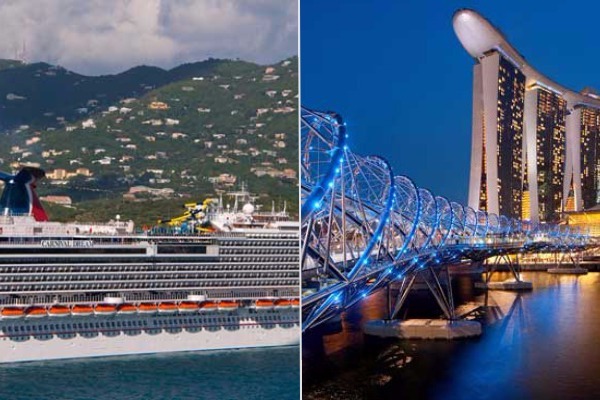 Our Pick: Royal Caribbean
Its cruises will take you just about anywhere you want to go.
Kids
Both lines have water parks on deck and partnerships with famous characters — Royal Caribbean with the "Shrek" gang and Carnival with Dr. Suess — plus huge playrooms and supervised activities all day long on sea days. Royal Caribbean's new nurseries are a boon to parents of babies and toddlers — drop off your little ones during the day or evening for an hourly fee (only Disney offers care for children as young). Meanwhile, for older kids, Carnival gets points for its Hasbro game shows and 24-hour pizza.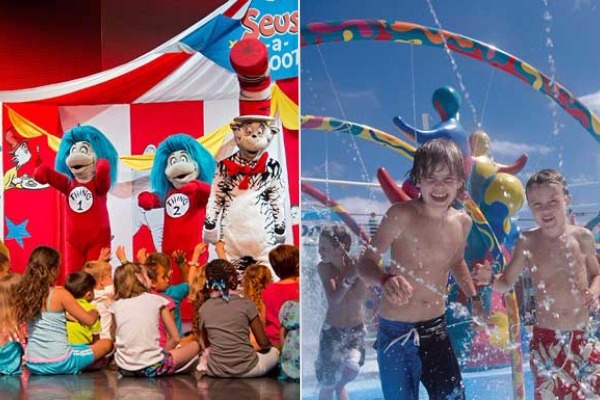 Our Pick: Royal Caribbean
Royal Caribbean — Royal Caribbean wins with its drop-off care for under 3s and its private in-cabin babysitting option, not to mention the climbing walls, roller skating and other sports.
Overall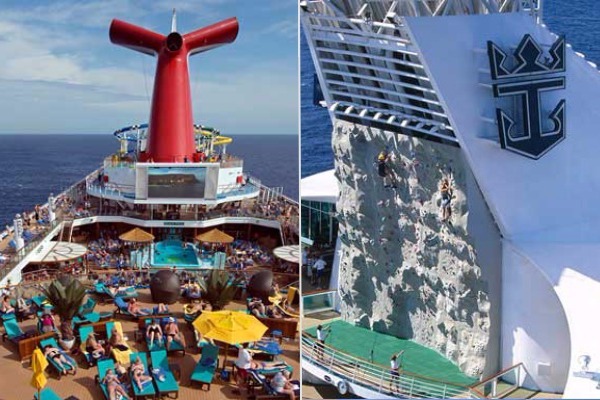 Our Pick: Royal Caribbean
Royal Caribbean comes out on top — just barely — due to its envelope-pushing innovations. But both lines are winners for affordable, activity-packed cruises for all ages.
Join The Discussion
Which cruise line do you like best?