The Best and Cheapest Times to Go on a Cruise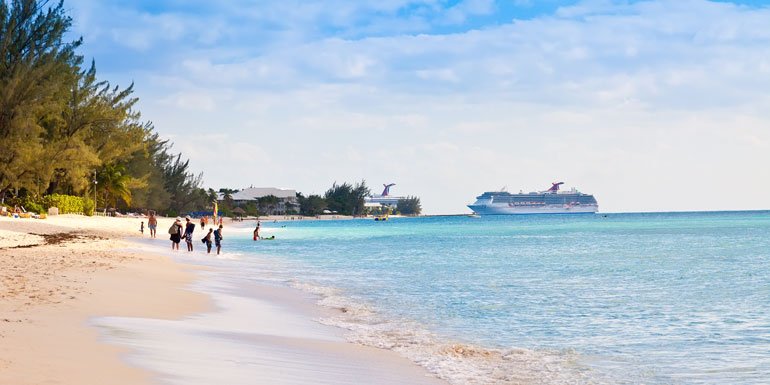 There is no one-size-fits-all answer for when to sail: It depends on your own personal priorities. Whether you're looking to avoid the rough seas or score a bargain deal, there's a time of year that's best for you. If you're looking for low prices, shoulder season — the time between peak and low season — is a great option, but it may come with trade-offs like rainy weather or fewer wildlife sightings. Check out our breakdown of the best time to cruise based on destination, weather, and price:
Alaska
Best Price: Mid-May to early June and late August to mid-September. The trade-off: Cooler weather, less wildlife activity, and (in September) more rain.
Best Weather: For longer days, dry weather, and warm temperatures, the best time to cruise in Alaska is late June through mid-July.
We Recommend: Salmon run season (mid- to late July) is when the bears are most active. If you're interested in whales, however, August is when you're mostly likely to spot them.
Alaska deals from $
Australia and New Zealand
Best Price: November to mid-March, except for holidays
Best Weather: December and January are warm and dry. Avoid cyclone season (early December and late May) in Australia; New Zealand is rarely impacted.
We Recommend: New Year's Eve is the highlight of the year in Australia; cruise to New Zealand during reliably sunny December and January.
Australia / NZ deals from $
Bermuda
Best Price: March, April, and November
Best Weather: Bermuda is often in the path of storms during hurricane season (early June through late November), with the biggest risk from August through October. May through July is usually ideal.
We Recommend: Cruise during Bermuda's festival season (winter through early summer) for cultural events like the Bermuda Festival of the Performing Arts, which draws artists from around the world.
Bermuda deals from $
Canada and New England
Best Price: June through early September, as well as late October
Best Weather: Temperatures are warmer in the summer months, and June, July, and September are driest.
We Recommend: Fall "leaf-peeping" season runs from the second or third week of September to mid-October.
Canada deals from $
Caribbean
Best Price: January, May, and September
Best Weather: In the Caribbean, hurricane season lasts from June through November, so winter is prime time.
We Recommend: Winter is a no-brainer. (Plus, it's colder up north and kids are in school, so ships are less crowded.)
Caribbean deals from $
Hawaii
Best Price: Between October and early December
Best Weather: The rainy season runs from November through March, so cruise to Hawaii between April and October when the weather is best.
We Recommend: Since the prices are stable year-round, choose a sailing between April and October.
Hawaii deals from $
Mediterranean
Best Price: October through February, except for holidays
Best Weather: The peak season is May through August; however, if you're looking at small-ship cruises, beware of the Meltemi winds in the Aegean Sea.
We Recommend: In summer, tourists overwhelm many ports. If you're looking to avoid the flocks, consider early fall, when the weather is still warm but kids are back in school.
Med deals from $
Mexican Riviera
Best Price: September and January
Best Weather: Summer is often uncomfortably hot along the Pacific Coast, so sail during late fall or winter.
We Recommend: Score great deals by sailing here in winter, which is more likely to be cold back home.
Mexico deals from $
Northern Europe
Best Price: The season is short (May through August), so there aren't many bargains. Try to snag a deal on the first or last cruise of the season.
Best Weather: Conditions during summer are perfect.
We Recommend: If you want to avoid crowds, cruise in early May or late August.
Baltic deals from $
Panama Canal
Best Price: April, September, and early January. Some lines offer longer repositioning cruises in May and September; if you can spare the time, these are the best per diem deals anywhere.
Best Weather: December through February offers warm temperatures and the least rain.
We Recommend: From December through February, the weather is best, shops stay open later, and street festivals abound.
Panama deals from $
South America
Best Price: November and late April to early May
Best Weather: December and January are typically most pleasant, but the farther south you travel from the equator, the more varied the climate. Seas are rough near Cape Horn and Antarctica, regardless of the month.
We Recommend: December and January offer the best temperatures and the most wildlife. The Carnival of Brazil is the five days leading up to Ash Wednesday.
S. America deals from $