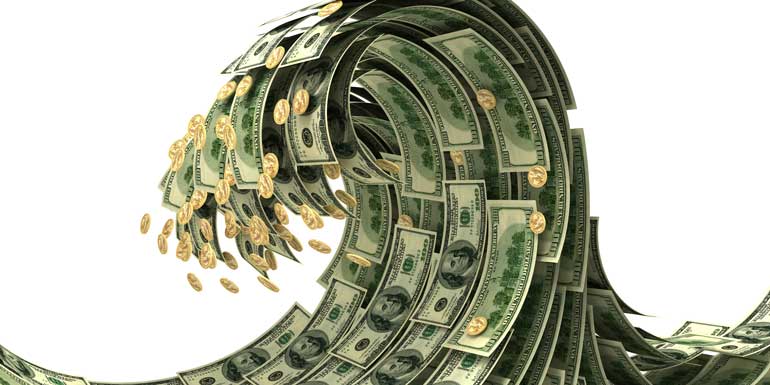 Frequent cruisers are well versed in cruise lingo, but a few words and phrases, like "Wave Season", still spark confusion and uncertainty. We asked our fans on Facebook to define wave season. Some people thought that it had something to do with the time of the year when you're most likely to encounter rough seas, and others thought it referred to waving goodbye to the port as your ship sails away. Let's set the record straight:
What is Wave Season?
Wave season is a three-month period from (approximately) January 1 to March 31, when cruise lines and travel agents book a very large number of cruise cabins. Think of it as a "wave" of bookings; it's kind of like Black Friday or Cyber Monday, but it lasts for three whole months.
Why January to March?
This is the most popular time for cruise bookings. The stress of the holidays is over and winter is in full swing, meaning more people than ever are looking for a getaway. Plus, this is the time that tax refunds start rolling in and people tend to have a little extra cash to spend on vacations.
What can Wave Season do for me?
Wave Season is a great time to book a cruise! Now, this isn't because the fares themselves are cheaper than usual (though you might find some great deals if you sign up for our price alerts). Instead, beginning in late December or early January, the cruise lines tend to roll out their biggest and best promotions of the year and only offer them for bookings made in the next 60 to 90 days.
When you book during wave season, you can get free drink and dining packages, free internet, free onboard credit, and more when you book your cruise. Similar offers may be available at other times of the year, but they're rarely as rich as what you'll find in January.
The cruise lines want to fill as many cabins as possible early in the year so they don't have to drop prices 30 or 60 days before sailing, so they make compelling, amenity-rich offers to get you to book.
What are the best Wave Season deals for 2017?
We thought you'd never ask! We reviewed Wave Season offers from the major cruise lines and think these are among the best. Book fast, as many of the deals are only eligible until the end of January 2017!
Royal Caribbean
Up 30% off cruise fares and up to $200 in onboard credit and up to $200 in onboard spend.
Valid for sailings departing on or after February 4, must book by January 31.
Celebrity Cruises
Up to $150 off cruise fares along with up to four free perks: free beverage package, free unlimited Wi-Fi, free prepaid gratuities, and up to $150 in onboard credit.
Valid for Most sailings with a departure date between February 2017 and April 2018.
Princess Cruises
Anniversary sale with up to $600 in onboard credit per cabin.
Valid for 6-night-or-longer voyage departing between June 2017 and May 2018, book by February 28, 2017.
Norwegian Cruise Line
It's not special for wave season, but Norwegian's Free at Sea promotion lets you choose up to 5 perks including free beverage package, free tips, free specialty dining, free internet, or free third or fourth passenger.