Short answer? Yes, you can cruise to Cuba, but it's not as easy (or cheap) as a regular Caribbean cruise. While the 50 year travel embargo is slowly being rolled back, no one knows exactly when Cuba will become a regular stop on cruise itineraries. For now, here's what you need to know about cruising to Cuba in 2016:
Note: These rules only apply to US citizens. Citizens of other countries aren't covered under the economic embargo and can enjoy relatively restriction free travel to the island. For international citizens, both MSC Cruises and Celeystal Cruises offer regular cruises that focus on Cuba as a destination.
1. Can Americans cruise to Cuba?
Yes, but your options are very limited. The longstanding economic embargo is still in place and although restrictions have loosened, Americans can only travel to Cuba if their trip falls into 1 of 12 categories. Thankfully, a number of cruise lines are operating sailings to Cuba that fall into the "people-to-people" category.
2. What does "people-to-people" travel mean?
People-to-people travel means that rather than tourist-oriented activities, your cruise itinerary will focus on educational and cultural exchange activities, where you'll have the opportunity to interact with Cubans, including musicians, artists and everyday people. Participants will have a scheduled itinerary of events that must be attended. There will be no at-leisure time for independent exploring or shopping. While this type of travel is still an enriching experience, it might not be a good match for cruisers accustomed to exploring on their own.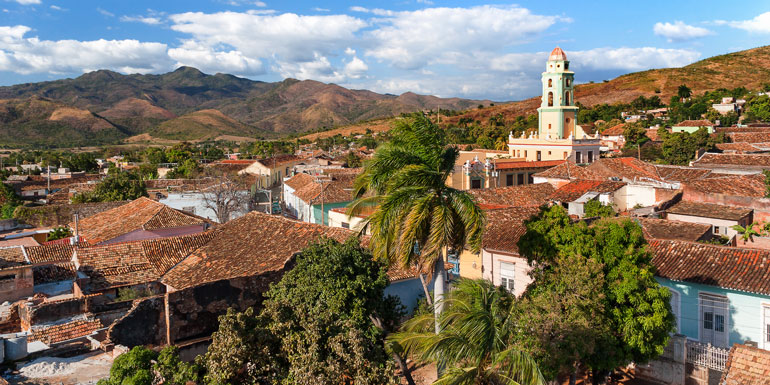 Tower of Museo Naciional de la Lucha Contra Bandidos in Trinidad. - Photo by Konstantin Aksenov / Shutterstock
3. Which cruise lines are sailing to Cuba?
The most prominent of these lines is fathom, a new line launched by Carnival Corporation. Other choices include Celestyal Cruises, Pearl Seas Cruises and International Expeditions. A number of other lines, including Hallmark cruises and Oceania cruises have indicated interest in offering the trips but are not currently marketing or selling them.
4. How much does it cost to cruise to Cuba?
It's not cheap. Cabins on an upcoming sailing from Celeystal start from $1,500 per person, and the lowest advertised price on fathom is $1,800 per person.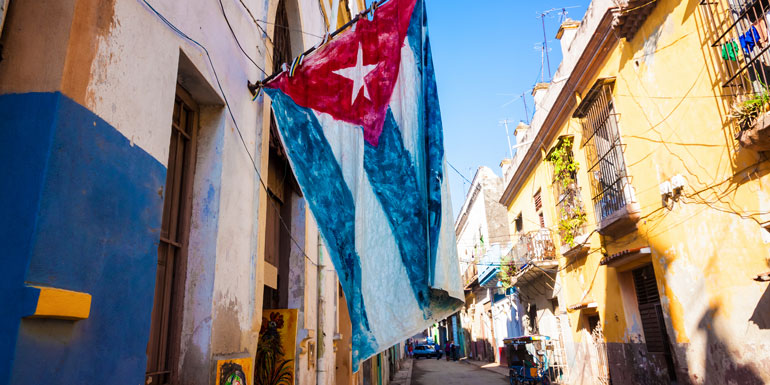 A side street in Old Havana. - Photo by Kamira / Shutterstock
5. How do I get there?
Some ships sail from American ports, but others sail directly out of Havana. For those cruises, You'll need to travel to Cuba on a charter flight, likely from Florida, though additional charter gateways have opened up in the last year.
6. What can I do while I'm there?
That depends on the line you sail with, but most will include a mix of opportunties for education and relaxation. This fathom schedule, for example, includes cultural immersion activies, spa services, dining like a local, walking tours, and a closing celebration with local food and music.
7. What ports will I see?
Most cruises will sail to the ports of Havana, Cienfuegos, and Santiago de Cuba.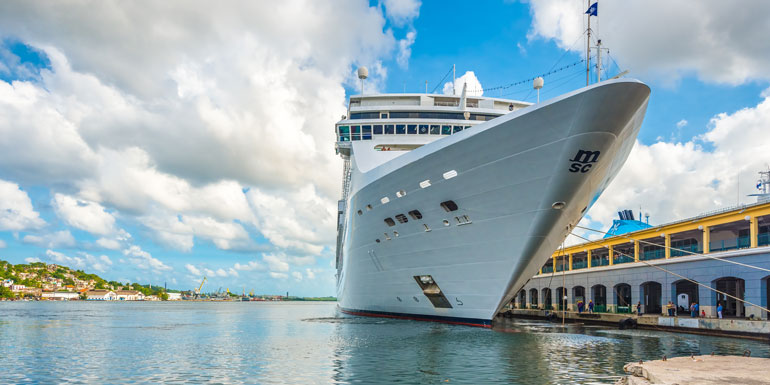 MSC Opera docked at the port of Havana. - Photo by Kamira / Shutterstock
8. Do I need a Visa to cruise to Cuba?
No individual visa is necessary for US citizens but you'll need to get a license for your trip through the cruise line or travel organization that's sponsoring your trip. You'll be provided with details when you book.
9. Can I use my credit card in Cuba?
US credit and debit cards are not yet widely accepted in Cuba, so you'll want to have plenty of US dollars on hand.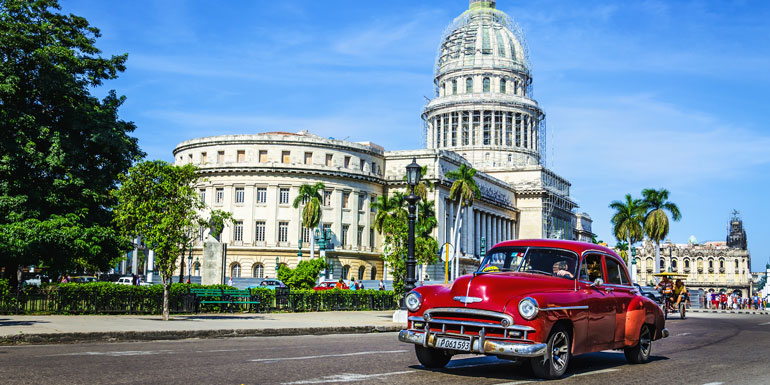 Because of the trade embargo, Cubans could only trade cars that were on the road before 1979. - Photo by Anna Jedynak / Shutterstock
10. Can I bring back cigars?
Yes! You can bring back up to $100 USD pp in Cuban cigars or alcohol of travelling on approved trip to Cuba.
11. When will I be able to take a normal cruise to Cuba?
Though the US has loosened the economic embargo and liberalized travel rules, there's no sign of the embargo or travel restrictions being lifted - at least not yet. Once open travel is allowed, it's likely mainstream and luxury cruise lines will quickly move to add Cuba to their Caribbean itineraries, though limited infrastructure will prevent rapid initial growth.
Caribbean cruise deals from $