April 2014 - Carnival Breeze to Caribbean - Western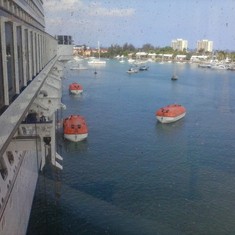 Had a great time. Didn't want to get off. Missed Caymens due to bad weather-so we only got 2 of the 3 ports. But the ship experience was wonderful.
Would suggest a room with an outside view. Our interior room was very dark.
Staff was very nice and helpful.
We did not pack for the "elegant dinner' in the formal dining room. Formal evening ware required. But the buffet dining was very good and a more relaxed atmosphere.
This ship is newer and all amenities are nice. Pools, many hot tubs, many dining options available. There are lounges and bars of all kinds, music and casino or just plain relaxing on deck.
It was an experience we want to do again. Next year?, Same time?