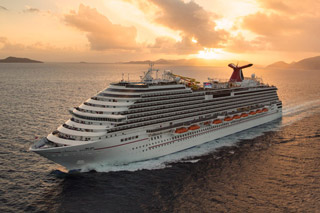 September 2014 - 7 days on Carnival Breeze
Refreshingly Different
We highly recommend the Breeze, especially if you have been on Carnival's other ships. It is updated nicely, clean, modern, and still caters to their traditional cruisers (gone is the hideous peach cabin!). We loved the rope course, the easier deck plan, new eateries, and enjoyed a fantastic dinner crew and quality food every night. Try the italian restaurant upstairs for lunch when you get tired of the buffet. 
-These ports are also good, not ones you get to see every cruise. Grand Turk is very laid back; if you like sitting on a beach all day, this is the port for you (free chairs right off the pier, light shopping too). 
-Several reviews we read warned about La Romana, so we booked an excursion and had the time of our lives; we will not stop talking about our mud covered dune buggy experience. It is a must-do here, and we were comfortable booking it with the cruise line because of our safety concerns on this island.
In Curacao, we just shopped, but our friends jumped on a city tour and had a great time. The Floating Bridge was neat to see. Just know that anything you buy here is something that could be bought anywhere in the Caribbean.
Lastly, we do recommend jumping a jeep to see the stunning island of Aruba that just can't be seen from the port. This was one of the most beautiful coastlines we've seen in all our cruises. The port itself has plentiful shopping within walking distance.