Alaska - Gulf of Alaska Cruise Review
Independent Cruisers
Star Princess
Cruise Review to Alaska - Gulf of Alaska
Experience: 2-3 cruises
Review: 1
Helpful Votes: 29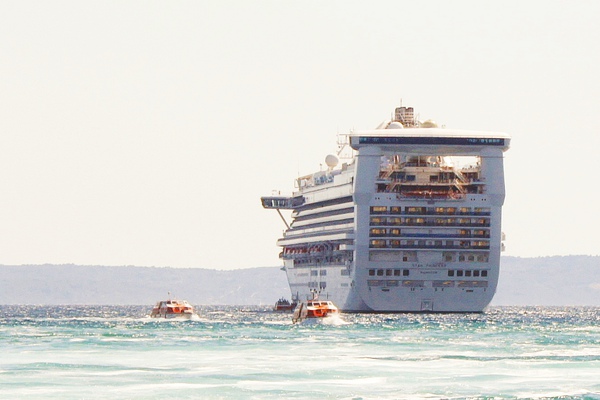 7 Night Voyage Of The Glaciers Northbound (Vancouver To Whittier)
Sail Date: August 13, 2016
Ship: Star Princess
Cabin Type: Oceanview
Cabin Number: E404
Traveled As: Couple
Reviewed: 2 years ago
Review Summary
Here's a review for people who don't consider themselves "cruise people." We are quite well-traveled, never on organized tours, but thought this was the best way to see Alaska without having to kill myself planning. Did a RC cruise when my folks took 17 of us back in 2004. We loved it, but that was then cruise-wise. Took a Celebrity Southern Caribbean cruise a few winters back to escape Boston. Ports were amazing, didn't care for Celebrity. 

So I finally decided on this cruise based on the itinerary and the Princess reviews. We spent a day and a half in Vancouver (Metropolitan Hotel, Deluxe room; absolutely loved it). Boarding process was great, easy. When we got to the cabin, I looked at the safe and realized my jewelry was still in the hotel safe. (VERY unlike me, what can I say?) Thank G-d the hotel was so close, we ran back and got it from the front desk. :) 

I know everyone complains about the tiny cabins, but honestly, we liked ours (Emerald Deck, window) and didn't feel cramped. To be fair, we are small, I'm a 2 Petite, so the shower wasn't a problem.Lots of closet and shelf space. I hated the wall-mounted hair dryer! The backside sucked my long hair in and twice, we had to rip it free. The Steward finally got me a different one, but truly, my hair never looked good on the cruise. Just sayin. The Steward isn't really a steward, he's only available part-time for you, and no origami towels at night! I was very glad we weren't higher than Deck 8 because you can really feel the ship moving sometimes, this ain't the Caribbean. I like Deck 8 because we walked the stairs most of the time. 

Our big concern was that we are vegan, and Princess told me flat-out that they can't accommodate that diet. That was the opposite of the promises Celebrity made, and the lowered expectations may have helped. I thought the food was very good, there were nice vegetarian options every night, sometimes they were vegan. They weren't willing to make up anything special for us, but they would do stuff like switch up a sauce with regular pasta instead of meat ravioli, which worked nicely a couple of times. More importantly, there was a whole Indian menu (apparently there are tons of Indians who cruise, we saw that ourselves) every day. The Indian food was just fabulous, so we never felt sad about what we were eating. There was always lovely sorbet along with ice cream options, etc. Our waiters were great, they were friendly and remembered everything about us after Night One, but not "I'm your BFF" phony stuff. We did anytime dining once each for lunch and dinner. The food and service were great. Food quality was noticeably lower of course on the Horizon Court buffet, so that was hit or miss. But some of it was very good, and lots of veg options. You can eat as healthy as you wish. 

Ok, we are very early risers, and there was no entertainment that was worth staying up late for. We saw the (sorry!) awful comedian and a dance number the first night. No. We heard bits of some of the music at night. The quality was OK, but it really skews to the senior citizen, and I'm no spring chicken. If I were, I wouldn't be using the phrase "spring chicken." We really liked the string trio, Adagio, though. 

Ketchikan--We walked up Creek St. which was fine and took like 15 min. I just read that some people a few days ago saw seals there! We only saw mostly dead salmon. Then we did a nice kayak tour with Ketchikan Kayak which I reviewed on Trip Advisor. 

Juneau--We did a medium-small whale watch. Look, all the boats go to the same spots where the whales are, so it's a matter of how small a boat and how professional a crew you want. We got insanely lucky that day and saw Orcas, and bubble netting Humpbacks. It was beyond belief, we even stayed out a big more than 2 hrs. Then we went to Mendenhall Glacier. We hiked to the little lookout point and I hadn't read about this, but people were walking barefoot to the waterfall next to the Glacier. It was AWESOME! You'll never get that close to a sizable waterfall or a glacier again. Then we did a 3 hr hike up the mountain behind the visitor's center. It was amazing, seeing a rain forest that is not tropical--it was very different and beautiful. Didn't see one darn animal. Except lots of salmon at the very end. 

Skagway--Thanks to a trip report elsewhere, we decided to rent a car (Avis, and get there early!) and we drove out into the Yukon. It's hard to explain how beautiful the lakes and mountains were. We stopped for 3 hikes, using YukonHiking.ca which I do NOT recommend. Their info was not reliable. Anyway, everyone says you go as far as Emerald Lake because it's the most beautiful lake ever yada yada. Emerald Lake isn't even the most beautiful lake on this *drive*! Tutshi and the others are 1000x more amazing, surrounded by mountains. We stopped in Carcross of course. 

Let me digress: we do not go on holiday to shop. I don't understand it at all. Most of these ports, and Carcross, are just shops and more shops. So we walked around for 10 min, got some coffee and left. We had enough time to get all the way to Whitehorse, just because. There isn't much there. The old silver ore riverboat is cool, and it's pretty on the water. We stopped quickly at the Yukon Brewery, which does tours. We didn't have time, but the girls there were so nice; we tasted a few and bought a couple of bottles (which we brought back on the ship, no problem). Around the US-CAN border, a black bear walked across the road in front of us. We stopped and I jumped out. He went down the shoulder and peeked back up at me, I paralleled him for a few seconds with my Nikon, and he looked at me again before walking into the woods. It was pretty damned exciting and it didn't feel reckless at all. I didn't rush him or get too close. We had the car for 12 hrs! 

Glacier days are really sea days--the captain did a great job of getting us as close as possible and turning the ship so balconies on both sides got a view. That seemed silly to me because if you are sitting on your balcony waiting to see it for half the time we are there, you don't really care very much. We did see calving, but the whole experience is less spectacular than one might imagine, because a) the glaciers have shrunk and you are far enough from them that you don't quite get the massive nature of them; and b) you can stare for only so long before you lose focus and the odds of you staring at any given spot as it calves are pretty slim. That said, it was pretty cool to see whatever you'll see. 

We didn't get to College Fjord until almost dinnertime and the guest naturalist spoke while we watched on the decks. Lots of information, which was great. Oh, this: BRING BINOCULARS. Don't think of going to AK without them. They change everything, just trust me. We have some compact Nikons that we bought a few years back, good ones, but definitely not super high-end at all. They were more than great. Sometimes, I'd spot dolphins or a whale scanning with them from the buffet on Deck 14. 

Whittier is not so convenient, but anyway, you'll get to Anchorage on bus or train. It was a nice bus ride and we saw wildlife. They take you to the Museum or the airport. The museum is 2 blocks from Avis. We got our car after checking out Anchorage (meh) and drove up to Denali. It took less than 4 hrs. It was so annoying that the bus driver and others told us that it would take 5 or 5 1/2 hrs due to "construction delays." Oh jeez. It was raining like mad, and was supposed to rain the next day as well. Next day, it was misty. You can't drive in the Park, we reserved a 7am departure from the WAC. We stayed at McKinley Creek Cabins, which were nice. The owner told us to leave 45 min before our bus departure time, which we did not do. It took us less than 15 minutes. We had the most amazing day. It was what they call a Grand Slam. Bears, moose, caribou and Dall sheep. And we saw Denali--barely, but we did. We had stunning blue skies and it was unreal. We saw a mom and two cubs literally next to the bus, playing and eating berries. The driver parked for 15 min. as we watched them out the windows. We did a Park Ranger Alpine hike from Eielson Visitor Center (mile 66), it was amazing!! Thanks, Emily P'H ;) Very steep, we covered just over a mile in two hours! Then we walked around the summit. The ride back out was almost as great, we saw more caribou and a different mom with 2 cubs who were running and playing. What a long and awesome day. 

We drove back to Anch the next day with a stop in Talkeetna because everyone told us to stop there. More shops and tourist stuff. A very nice Park Service facility, which I'm sure gives great hiking and climbing advice. We had time to go to the Alaska Jewish Museum, which is quite small, but really very nice and interesting. Dropped our car at the airport at about 5.30 and flew home. I've never been so tired! We agreed it was one of our best holidays. I just really enjoyed Princess and would cruise them again if the destinations spoke to us.
Ship Experiences
Food and Dining
Onboard Activities
Entertainment
Service and Staff
Ship Quality
Cabin / Stateroom
Slightly obstructed view, still a great value. We could see the ocean, glaciers etc same as anyone else. But of course we were on deck most of the time.
Other Reviews Of This Sailing