Alaska Cruise Review
Awesome experience! Highly recommend
Seven Seas Navigator
Cruise Review to Alaska
Experience: 2-3 cruises
Review: 1
Helpful Votes: 8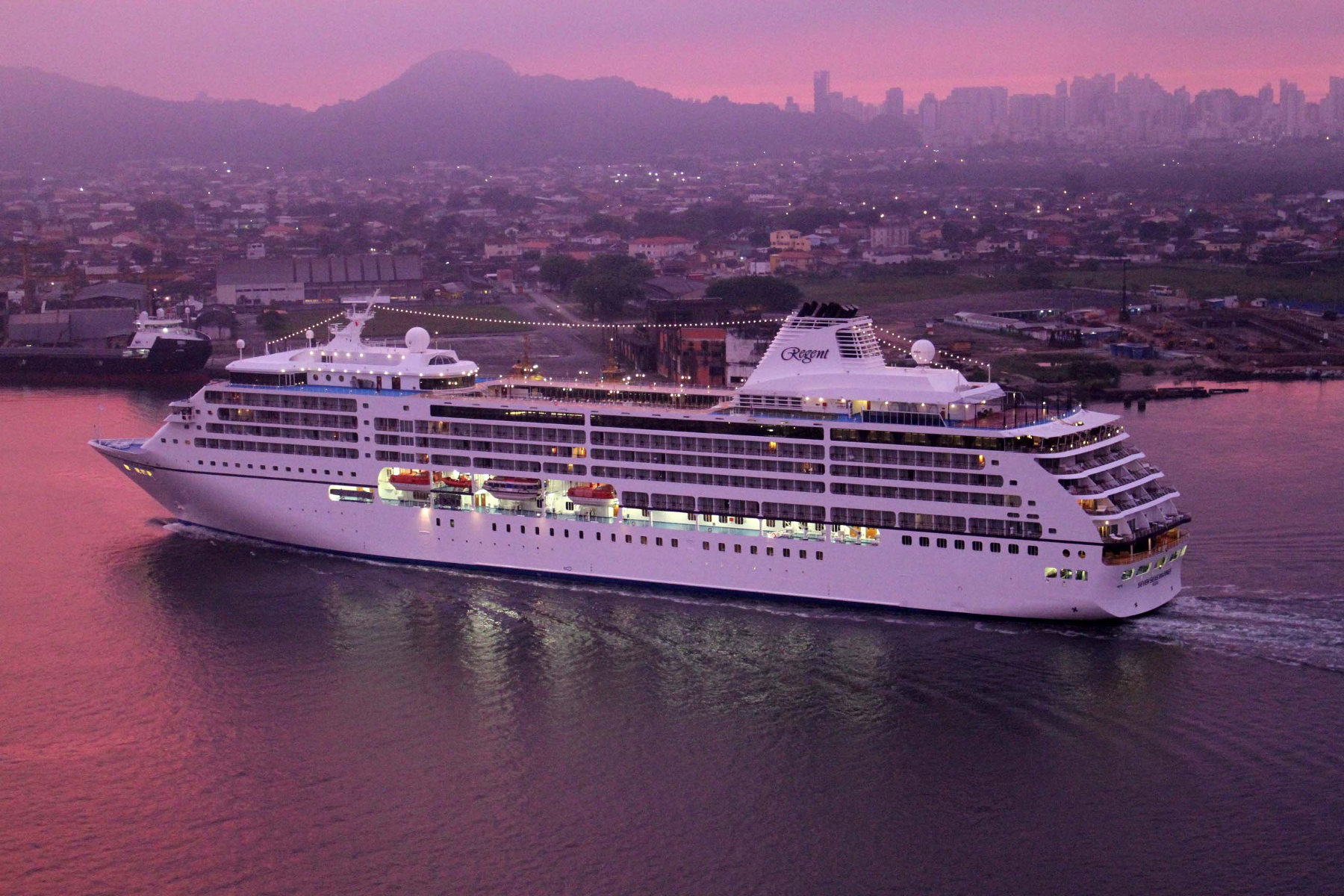 7 Night Alaska Inside Passage Northbound (Vancouver To Anchorage)
Sail Date: June 03, 2015
Ship: Seven Seas Navigator
Cabin Type: Suite
Cabin Number: 927
Traveled As: Couple
Reviewed: 3 years ago
Review Summary
This was a trip of a lifetime.  We have wanted to do an Alaskan cruise for years and now we are empty nesters we thought this is the best time.  If you really want to experience Alaska, don't wait until you retire or are too old and crippled to get out and experience it. 
The ship was luxurious and in good shape.  We have been on Royal Caribbean and Disney cruises and this was far better.   Sure there were a few carpet stains here or there in cabin hallways but it was clean and our concierge level room was spacious and comfortable.  VERY quiet everywhere.  We had Room 927 which I think was the perfect room.  It was centered just enough to prevent feeling of the ship motion, one quick level below pool deck and bar, next to the elevators which we could never hear.  Most of time we wondered where everyone was at, either in our room or even out in the halls.  The verandah was comfortable for two people.  AND, you only have one neighbor.  Behind us was a foyer for the elevators and never saw a person even standing looking out the windows there even.  The laundrette was a room away.  You are actually outside the glass doors to the hall way (which were never shut) so we felt like we were not part of the club or missing out somehow but we got the better deal I think.  The don't need those doors. 
The smaller ship got us extremely close to Hubbard Glacier, closer than most ships can get and it was originally an ice breaker...so thicker hull.  No worries as chunks of ice floated by.
Service was first class.  Food was great and we are "foodies" so we are particular about taste and selection.  I NEVER paid for any alcohol and I drank Guiness and Sam Adams beers, 12 year Glenfiddich, Glenmorangie single malt whisky, some great cabernets and chardonnays from California, Italy, France, and several premium vodkas.  The only thing I paid for was a Hoya Monterrey Especial cigar in the Cigar room.
Shows at night were all good but get there 30 minutes before to get good seats, theater is small but comfortable.  Upper level sides are hard to see from at times. 
Excursions were great.  Have to be flexible.  Our dog sledding got cancelled for weather but they offered helicopter up to glacier and drank water from the glacier stream.  Wow.  Crab feast was great even for kids but there is long staircase down to shoreline, even longer going back up.
Few tiny negatives:  1.  The ship vibration is felt in heavy seas due to powerful engines (to get through ice!)  We rarely felt it except in the back of ship, in the restaurant the night going through open waters in Gulf of Alaska.  Never felt it in the Inside Passage.  I WOULD NOT book any rooms in the aft cabins.
2. Exercise room is tiny and opens at 7:00 AM (was 3 hours past our body time) and you couldn't use machines until 8:00 am because it made noise for rooms below.  Yet people were dropping weights!  So...DO NOT book a room in the stern of ship on Level 10 under the exercise facility!
3. People don't dress up for dinner.  We were the only ones that really did and think we got more attention and praise from staff.   Go ahead and wear that tux and cocktail dress for dinner, treat yourself!
4. They need to improve their systems for those with food allergy.  My wife has a tree nut allergy and we had to constantly be on guard and say something at every meal.  Be proactive if you are allergic but you should be anyway.  People without any don't understand.
TIPS:  
1. Bring a powerstrip, very few outlets to charge phones, etc.
2. Bring a good camera like a Canon Rebel (no thinking) and get a telephoto lens as well.  Bring multiple 16mB data cards since I promise you will want to take tons of pictures.  I backed them up everyday on ship computer in library by copying over to another card and wife kept to make sure we didn't loose any pictures somehow (loss, airline lost luggage, etc.)    Also bring a video camera like a little palm size Sony.  Got to film Hubbard Glacier calving and hear the thunder cracking.  I WISH i had bought a waterproof GoPro camera.  We went kayaking and my video camera fogged up inside my coat pocket.  Fuzzy pictures.
3. You need more water repellent clothing than cold weather.  We had Underarmor Coldgear under clothes and usually hot.  We got wet more than we got cold.
4. Ask for stuff at dinner if you want it and you don't see it listed.  I got Creme Brulee and Scallops and extra anchovies just by asking my waiter.
5. I would only take a ship sponsored excursion unless you just can't get on one you want.  The ship will be more inclined to wait longer if you are not back by ALL Aboard.
6. Make YOUR OWN flight arrangements.  We did not get to Vancouver until 11:30 pm and could not enjoy the 4 Seasons hotel any.  They will put you on flights that are inconvenient and underused, thus are cheaper for the cruise line that way.  Spend the extra to tell them what flights you want.
7. Try to get there a day or two early to see the city before the cruise.  We couldn't gone from our business any longer than we were but wished we could have seen a little of it.
8.  Don't overpack.  We wore same pants and underlayers two days in a row for excursions.  The laundrette is free and provides soap automatically.  Easy.  And if premium cabin, your butler can press things for you.
9.  You don't need boots for the glacier or dog sledding.  They provide boot coverings to go over regular shoes.  i would wear normal tennis shoes or trekking shoes.  I wore my heavy Timberland insulated hiking boots on the plane trips to save luggage weight and didn't need them.
10.  Ask if there are any big companies or corporations or meetings on the cruise.  Shell oil had 120 people and it did interfere a little with meals since they all went down at same time one night before a big presentation.
11.  Sitka was about the only place that didn't have mass jewelry stores that apparently the big cruise lines own and put at all their ports of call.
It's a pretty town but I wouldn't walk it much.  We would recommend going to raptor center instead unless you don't have an excursion like we did salmon fishing.  Our boat caught some but others didn't.
12.  Juneau has a homeless soup kitchen with crackheads and derelicts walking around downtown where the stores are.  We went to the Red Dog Saloon which had good food but when we walked around the stores, we were hit up for money and did not feel safe.  Several druggies were being loud and arguing at each other and overhead some talking about losing some tourist they were watching.  I was wishing I had a pocket knife I normally carry, it was that bad.  Until the city does something, DO NOT WALK around Juneau, especially the tourist stores.  Take an excursion and go back directly to the boat.
13.  Don't buy anything from the tourist stores.  Do really need a hat or Tshirt that says Alaska or something about bears?   The kids you left at home don't want that stuff either.    If you have to buy a trinket souvenir, buy from a shop that is a locally owned one.
14.  Journal everything you did, especially at the end of the day.  You start forgetting stuff after a day.  I posted my journal entry on Facebook each day once we were home (for home security), with pictures, for friends and family and they said they felt like they had been there with us.
15.  Get a verandah.  Sure it's cool or raining sometimes but sometimes it's beautiful and you can sit out and drink coffee watching all the islands or wildlife.  If it is raining and cold, you can watch from the very back of the boat outside where it is protected from wind and they have heaters.
16. Bring an insulated mug.  I had read that but didn't want to load suitcase down.   You will want it for coffee or just water.   The cups they give you are tiny.  I got up at 5:00 am most days and went down to library and could get coffee and read paper.  Internet is slow but can get online.  May have to pay if on alot or uploading stuff.
17. Plan your trip and start paying for it a year ahead so you can plan and shop accordingly and get the room, excursion, etc. you want.  
18.  Live life now and don't wait until retirement.  It may not come.  Our dads got sick and died and never got to enjoy retirement and traveling.          Our moms regret that so much.   Go and do NOW!
Ship Experiences
Food and Dining
Entertainment
Children's Programs
There were none. Sorry, take Disney. I don't want noisy kids running around a 6 star cruise
Service and Staff
Ship Quality
Elegant and luxurious, yet small and easy to get around. No wasted space and stores.
Cabin / Stateroom