Queen Mary 2 Cabin Category Q2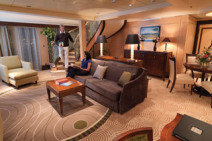 Size: Queen Mary & Elizabeth Suites: 1076 sq ft.; Balcony: 118 sq ft.; Buckingham and Windsor Suites: 1291 sq ft.; Balcony: 180 sq ft.; Holyrood Suite: 1345 sq ft.; Balcony: 221 sq ft.

Occupancy: 2 guests standard - some sleep 3 or 4

Amenities: Master bedrooms with king-size bed and bathroom with whirlpool bath. Also included is a private balcony fully stocked bar fresh flowers and fruit and butler and concierge service. All units contain a refrigerator safe plush terry cotton robes with matching slippers hairdryer 24-hour room service nightly turndown service interactive TV systems providing multi-language film and music channels direct-dial telephone in-room Xbox priority disembarkation and tender service priority embarkation access to Grills concierge lounge Queens Grill lounge and Queens Grill sun deck Bon Voyage bottle of sparkling wine with chocolate-covered strawberries and data port. The Queen Mary & Elizabeth Suites include unique amenities such as a secondary living area with a guest bath marble floor entrance and glass elevator providing access to the suites. The Duplex Apartment Suites include unique amenities such as an open stairway leading to the bedroom vaulted ceilings and showers with body jets powder rooms home office corners a plasma screen TV system and balconies made of teak.

Please Note: Smoking is prohibited in all guest suites but smoking is permitted on private balconies.
Duplexes & Suites Q2 Cabins:
Duplexes & Suites Q2 cabins can be found on:
Duplexes & Suites Q2 Cabins - Suite
Other categories for Suite cabins include: