MSC Preziosa Cabin Category S9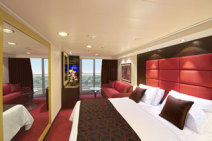 Size: 148 - 200 sq. ft.; Balcony: 34 to 124 sq. ft.

Occupancy: 2 guests standard - some sleep 3 or 4

Amenities: Two single beds that can convert into a double size bed some staterooms feature a single or double sofa bed to accommodate additional guests air conditioning balcony a private bathroom with shower hair-dryer interactive TV telephone mini-bar safe and common area with desk.

Wheelchair Accessible Staterooms: 10128 10130 10143 10145 10206 10208 10221 and 10223 are 284 to 390 sq. ft.; Balcony: 61 to 99 sq. ft.

Please Note: Smoking is not permitted in staterooms or on balconies.
Balcony Stateroom S9 Cabins:
Balcony Stateroom S9 cabins can be found on:
Balcony Stateroom S9 Cabins - Balcony
Other categories for Balcony cabins include: