MSC Divina Cabin Category YH
Floor Plan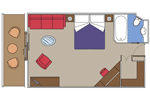 Size: 251 to 311 sq ft.; Balcony: 46 to 61 sq.ft.

Occupancy: Can accommodate 4 guests

Amenities: Wheelchair accessible stateroom with two single beds that can convert to a European-style king size bed Double bed air conditioning ample wardrobe with low hanging rail interactive television (ITV) radio telephone Samsung LCD screens. Free equipment to access the internet (connection at a fee) Nintendo Wii console mini-bar low personal safe. Switches to control lights key cards (where applicable) and air conditioning have been positioned at a reduced height. A light switch has been placed next to the bed in each cabin. Bathroom is equipped with a low fold-down seat (45cm/17.72inch.) one grab rail in the toilet and 2 in the shower (92cm/36.22 inch.) a low vanity sink (85 cm/45.27 inch.) and a roll on the shower floor (to access the shower with a wheelchair).

Please Note: Smoking is not permitted in staterooms or on balconies.
Deluxe Suite for Guests with Disabilities YH Cabins:
Deluxe Suite for Guests with Disabilities YH cabins can be found on:
Deluxe Suite for Guests with Disabilities YH Cabins - Suite
Other categories for Suite cabins include: